Tuesday, August 30, 2022
  Around Campus
By Amanda Alaniz
RIO GRANDE VALLEY, TEXAS – This fall semester, 24 UTRGV students will make campus history as the first members of an exclusive group known as the Luminary Scholars.  
To welcome the newest Vaqueros, the first cohort and their families were recognized formally at a banquet on Monday, Aug. 22, on the Edinburg Campus. Scholars and their families met with college deans, university leadership, UTRGV President Guy Bailey and Executive Vice President and Provost Janna Arney.  
Unveiled last year, the one-of-a-kind scholarship program offers full tuition and fees for all four undergraduate years, and full tuition and fees for the professional or undergrad programs the student is admitted to, including the UTRGV School of Medicine and its School of Podiatric Medicine.  
"The Luminary Scholars is truly an extraordinary scholarship program that we are proud to offer to exceptional students," Arney said. "We are excited to welcome this talented, and we look forward to supporting them on their educational journey. We believe they will be a big part of the future success of our Rio Grande Valley community."   
The scholarship program was made possible thanks to a historic $40 million gift to UTRGV from philanthropists MacKenzie Scott and Dan Jewett, meant to enhance the university's mission of improving student success and expanding educational opportunities. 
The first cohort consists of students from Austin to El Paso and includes: 
Natalie Acosta, Mercedes, Integrated Health Sciences – Pre-Nursing.  
Frida Beltran, Mission, Biology.  
Katherine Cadriel, Brownsville, Integrated Health Sciences.  
Kailey Chavez, Brownsville, Biomedical Sciences.  
Clara Elliott, Austin, Biomedical Sciences.  
David Franco, McAllen, Biomedical Sciences, Vaqueros MD.  
Annali Gracia, Brownsville, Biology.  
Alyssa Guerra, Palmhurst, Psychology, Vaqueros MD.  
Victoria Gutierrez, Port Arthur, Biology. 
Angel Huerta Mora, McAllen, Biomedical Sciences.  
Isabella Landeros, McAllen, Biology.  
Emily Lara, Progreso, Biology, Vaqueros MD.  
Austin Martinez, Raymondville, Finance.  
Muhammad Zubeir Noorani, McAllen, Economics and Finance, Vaqueros MD.  
Jarrett Quezada, El Paso, Biology.  
Christopher Razo, Edinburg, Biology, Vaqueros MD.  
Yrene Rivas, Rio Grande City, Integrated Health Sciences – Pre-Nursing.  
Alma Rodriquez, Rancho Viejo, Biomedical Sciences, Vaqueros MD.  
Leenette Saenz, Palmview, Integrated Health Sciences.  
Daniela Salinas De Alba, McAllen, Biomedical Sciences, Vaqueros MD. 
Tristan Solis, Rio Grande City, Biology.  
Rianna Trevino, Brownsville, Psychology.  
Victoria Velazquez, Lasara, Biology, Vaqueros MD.  
Sierra Vidaurri, Harlingen, Biomedical Sciences.   
Vaqueros MD is an Early Assurance Program (EAP) that selects a limited number of high-achieving area high school students to begin their undergraduate career and receive conditional admission to the entering medical class at UTRGV School of Medicine upon graduation.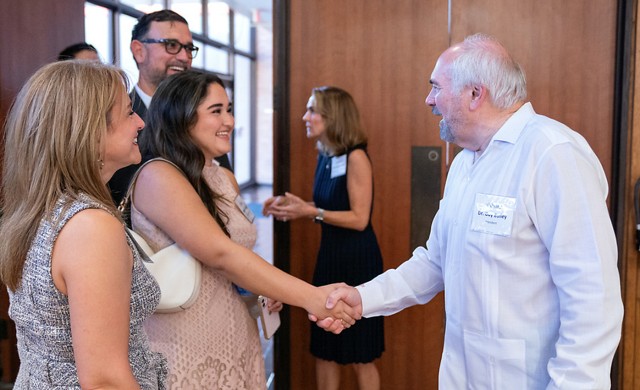 READY FOR THE NEW JOURNEY 
As Luminary Scholars, each student signed a pledge to work in the Rio Grande Valley for each year beyond their undergrad education that is funded.  
Tristan Solis, of Rio Grande City, said he was thrilled when he found out he was a Luminary Scholar and he's looking forward to starting the semester.  
"Now, I just have to worry about studying and passing my classes so I can get to my future career," he said. "UTRGV is close to home, it's a good environment. It's diverse, and I like the vibe and the feeling of the campus."  
Clara Elliott, of Austin, said she is ready to get started and grateful for the opportunity to further her education at UTRGV.  
"I'm really looking forward to meeting my professors. I met some of them during orientation and they were all super nice," she said. "I'm excited to work with them."  
The Luminary Scholars may each belong to a different degree path, but they all are looking forward to their college journey.  
Lasara native Victoria Velazquez remembers the moment she found out she had been selected. She was overcome with joy, she said, and eagerly shared the news with her parents.  
"I saw on my account, "Luminary Scholar" and the amount. I was like, 'Oh my goodness!' I called my mom and dad, and I was crying. It was just awesome," the Vaquero MD student said. "It was very rewarding. All my hard work led up to that moment, to finally seeing it pay off."  
Victoria's parents, Lucia and Rolando, helped her move into her dorm this week, and her mother said she just wanted to make sure she felt at home in her new campus residence. 
"She's never been away from home. But she's going to enjoy it and make the most of it in a positive way," Lucia said. 
Both parents said they are grateful for the Luminary Scholars program, as it will help Victoria achieve her goals and dreams.  
"We want her to enjoy and appreciate her time at the university – it's a growing university," Rolando said. "She studies hard and puts in the time." 
Visit 
utrgv.edu/luminary
 to learn more about the Luminary Scholarship Program.
ABOUT UTRGV
The University of Texas Rio Grande Valley (UTRGV) was created by the Texas Legislature in 2013 as the first major public university of the 21st century in Texas. This transformative initiative provided the opportunity to expand educational opportunities in the Rio Grande Valley, including a new School of Medicine, and made it possible for residents of the region to benefit from the Permanent University Fund – a public endowment contributing support to the University of Texas System and other institutions.
UTRGV has campuses and off-campus research and teaching sites throughout the Rio Grande Valley including in Boca Chica Beach, Brownsville (formerly The University of Texas at Brownsville campus), Edinburg (formerly The University of Texas-Pan American campus), Harlingen, McAllen, Port Isabel, Rio Grande City, and South Padre Island. UTRGV, a comprehensive academic institution, enrolled its first class in the fall of 2015, and the School of Medicine welcomed its first class in the summer of 2016.