Friday, August 26, 2022
  Around Campus
By News and Internal Communications
By Santana Peralez
RIO GRANDE VALLEY, TEXAS – AUG. 26, 2022 – "Sophia's Song," showcasing artwork by Rio Grande Valley-based artist Jessica Monroe, is on exhibit at the UTRGV Performing Arts Complex (PAC) on the Edinburg Campus.
The exhibit, which runs through the end of the fall semester in December, is free and open to the public.
Monroe's paintings, completed over the course of several years, focus on the Valley's natural assets, like the undergrowth of area landscapes and large-scale details of native plants and insects.
"What is consistent throughout is a love and respect for the natural world," Monroe said. "I stay with this subject believing that nature offers us a window to Hagia Sophia, or Divine Wisdom. In her rhythms, the cycles of season and life. I feel an interconnectedness with all things. I am home."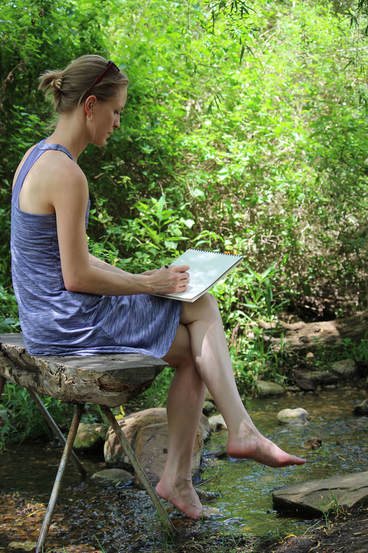 Monroe, a Valley native, spent her summers in Lasara on her grandparents' ranch, surrounded by the native plants and animals, and she remembers how reluctant she was to leave the ranch for the Edinburg suburbs, where she grew up and still lives.
"For me, getting back to the native plants and animals of this area honors this space. And on a personal level, it's my respite," Monroe said.
She said many of the Valley's natural spaces have been lost, taken over by buildings and roads and other development.
"We're losing something that makes this area unique. We're losing part of our identity. We're losing access to these beautiful spaces that serve to recharge us and reconnect us to nature," she said.
Dr. Dahlia Guerra, UTRGV assistant vice president of Public Art and Special Projects, said Monroe's deep reverence for the natural beauty of the Valley is evident throughout the exhibit.
"We are delighted to showcase Monroe's 'Sophia's Song' exhibit and her representation of Valley landscapes and nature," she said. "The PAC strives to inspire our visitors with annual artistic exhibits, so they can experience a variety of wonderful cultural events."
Monroe originally wasn't sure of the exhibition would happen because she had a newborn baby, and the COVID-19 pandemic was well underway. She couldn't paint, and she didn't have new inventory.
So, she decided to select pieces from different series that she already had painted.
"The PAC is such a phenomenal space," Monroe said. "And, if you're given the opportunity to have your work in this gorgeous building, you figure out how to make it happen. And that's what we did."
She also was excited to have her exhibition at the PAC because it is a performing arts space.
"I've gone there and seen the Ballet Folklórico and the mariachis. There is this energy and rhythm in the performances that are presented within that space, and I feel very connected to that in a visual way as an artist," she said.
"The PAC has these big, beautiful windows connecting visitors to the outside space, and my work is all about the outdoors. So, it just feels like a phenomenal show that I'm really glad came together."
ABOUT UTRGV
The University of Texas Rio Grande Valley (UTRGV) was created by the Texas Legislature in 2013 as the first major public university of the 21st century in Texas. This transformative initiative provided the opportunity to expand educational opportunities in the Rio Grande Valley, including a new School of Medicine, and made it possible for residents of the region to benefit from the Permanent University Fund – a public endowment contributing support to the University of Texas System and other institutions.
UTRGV has campuses and off-campus research and teaching sites throughout the Rio Grande Valley including in Boca Chica Beach, Brownsville (formerly The University of Texas at Brownsville campus), Edinburg (formerly The University of Texas-Pan American campus), Harlingen, McAllen, Port Isabel, Rio Grande City, and South Padre Island. UTRGV, a comprehensive academic institution, enrolled its first class in the fall of 2015, and the School of Medicine welcomed its first class in the summer of 2016.