Thursday, August 18, 2022
  Community
By News and Internal Communications
By Saira Cabrera
RIO GRANDE VALLEY, TEXAS – August is National Breastfeeding Month, an observance designed to spread awareness about the benefits of breastfeeding and how important it can be to a child's health.  
At UT Health RGV and the UTRGV School of Medicine, Dr. Keila Rodriguez, assistant professor and co-clerkship director for the Department of Pediatrics, knows the benefits of breastfeeding for both mother and baby.   
"Breastfeeding is important for a multitude of reasons," she said. "For mothers, benefits include decreased risk of breast and ovarian cancer, Type 2 diabetes, heart disease and hypertension. There is less blood loss after delivery. And breastfeeding helps the uterus return to its normal size."  
A board-certified pediatrician and an international board-certified lactation consultant, she sees mother-baby dyads who wish to establish or work on their breastfeeding relationship and hopefully increase breastfeeding rates in the community. She also helps with babies who have difficulty latching and transferring milk while breastfeeding.  
Rodriguez is among a handful of lactation specialists in the country and the first at UT Health RGV to hold the certification. 
SOME OF THE CHALLENGES
In the United States, low breastfeeding rates add more than $3 billion annually to medical costs for mothers and children, according to the Centers for Disease Control and Prevention (CDC).  
Many women struggle with breastfeeding for different reasons, and 60 percent of mothers stop breastfeeding sooner than planned.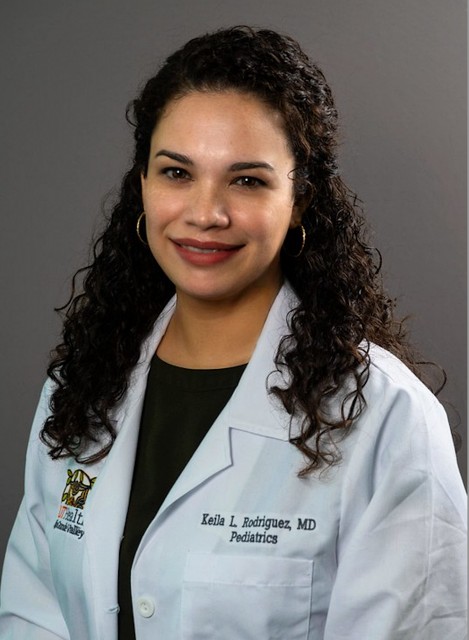 Moreover, rates of breastfeeding in the United States vary widely due to the range of barriers mothers face when starting and continuing to breastfeed, according to the National Institute for Children's Health Quality (NICHQ). 
These factors, as studied by the NICHQ, influence how long a baby is breastfed, and include issues with lactation and latching, concerns about infant nutrition, and concerns about taking medications while breastfeeding. 
Hispanic mothers are also most likely to supplement breastmilk with formula within the first two days of the infant's life, NICHQ reports. Some of the potential causes, according to a study by PubMed, are due to poor breastfeeding outcomes, including breastfeeding ambivalence, the availability of free formula from the Special Supplemental Nutrition Program for Women, Infants, and Children, WIC, a high level of comfort with the idea of formula feeding, limited availability and lower intensity of WIC breastfeeding support for minority women, and issues surrounding trust building and perceived mistreatment by providers. 
THE MANY BENEFITS
But Rodriguez said the benefits outweigh the challenges.
There's the economic benefit, because parents don't have to rely just on baby formula, she said.
As for the newborns, breastmilk provides significant protection from diseases, especially infectious diseases.  
"Breastfed babies get less gastroenteritis (infection and inflammation of the digestive system), and fewer respiratory diseases, ear infections and urinary tract infections, among others ailments," Rodriguez said.  
Many of the benefits continue even after women stop breastfeeding. Soon after birth, she said, breastfeeding and skin-to-skin contact allows for greater cardiorespiratory stability and less crying and stress for the baby.  
"While there are not as many studies with evidence on chronic diseases, it is thought that breastfeeding also decreases rates of long-term health problems," she said. "And, there is some evidence that shows breastfed babies have higher intelligence, improved visual function and fewer behavioral problems – though those need to be studied in more depth."  
RECOMMENDED BREASTFEEDING  
While each case is different, she said, women should breastfeed for at least six months or longer if they are able.  
"Exclusive breastfeeding – where baby only drinks milk – should occur from birth to six months of age," Rodriguez said. "The mom should continue until two years of age, if she can. If she's not able to after consultation with a lactation consultant, or if she decides she does not want to breastfeed, that is OK. All breastfeeding amounts will be beneficial." 
NORMALIZING BREASTFEEDING  
Rodriguez believes that, as important as breastfeeding is to both mother and baby, it is crucial not to pressure women to do so because all women are different.  
Normalizing breastfeeding is a big step toward encouraging more women to breastfeed. In addition, advocating for more access to community support, like peer counseling and supplemental nutrition programs, can help inform more women about the benefits of breastfeeding, she said.  
As a way to support mothers who breastfeed, UTRGV offers Nursing Mother Suites to all faculty, staff and students who are in need of a private, sanitary place to express breast milk and a secure, comfortable location to breastfeed.
Rodriguez also recommends visiting the CDC website.  
"It has good resources online on breastfeeding. And you can ask your OB/GYN for more resources on lactation," she said. 
She believes normalizing breastfeeding is a community effort that starts by: 
Encouraging moms who want to breastfeed.  
Helping them troubleshoot their issues. 
Giving nursing moms pumping breaks and helping them stay hydrated.
"We need to normalize, encourage and support women who want to breastfeed, so they are able to," Rodriguez said.  
For more information on breastfeeding, lactation and mother-baby dyads, contact Rodriguez or other UT Health RGV physicians at UTHealthRGV.org or to find UTHealth locations available for appointments.
ABOUT UTRGV
The University of Texas Rio Grande Valley (UTRGV) was created by the Texas Legislature in 2013 as the first major public university of the 21st century in Texas. This transformative initiative provided the opportunity to expand educational opportunities in the Rio Grande Valley, including a new School of Medicine, and made it possible for residents of the region to benefit from the Permanent University Fund – a public endowment contributing support to the University of Texas System and other institutions.
UTRGV has campuses and off-campus research and teaching sites throughout the Rio Grande Valley including in Boca Chica Beach, Brownsville (formerly The University of Texas at Brownsville campus), Edinburg (formerly The University of Texas-Pan American campus), Harlingen, McAllen, Port Isabel, Rio Grande City, and South Padre Island. UTRGV, a comprehensive academic institution, enrolled its first class in the fall of 2015, and the School of Medicine welcomed its first class in the summer of 2016.