Wednesday, August 17, 2022
  Around Campus
By Dimitra Trejo
RIO GRANDE VALLEY, TEXAS – UT Health RGV Student Health, which helps meet the medical needs of UTRGV students free of charge, has been for renewed for accreditation by the Accreditation Association for Ambulatory Health Care.  
As an accredited organization, UT Health RGV Student Health continuously has met the nationally recognized standards for quality health care set by the accreditation association.   
UT Health RGV Student Health currently has two locations serving UTRGV students in both Brownsville and Edinburg.    
Rick Gray, RN, director of Health Services at UTRGV, said the accreditation is attributed to the service the UT Health RGV clinical staff provides to the more than 10,000 students who visit the clinics annually.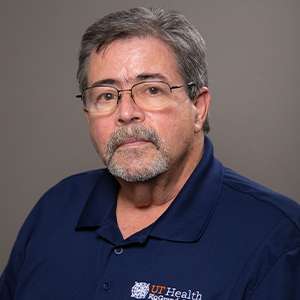 "AAAHC accreditation helps our students to be confident that they receive the highest quality care when they are seen in one of the Student Health clinics," Gray said. "Our certificate of accreditation makes it clear that they have closely examined our facility and procedures."    
UT Health RGV Student Health is the first in the UT System to hold AAAHC accreditation, according to the UT Health RGV website.    
Currently, only 10 college health facilities are accredited in the state of Texas.  
Gray said the accreditation renewal ensures that UT Health RGV will continue to serve UTRGV students and their health needs for many years to come.    
UT Health RGV Student Health has been an AAAHC accredited service since 1995. Student Health began as a nurse's office in 1974 and grew into a clinic in 1985. Today, it is UT Health RGV Student Health, part of the clinical arm of the UTRGV School of Medicine. 
"This review of our services validates the quality of care provided to our patients," he said. "We will continue to provide high-quality healthcare to our patients, because they deserve it."    
Dr. Michael B. Hocker, dean of the UTRGV School of Medicine and senior vice president for UT Health RGV, said the priority for the university continues to focus on student success.
"We are fortunate to have an excellent team of providers caring for the well-being of our students. so that they can focus on their academic success," he said.
For more information on UT Health RGV Student Health and the services available, visit 
https://www.utrgv.edu/health-services/
.
ABOUT UTRGV
The University of Texas Rio Grande Valley (UTRGV) was created by the Texas Legislature in 2013 as the first major public university of the 21st century in Texas. This transformative initiative provided the opportunity to expand educational opportunities in the Rio Grande Valley, including a new School of Medicine, and made it possible for residents of the region to benefit from the Permanent University Fund – a public endowment contributing support to the University of Texas System and other institutions.
UTRGV has campuses and off-campus research and teaching sites throughout the Rio Grande Valley including in Boca Chica Beach, Brownsville (formerly The University of Texas at Brownsville campus), Edinburg (formerly The University of Texas-Pan American campus), Harlingen, McAllen, Port Isabel, Rio Grande City, and South Padre Island. UTRGV, a comprehensive academic institution, enrolled its first class in the fall of 2015, and the School of Medicine welcomed its first class in the summer of 2016.