Wednesday, August 10, 2022
  Around Campus
By News and Internal Communications
By Saira Cabrera  
RIO GRANDE VALLEY, TEXAS – UTRGV School of Medicine program coordinator Ivette Chavarria Torres has been selected as a Bloomberg Fellow, and will receive a grant to cover the costs of completing a Master of Public Health degree at the Johns Hopkins Bloomberg School of Public Health in Baltimore, MD. 
Torres is the first from the Rio Grande Valley to receive such an appointment , according to  Johns Hopkins- Bloomberg, widely considered the  number one institution for public health training.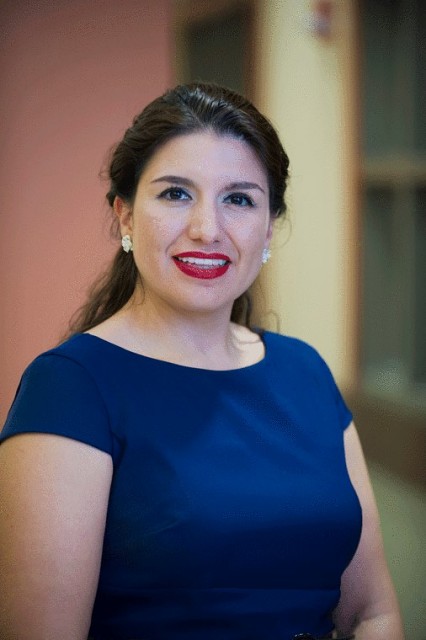 Additionally, the Child and Adolescent Psychiatry Fellowship will be paid for with funding from the Texas Legislature. It will be the first of its kind in the Rio Grande Valley.
Through these efforts, Torres will assist Diana Chapa, Torres' sponsor for the Bloomberg Scholar application and interim chair and program director for the UTRGV Department of Psychiatry at the School of Medicine.
"This graduate degree will prepare me to put forth my own ideas and lead my own teams," Torres said. "We need more Latinas leading research and health promotion projects, not just as support staff, but as the actual project directors and principal investigators on grants."    
Torres, a  Graduate Medical Education (GME) program coordinator for the  UTRGV School of Medicine's Psychiatry Department, was among the selected Bloomberg American Health Initiative and the Johns Hopkins Bloomberg School of Public Health fellows who joined the program this year. She is enrolled in the part-time working professional track; and started the program in the Summer 2022 semester.  
The program at Johns Hopkins recently welcomed this year's Master's and Doctor of Public Health Bloomberg Fellows – 50 MPH fellows and 10 DrPH fellows from 24 states and Washington, D.C. Two are from Texas, including Torres, and soon will begin their public health training to tackle critical health issues across the country.    
Torres shares more than 20 years of applied public health experience in managing large projects on nutrition and children's health, including  The National Children's Study, cancer prevention and industry-sponsored clinical trials. Her work has been local to South Texas.  
'OVERCOMERS AND PIONEERS' 
Torres said it is important to her that the Bloomberg American Health Initiative aims to make a difference in communities across the United States.    
"This fellowship is about access to the best education because it's a full ride to a highly valued institution and degree," she said. "It's also about access to faculty who are world leaders in their fields, about mentorship and ultimately partnership."  
Once she completes her master's degree, Torres said, she hopes to pave the way for more Latinas and Valley residents to have opportunities in leading research and health promotion projects. And as a way to help her community, she is hoping her research, work and graduate degree will inspire others like her.    
"This is for all the first-generation, first-ever college students, like me, who are overcomers and pioneers in their families," she said. "This affirms that working mothers like me can set our own timelines for success. Johns Hopkins School of Public Health (JHSPH) values my life experience and professional track record and sees my full potential to lead. I am the first, but hopefully not the last, Bloomberg Scholar from the Valley."  
Dr. Michael B. Hocker, dean of the UTRGV School of Medicine and senior vice president for UT Health RGV, said students and employees from the UTRGV School of Medicine, like Torres, represent the talent found in the Rio Grande Valley.  
"Ms. Torres reflects, along with all our other medical faculty, staff and students, the passion for the profession and serving the community," he said. "She is an example of just how talented and service-oriented folks are here. I am confident the future of healthcare in the Rio Grande Valley and beyond is in great hands because of the work and passion our school has."
ABOUT UTRGV
The University of Texas Rio Grande Valley (UTRGV) was created by the Texas Legislature in 2013 as the first major public university of the 21st century in Texas. This transformative initiative provided the opportunity to expand educational opportunities in the Rio Grande Valley, including a new School of Medicine, and made it possible for residents of the region to benefit from the Permanent University Fund – a public endowment contributing support to the University of Texas System and other institutions.
UTRGV has campuses and off-campus research and teaching sites throughout the Rio Grande Valley including in Boca Chica Beach, Brownsville (formerly The University of Texas at Brownsville campus), Edinburg (formerly The University of Texas-Pan American campus), Harlingen, McAllen, Port Isabel, Rio Grande City, and South Padre Island. UTRGV, a comprehensive academic institution, enrolled its first class in the fall of 2015, and the School of Medicine welcomed its first class in the summer of 2016.