Tuesday, July 12, 2022
  Community
By News and Internal Communications
By Santana Peralez
RIO GRANDE VALLEY, TEXAS – Most people probably cram for exams or focus on putting the finishing touches on projects. But not everyone can work with a pop-punk band to direct their first official music video.  
Laura D. Martinez, a student assistant in the UTRGV Department of Student Activities and a senior mass communications major concentrating in broadcast, had that very opportunity, though, and directed The Adult Kid's! first official music video. Their song, "Forever, It's You and Me," premiered May 13 on YouTube.
The project – which would earn an "A" for Martinez in her Editing 1 Class – was to edit a music video for a local band. It was sheer luck that The Adult Kid's! had already asked Martinez to work with them on their music video.   
The Adult Kid's! is a Valley-based pop-punk band co-founded by friends Tony Mata, bass and background vocals, and UTRGV alum Martin Martinez, lead vocals and guitar. Martinez graduated in 2016 from the UTRGV Robert C. Vackar College of Business and Entrepreneurship.  
The band made its official debut in 2018 with the EP "Soap in a Sock," and released its first album, Weekends, in 2021, featuring the song "Forever, It's You and Me." 
Laura Martinez met Martin Martinez (no relation) and the rest of the band at an Adult Kid's! performance in 2021. Laura was working on another music video project at the time, and decided to use clips of The Adult Kid's playing during the show. 
Martin said that, after seeing the finished video, as well as some of Laura's other work on social media, he was impressed.  
"I thought it'd be a really cool idea if we could collaborate with her on a project," he said. "It was an idea that I wanted to toss at her and see if it was something she would be interested in doing."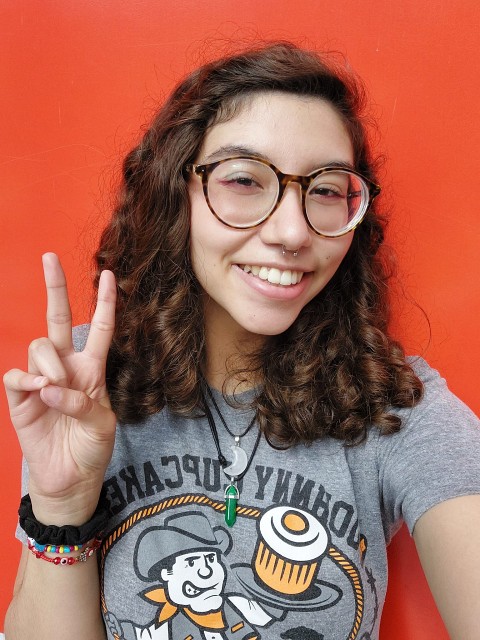 Laura's previous experience included recording, editing and directing various videos and short films. The band's music video would be the first time she would direct in that genre, and it would double as a final project for her Editing 1 Class. 
"I had two meetings with Martin to discuss how to move forward with this video," Laura said. "When we did bring it down to the top three song choices, I asked him what those songs were about, to brainstorm the story for the video."  
Martin said "Forever, It's You and Me" was written as a love letter to his now wife, and when he got to meet with Laura, the story behind the song inspired the music video.  
Laura described her creative process for the project as "chaotic guessing." She tried to storyboard what she thought would work, but only ended up with the first six scenes. 
The rest of her shots were decided by the locations available to them, and the locations that worked best for the story.  
The video opens with younger versions of Martin (played by Edgardo Velez) and his wife Crystal Martinez (played by Priscilla Rosas) meeting on the Bronc Trail. We watch as their love blossoms with notable UTRGV landmarks as the background, intercut with shots of The Adult Kid's! playing their music. 
Finally, we cut to current-day Martin and Crystal, still very much in love as they visit the UTRGV campus. The video ends with a shot of Martin slipping a ring onto Crystal's finger. 
After seeing the final project, Martin, the lead vocalist, said he and his wife were teary-eyed.  
"It was just something so sentimental," he said. "I told her, it's something we can call ours forever."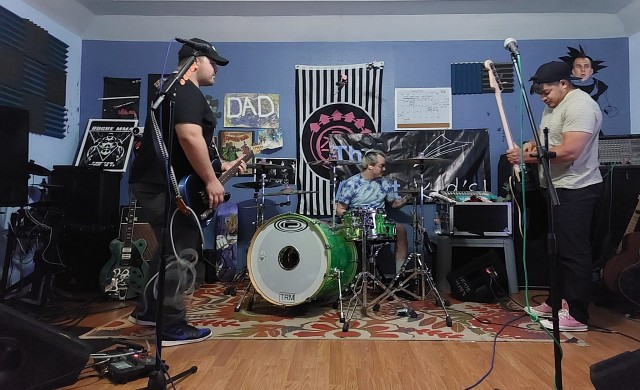 WATCH THE VIDEOS, LISTEN TO THE MUSIC 
ABOUT UTRGV
The University of Texas Rio Grande Valley (UTRGV) was created by the Texas Legislature in 2013 as the first major public university of the 21st century in Texas. This transformative initiative provided the opportunity to expand educational opportunities in the Rio Grande Valley, including a new School of Medicine, and made it possible for residents of the region to benefit from the Permanent University Fund – a public endowment contributing support to the University of Texas System and other institutions.
UTRGV has campuses and off-campus research and teaching sites throughout the Rio Grande Valley including in Boca Chica Beach, Brownsville (formerly The University of Texas at Brownsville campus), Edinburg (formerly The University of Texas-Pan American campus), Harlingen, McAllen, Port Isabel, Rio Grande City, and South Padre Island. UTRGV, a comprehensive academic institution, enrolled its first class in the fall of 2015, and the School of Medicine welcomed its first class in the summer of 2016.