Thursday, July 7, 2022
  Awards and Recognitions
By News and Internal Communications
RIO GRANDE VALLEY – Dr. Juliet V. García, former longtime president of The University of Texas at Brownsville, was one of 17 distinguished Americans presented with the nation's highest civilian honor, The Presidential Medal of Freedom, on Thursday, July 7, in Washington, D.C. 
The Presidential Medal of Freedom is the nation's highest civilian honor, presented to individuals who have made exemplary contributions to the prosperity, values, or security of the United States, world peace, or other significant societal, public or private endeavors. 
President Joe Biden welcomed the medal recipients and their families to the White House. He took the time to introduce each awardee and talked about the accomplishments that earned them the honor.
"Juliet García became a professor at a local community college. I know I am biased, since Jill is a community college professor," Biden said, referring to the First Lady. "But community college professors are the best. I have learned that teaching is not what she and Jill do, it is who they are. It is who Juliet is." 
Biden mentioned that García, in her 30-year career, helped transform a community college into The University of Texas at Brownsville (now The University of Texas Rio Grande Valley), where she became the president and first Hispanic woman to serve as a college president in American history.  
"Believing education is the cornerstone of our democracy, she created a culture of excellence, affirmation and intellectual curiosity for generations of students, many the first in their families to go to college and who see their American dream through her and because of her," Biden said. 
García, a current UTRGV communications professor, is among the first to receive the honor under Biden's term. She joins an elite group of Presidential Medal of Freedom recipients that includes celebrities, politicians and public servants.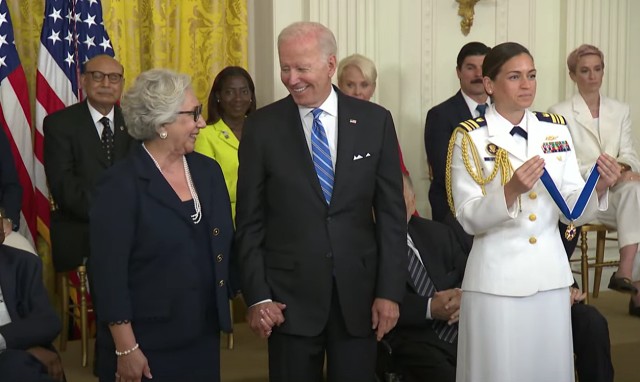 Garcia was third in line to be called up to receive her medal from Biden. Before placing the medal around García's neck, Biden held her hand as her accomplishments were read to the audience of the recipients' families and friends. He placed the medal around her neck, then gave her a congratulatory hug as the audience cheered on the Brownsville, Texas, native. 
"A trailblazer and a mentor, Dr. García is considered one of our nation's top administrators who understands the power of education as a great equalizer in America," a military aide said, reading from Garcia's citation during the ceremony. 
Among the honorees, who were presented with their medals at the White House Thursday, along with García are Simone Biles, most decorated U.S. Olympic Gymnast; Gabrielle Giffords, former congresswoman and survivor of gun violence; and Raúl Yzaguirre, a civil rights advocate who served as CEO and president of National Council of La Raza, and others. 
Garcia is one of two recipients from the Rio Grande Valley who received the honor. The other is Yzaguirre, a native of San Juan. 
"Juliet has enriched the lives of many Rio Grande Valley students, from elementary to college," UTRGV President Guy Bailey said on Friday, when the news broke about García's national honor. "Her contributions to higher education in South Texas and beyond are long lasting and have created pathways of success among a new generation of Latino leaders. On behalf of everyone at UTRGV, I congratulate Juliet on this well-deserved national award." 
ABOUT DR. JULIET V. GARCIA 
García was the first Mexican American woman to serve as a college president in the United States. During her tenure as president, she pioneered a partnership between UT Brownsville and Texas Southmost College, a community college where she served as president from 1986 to 1992, when she assumed the presidency of UTRGV legacy institution UT Brownsville. She stepped down as UTB president in 2014, when UTRGV was established. 
She has been the recipient of numerous awards. TIME magazine in 2009 named García one of the Top 10 college presidents in the nation, and she was named one of the Top 50 world leaders by Fortune magazine. In 2008, García was selected to join President-elect Barack Obama's transition team. 
García received her Ph.D. in communication and linguistics from The University of Texas at Austin and her M.A. and B.A. in speech and English from the University of Houston.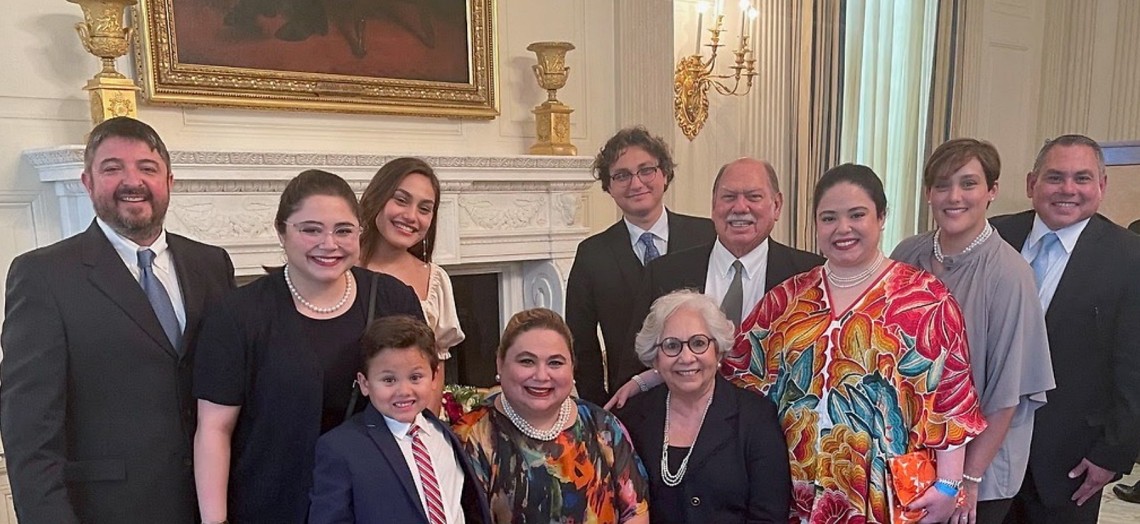 ABOUT UTRGV
The University of Texas Rio Grande Valley (UTRGV) was created by the Texas Legislature in 2013 as the first major public university of the 21st century in Texas. This transformative initiative provided the opportunity to expand educational opportunities in the Rio Grande Valley, including a new School of Medicine, and made it possible for residents of the region to benefit from the Permanent University Fund – a public endowment contributing support to the University of Texas System and other institutions.
UTRGV has campuses and off-campus research and teaching sites throughout the Rio Grande Valley including in Boca Chica Beach, Brownsville (formerly The University of Texas at Brownsville campus), Edinburg (formerly The University of Texas-Pan American campus), Harlingen, McAllen, Port Isabel, Rio Grande City, and South Padre Island. UTRGV, a comprehensive academic institution, enrolled its first class in the fall of 2015, and the School of Medicine welcomed its first class in the summer of 2016.