Exhibit runs through July 10 at IMAS in McAllen

  Thursday, June 30, 2022
  Community
By News and Internal Communications
By Santana Peralez
June is Pride Month
RIO GRANDE VALLEY, TEXAS – Uncovered Spaces communicates a welcoming message that the UTRGV Center for Latin American Arts (CLAA) supports the LGBTQIA+ community and the inclusion of all voices.
Uncovered Spaces is an exhibition and event series centering on LGBTQIA+ and female artists that opened on March 26 and is set to continue until July 10 at the International Museum of Art & Science (IMAS) in McAllen.
The exhibition is a collaboration between the CLAA and IMAS. It's curated by Raheleh Filsoofi of Vanderbilt University in Nashville, Tenn., and directed by UTRGV's Dr. Katherine Moore McAllen, assistant professor of art history within the UTRGV School of Art & Design, and director of the CLAA. 
"Uncovered Spaces is important because it provides a safe space for LGBTQIA+ artists to present their ideas and creative works and know they are celebrated," said McAllen.
McAllen shared that having an exhibition highlighting women and LGBTQIA+ artists is important to bring to the Rio Grande Valley.
"Uncovered Spaces will inspire you with its stunning presentation of artworks that [work together to create a dialogue] that is empowering and positive," she said.
Artists who participated in this event include:
According to Filsoofi, artists selected for this exhibition were based on the revolutionary inclusive approach in their practice and for addressing the sexism, racism, homophobia, and Western centrism that is incredibly prevalent in the art world.
"Our mission is to contribute positively to the efforts of artists, scholars, students, research institutions, and the community in the Rio Grande Valley to learn and give back to our society," she continued, "Such exhibitions shed light on forbidden and untold stories we keep to ourselves."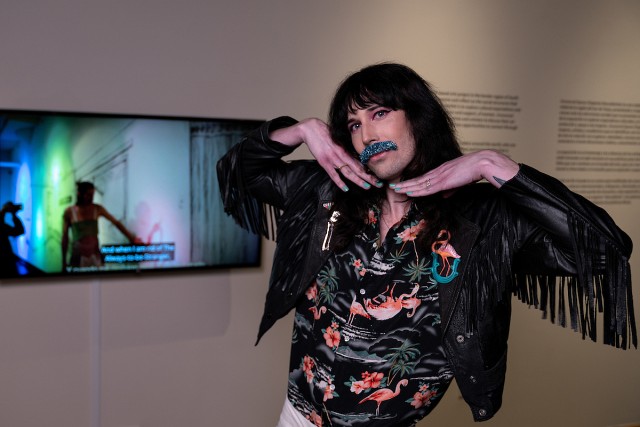 ARTISTS' VOICES
Zac Thompson, a non-binary New York-based artist who was featured in this exhibition, said there's a sense of honesty and sincerity in the work featured that they hope people can relate to, regardless of how different the people may appear.
"Even if you're not queer or trans we all struggle with being our true, authentic selves and it can actually be playful and sincere," they said.
Thompson had a video piece titled "You May Touch My Dust but Please Don't Write in it," featured in the exhibit, as well as several photographs showcasing a variety of subjects that were placed on display in the museum's restrooms.
Featured ceramics artist, Lauren Sandler, assistant professor of Instruction and program head of Ceramics at Temple University School of Art and Architecture, said she's always interested in work that reveals different stories and narratives.
Three of Sandler's ceramic pieces, "Oil Lamps," "Objects of Attachment" and "Flax," are featured in the exhibit.
Sandler said that being able to uncover stories and experiences that are often obscured by power structures and other oppressive systems are things she thinks about in her work, so being able to be a part of an exhibition like Uncovered Spaces was a great fit. 
"Revealing stories or experiences that are often obfuscated, because of power dynamics or power systems," Sandler said. "These are things that I think about in my work. So, to be a part of a show that is engaging in that dialogue certainly is a space that I want to be in and be a part of."
Grants from The Alice Kleberg Reynolds Foundation, The Raul Tijerina Jr. Foundation, H-E-B, the Hollyfield Foundation, the Brown Foundation, the Vanderbilt University Center for Latin American, Caribbean, and Latinx Studies, the UTRGV College of Fine Arts, the UTRGV Center for Latin American Arts, and the Texas Commission on the Arts provided the financial support needed to create Uncovered Spaces.
As a further expansion of voices, a student art exhibition by UTRGV MFA Alumni Cristina Correa and Fatima Lai was added. It presents works, inspired by Uncovered Spaces, by high school art students from Brownsville ISD and IDEA Public Schools. 
Filsoofi said she believes there is a need to negotiate and address identity from a critical social perspective.
"By bringing in diverse voices in this exhibition we can design spaces where differences and commonalities can be explored and be given a platform for the development of a collective voice," she said.
For more information about Uncovered Spaces, visit https://theimasonline.org/uncovered-spaces/. And for more information on CLAA visit https://www.utrgv.edu/claa/.
ABOUT UTRGV
The University of Texas Rio Grande Valley (UTRGV) was created by the Texas Legislature in 2013 as the first major public university of the 21st century in Texas. This transformative initiative provided the opportunity to expand educational opportunities in the Rio Grande Valley, including a new School of Medicine, and made it possible for residents of the region to benefit from the Permanent University Fund – a public endowment contributing support to the University of Texas System and other institutions.
UTRGV has campuses and off-campus research and teaching sites throughout the Rio Grande Valley including in Boca Chica Beach, Brownsville (formerly The University of Texas at Brownsville campus), Edinburg (formerly The University of Texas-Pan American campus), Harlingen, McAllen, Port Isabel, Rio Grande City, and South Padre Island. UTRGV, a comprehensive academic institution, enrolled its first class in the fall of 2015, and the School of Medicine welcomed its first class in the summer of 2016.