Thursday, June 23, 2022
  Around Campus
By Letty Fernandez
RIO GRANDE VALLEY, TEXAS – You know how, when you take a bite of a sabroso pork tamal or smell garlic and onion sizzling on the stove, you close your eyes and remember your mom and tías gathered in the kitchen, cooking up a storm?  
Ana Peña-Oliva, a UTRGV co-faculty advisor for the literary contest, Memorias Culinarias/Culinary Memories, said food, for many, is all about family and memories. 
"The memory goes beyond the food itself to the associations we have to a long-ago memory, whether in the home we grew up in, our hometown, our family," she said. 
To tap into that experience, Peña-Oliva, Laura Garza, co-faculty advisor and the UTRGV student chapter of Sigma Delta Pi, the National Hispanic Honor Society, invited students, faculty and staff to submit, during the spring semester, an original essay in Spanish or English related to a specific cooking recipe and the memory related to the recipe.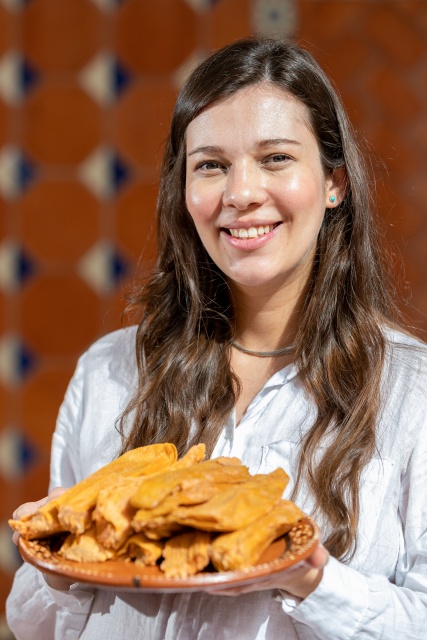 "I think one of the reasons why participants are attracted to the Culinary Memories contest is because cooking recipes make powerful food memories," said Peña-Oliva, lecturer of Hispanic Linguistics in the Department of Writing and Language Studies, UTRGV College of Liberal Arts.  
Contest winner Maria Bolkcom, a junior majoring in Spanish, wrote about making tamales with her mother while growing up in Guadalajara, Mexico. 
Tamales, or "tapatíos" as they are called in her hometown, are her favorite food and evoke many emotions. 
"I never thought that I'd miss those flavors. It's all about being grateful. It's all about the appreciation for a meal so special and delicious that you can only get it at home," Bolkcom wrote in her winning essay. "The process, dedication, effort and, above all, love, set an example for me not only in the kitchen, but also in my daily life." 
The second-place essay, by Suyin Carrillo, a UTRGV graduate who earned a bachelor and master's degree in Spanish, is titled Muchacho Relleno, about a stuffed eye of round roast, a recipe that means a great deal to her. 
"My mom would make it for birthdays or baptisms. We would always share kitchen duties and ingredient prep equally," she writes in her essay. "My parents, for instance, took care of heavier things such as meat and potatoes, while we, my sisters and cousins, would handle the veggie cutting, washing and chopping. I am proud of my roots, and I am proud to have Spanish as my mother tongue." 
Pamela Herring, lecturer in the Department of Writing and Language Studies, chose to write about lefse, a Norwegian dessert made from potatoes, that can be used like a tortilla to hold different types of food, or eaten with just butter. The recipe was passed down to her by her father, who died when she was just 11 years old. 
He knew she and her siblings had a sweet tooth, she recalled, so, to entice his children to be his captive audience, he always set aside enough "dough" for dessert lefse. 
"The magical ingredient was cinnamon sugar," she wrote in her essay, which earned third place in the contest. "All that could be heard now was the noises of happy little mouths chewing and indulging in the soft, warm, sweet delight our father made just for us. Perhaps, you could also hear him smile while he watched his three treasures magically transformed through his gift of love." 
This was the third year the Memorias Culinarias/Culinary Memories contest has been held. This year, 12 essays were submitted featuring a variety of recipes from chicken and dumplings and barbacoa de Borrego to sweet fare like empanadas de cajeta. The winning essays will be posted online this summer. 
"We also want to promote the love for the Spanish language, while encouraging students to acquire a greater interest and deeper understanding of the Hispanic culture," Peña-Oliva said. "People tell us they enjoy the narratives, and we want to continue to do this event every year." 
For more information on the contest, contact Peña-Oliva at ana.pena@utrgv.edu.
ABOUT UTRGV
The University of Texas Rio Grande Valley (UTRGV) was created by the Texas Legislature in 2013 as the first major public university of the 21st century in Texas. This transformative initiative provided the opportunity to expand educational opportunities in the Rio Grande Valley, including a new School of Medicine, and made it possible for residents of the region to benefit from the Permanent University Fund – a public endowment contributing support to the University of Texas System and other institutions.
UTRGV has campuses and off-campus research and teaching sites throughout the Rio Grande Valley including in Boca Chica Beach, Brownsville (formerly The University of Texas at Brownsville campus), Edinburg (formerly The University of Texas-Pan American campus), Harlingen, McAllen, Port Isabel, Rio Grande City, and South Padre Island. UTRGV, a comprehensive academic institution, enrolled its first class in the fall of 2015, and the School of Medicine welcomed its first class in the summer of 2016.