Friday, May 20, 2022
  Community
By News and Internal Communications
By Saira Cabrera
RIO GRANDE VALLEY, TEXAS – MAY 20, 2022 – Every year during May, for Women's Health Month, reminders go out to women to prioritize their health and well-being.
The objective is to encourage them to put their health at the top of their to-do lists, to put themselves first for a while and help them understand what they can do for their own welfare.
Denise De Los Santos, assistant professor in the Department of Obstetrics & Gynecology at UT Health RGV and medical director of OB-GYN at the UT Health RGV Jackson Road clinic, knows the importance of taking care of herself. She is a wife and mother, as well as a physician board certified in obstetrics and gynecology.
She also is an advocate for women.
THE FOUNDATION OF ANY FAMILY
"Women are the foundation of any family. Moms hold it together. They're central to our functioning," said De Los Santos, MD, FACOG. "If mom's not happy, nobody's happy. If mom's not able to get up and do things and take care of everyone, things kind of fall apart. I think it's so important that we prompt women to take care of themselves. We tend to forget, or get too busy."
Saul D. Rivas, assistant professor of Obstetrics & Gynecology at The UTRGV School of Medicine and site principal investigator and medical director for Healthy Mujeres - a program designed to provide women's health services to underserved women in the RGV – agrees it is essential for women to prioritize their health. 
"Women are the pillars in our community, with important roles both inside and outside the home," said Rivas, MD, MSPH, FACOG. "It is very important for them to stay healthy."
BEING PROACTIVE
De Los Santos said it is important for women to take a step back and pay attention to what their bodies are telling them.
"We need to realize that we're human and can fall apart. You don't want to get to the point where it's too late," she said. "If you had just checked on all of the things you needed to check on, we would have caught something sooner. You could have started working on it sooner to improve your health."
Rivas urges women to start taking care of themselves early in life.
"There are specific health issues at every stage in life – from adolescence to after menopause," he said. "So, it's always the right time to start."
Women tend to seek medical attention when they are having health issues, he said, but preventative screening services can be critical.
"These include vaccinations, mammograms, pap tests and contraception, to name a few," he said.
De Los Santos said healthy habits can be as easy as going to the doctor for an annual exam.
"Most people don't realize routine healthcare maintenance, in most cases, means going and getting your annual checkups – which can mean getting a medical exam and also a gynecological exam together," she said. "Two different exams during the same doctor's visit. It saves time and is equally beneficial."
She recommends making it a habit to schedule annual exams and doctor's appointments ahead of time.
"I make appointments, and I put them on my phone. That way, I already know I have them and can schedule around that," she said. "That's how I make sure that I follow through with my doctor's appointments and checkups. It's the little things that can help."
TAKING CONTROL OF YOUR  HEALTH
Other steps women can take to ensure their better health, according to the Centers for Disease Control and Prevention (CDC) are to:
One essential first step is getting accurate information. Rivas recommends the CDC and the American College of Obstetricians and Gynecologists, which "are both excellent sources of information. It is also important to discuss these topics with your health provider," he said.
COMMUNITY PROGRAMS
Women who don't have access to medical care can turn to community programs for help.
"We have a program at our Area Health Education Clinic, called AHEC, that helps women access routine healthcare maintenance," De Los Santos said. "Here at UTRGV, we have programs that provide low-cost care and access."
In addition, any of the UT Health RGV obstetrician-gynecologists and primary care physicians are qualified to provide care.
"Our Healthy Mujeres Team is focused on reaching out to women in areas where it is hard to see a doctor," Rivas said. "And we have several grants that allow us to provide services for little or no cost, if patients qualify."
De Los Santos recommends that women who do not have access to healthcare visit UT Health RGV clinics and ask for the available resources.
"Take the time to at least get one medical exam, because it is imperative. Regular checkups are essential," she said. "Talk to a healthcare provider. Advocate for yourself. Reach out and ask for help."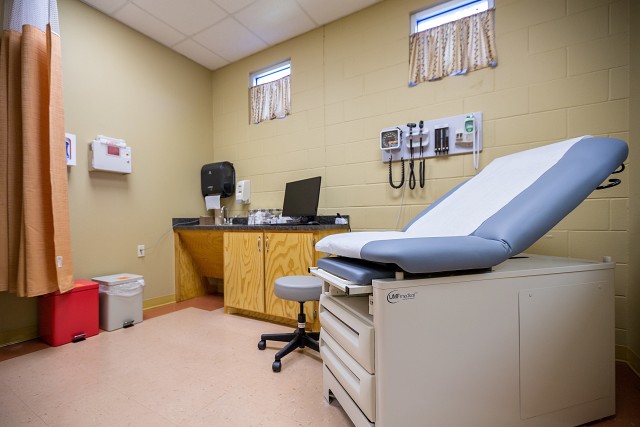 ABOUT UTRGV
The University of Texas Rio Grande Valley (UTRGV) was created by the Texas Legislature in 2013 as the first major public university of the 21st century in Texas. This transformative initiative provided the opportunity to expand educational opportunities in the Rio Grande Valley, including a new School of Medicine, and made it possible for residents of the region to benefit from the Permanent University Fund – a public endowment contributing support to the University of Texas System and other institutions.
UTRGV has campuses and off-campus research and teaching sites throughout the Rio Grande Valley including in Boca Chica Beach, Brownsville (formerly The University of Texas at Brownsville campus), Edinburg (formerly The University of Texas-Pan American campus), Harlingen, McAllen, Port Isabel, Rio Grande City, and South Padre Island. UTRGV, a comprehensive academic institution, enrolled its first class in the fall of 2015, and the School of Medicine welcomed its first class in the summer of 2016.