Saturday, May 14, 2022
  Around Campus
By News and Internal Communications
EDINBURG, TEXAS – The big day finally arrived for more than 2,400 UTRGV graduates, who celebrated earning their degrees on the second day of the university's Spring 2022 Commencement. 
A total of four ceremonies – 8 a.m., noon, 3:30 p.m. and 7 p.m. – were held Saturday at the Bert Ogden Arena in Edinburg. The university's busy commencement weekend began Friday in Brownsville with two ceremonies for more than 600 graduates. 
Family and loved ones cheered on the Class of 2022 as the graduates were the center of attention at the arena throughout the day. 
UTRGV President Guy Bailey, who congratulated Vaqueros via the big screen, told graduates to be proud of their major accomplishment, but said just because they are graduating does not mean they are done learning. 
"You are well prepared. You got a great education. You have gotten great support. You have learned how to learn," Bailey said. "Never forget that. Always continue to learn, and if you do that, you are going to be in good shape. 
"You've got a great life ahead of you. Congratulations to you. Congratulations to your family," he said. "We look forward to seeing you be a success throughout your life."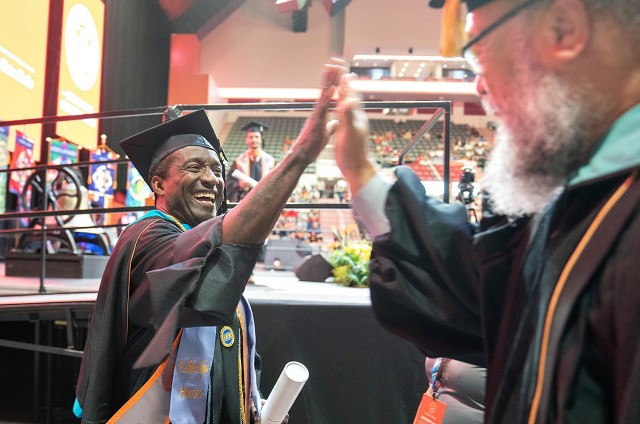 A SHARED DEGREE 
Two UTRGV students graduating from the American Sign Language Interpretation program, Department of Communication Sciences and Disorders, were eager to walk across the stage and officially begin the next steps of their journeys. 
Delia Landeros, a first-generation college student, said she is excited about commencement and eager to apply what she has learned to her future career as a video remote interpreter. She is grateful for the support she received from her family on her college journey, she said. 
"My parents moved from Mexico to Texas, and they raised me to see education was so important," the Mission resident said. "In high school, I remember being decked out in UTRGV stuff. I really liked the university. So, once I applied and got accepted, I was so excited! My parents were so happy for me. This degree is mine – but it's theirs, also." 
Her next step is to search for a job that focuses on helping the deaf community, along with working toward certification for that career as a video remote interpreter. 
Fellow graduate Ana Lilia Hernández, a Pharr resident, said graduating is a huge personal accomplishment. She is the second to graduate in her family, and she credits earning her degree to the support she received from her family. 
"I know the obstacles my mother faced, and she did a lot for us. She is an inspiration. My older sister is also a role model for me. She would tell me, 'Education never ends, always aim for higher,'" she said. "So, I know at the end, my dedication, my efforts will have been worth it. I can walk across the stage knowing I overcame every obstacle. I did it." 
She admits to being a little bit nervous about completing this phase of her education, as she is the type of person who loves school and not knowing what comes next can be a little scary. She already has some ideas about what comes next for her, though. She'll be working on getting her state certification to become an interpreter and eventually will work on a master's degree.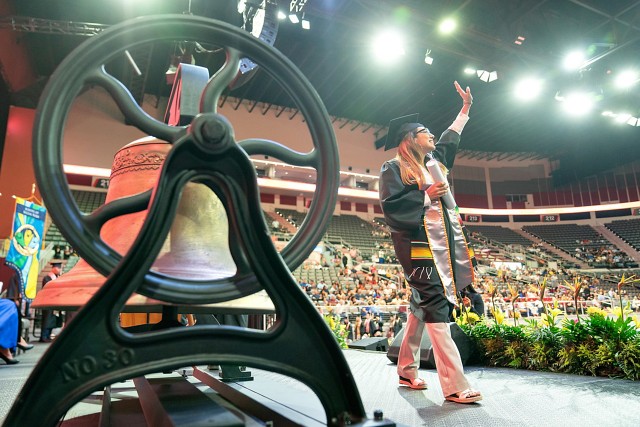 GRATEFUL FOR VAQUERO FAMILY 
UTRGV student-athlete Iva Belosevic was excited for Saturday's Spring Commencement. The student was recruited to the university from Zagreb, Croatia, to play Women's Basketball. She said she's grateful to everyone – coaches, faculty, fellow players – who made her feel welcome and part of a family. 
"I met some great people here that I will cherish for life. Anytime I need help, I know I could call them, and they will be there for me," the psychology major said.  
Moving to another continent was anything but easy, Belosevic said, and it was difficult at times. But she said she is grateful to everyone for the support all along the way. 
Her biggest encouragement – her parents – were in the Commencement crowd, watching their daughter walk across the stage to receive her diploma. 
Her parents made many sacrifices to help her through school in a completely new country, and the one thing she wants to do is make them proud. 
"It is their first time in the U.S., and they are seeing me graduate," she said with a smile. "I am the first in my family to graduate college, and I know it's a proud moment for them. I'm so happy they can see it." 
UNIQUE UTRGV EXPERIENCE 
For McAllen native Arnold J. Gonzalez, earning an undergraduate degree in English with a concentration in Creative Writing was an experience he will always remember – especially because he started courses at UTRGV when the campus went to remote learning in March 2020, at the height of the COVID-19 pandemic.  
Gonzalez, who accepted his degree at the 8 a.m. ceremony in Edinburg, spent most of his time at UTRGV behind a computer and did not set foot on campus until the Spring 2022 semester, when in-person classes resumed. 
"My UTRGV experience has been unique. When I planned to return after a hiatus, I came back to asynchronous courses due to the pandemic," Gonzalez said. "So, online school was all I was used to for the rest of my degree. 
"It wasn't until recently, when we all returned to campus, that I finally understood what campus life was all about. To all the friends and colleagues I've met in such a short time, I will cherish the experience as if it I have known them forever," he said.  
Gonzalez is pursuing a career as an educator and plans to go through the alternative teaching certification process. In addition, he plans to pursue other projects and creative works and is excited to see how his future will unfold. 
He thanked his mom and dad for their support, and for being the inspiration behind his decision to go to college.  
"We've been through hardships and struggles," he said before the ceremony. "I can't wait to honor my mom with my walk across that stage. My dad, too, is a huge inspiration. I always remember him saying, 'Mijo, I want to see you walk that stage with your head high and with your degree higher. I want to see you receive what I couldn't.'"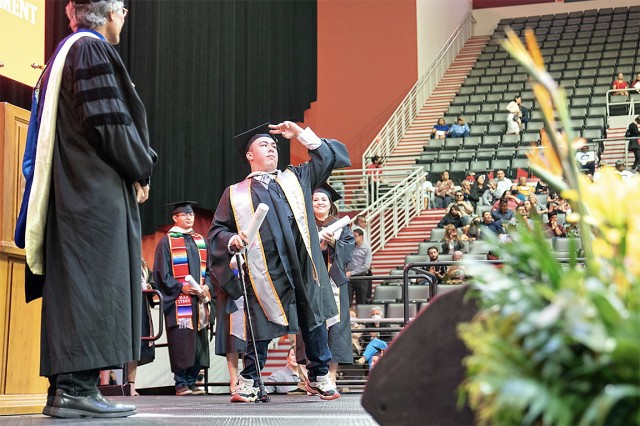 BORN LEADER 
As outgoing president of the UTRGV Student Government Association, José Pablo Rojas last month passed the torch to the new student leadership. On Saturday at noon, he accepted his bachelor's degree in Biology with a focus on Biological Sciences and a minor in Political Science.  
Through his varied extracurricular activities and opportunities available at UTRGV, he said, he learned to better communicate with others and learn from their experiences. 
"The university has prompted my growth in leadership. As SGA president, I learned a lot about myself, and about the university process and how it impacts students," Rojas said. "Compassion is the ideal that any student leader can and should aspire to." 
His goal is to combine his love for medicine and politics to ultimately help others. 
"I hope to one day be able to merge my passions toward medicine and politics and leadership to better aid my community with policy that will alleviate the financial stress of needing medical treatment," Rojas said. "Hopefully, I can continue my medical studies at UTRGV." 
Being SGA president for Rojas was icing on the cake as he got to witness campus growth and truly experience student life. 
"The student life here is like no other, and we are still growing. We are a proud Vaquero Family. The professors really care about their students – they even check in on us to see how we are doing. This university is a beacon of affordability, particularly for those of migrant status, like me," Rojas said. 
For more information on Spring 2022 Commencement, visit 
www.utrgv.edu/commencement.
ABOUT UTRGV
The University of Texas Rio Grande Valley (UTRGV) was created by the Texas Legislature in 2013 as the first major public university of the 21st century in Texas. This transformative initiative provided the opportunity to expand educational opportunities in the Rio Grande Valley, including a new School of Medicine, and made it possible for residents of the region to benefit from the Permanent University Fund – a public endowment contributing support to the University of Texas System and other institutions.
UTRGV has campuses and off-campus research and teaching sites throughout the Rio Grande Valley including in Boca Chica Beach, Brownsville (formerly The University of Texas at Brownsville campus), Edinburg (formerly The University of Texas-Pan American campus), Harlingen, McAllen, Port Isabel, Rio Grande City, and South Padre Island. UTRGV, a comprehensive academic institution, enrolled its first class in the fall of 2015, and the School of Medicine welcomed its first class in the summer of 2016.