Friday, May 13, 2022
  Around Campus
By Victoria Brito Morales
BROWNSVILLE, TEXAS – UTRGV hosted two commencement ceremonies on the Brownsville Campus, for the first time on the lawn outside the University Library with spring greenery as a backdrop.
UTRGV President Guy Bailey addressed the Class of 2022 and sent congratulations via video not only to graduates but also to the families who have loved and supported the students during their higher education journey.
"This is a wonderful achievement for you and for your families, and remember it's not just you who did this," Bailey said. "It's your mom and your dad, the brother and sister who helped you out, your spouse, your significant other. Give them a hug. Let them know that this is their degree as well as yours. With this degree, you will make your life better, but you will make the lives of all of those around you better, as well."
More than 600 graduates were conferred at the two ceremonies, including Dr. Eloisa Tamez, professor of Nursing, who at 87 years of age received her fifth degree – a master's in Criminal Justice.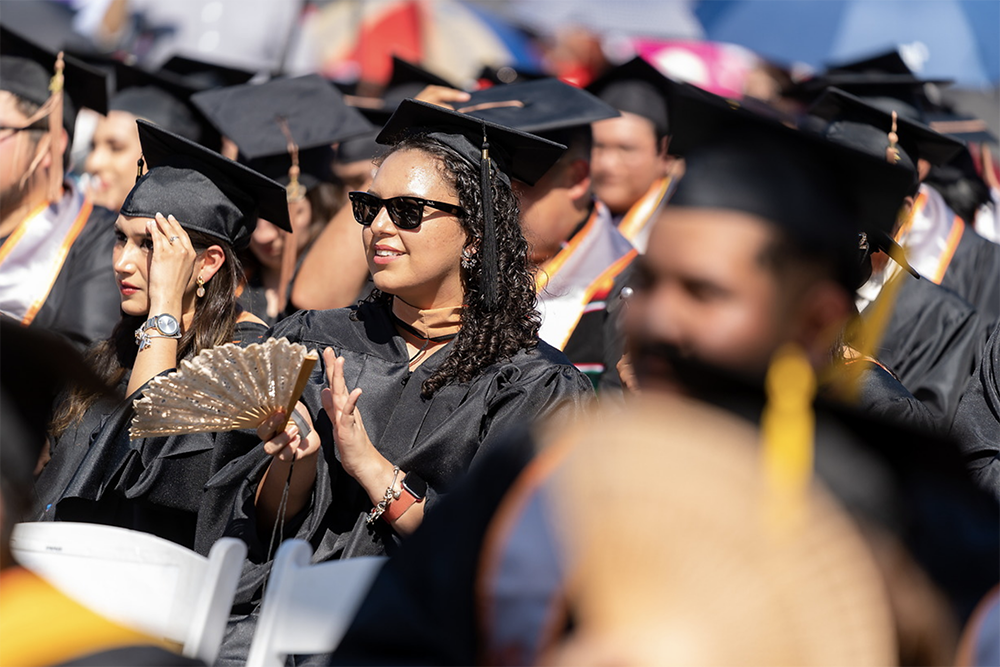 CLASS OF 2022: ALEJANDRA YAÑEZ
Alejandra Yañez, 22, received a bachelor's degree in English with a Teaching Certification.
The Brownsville native graduated from Los Fresnos High School in 2018 and began her undergraduate career as an environmental science major. After taking the required English courses with Dr. Monica Reyes, who was a UTRGV lecturer of Writing and Language Studies, she changed her plans and joined the College of Liberal Arts.
"I took this course with Dr. Monica Reyes, and we had to write a lot of essays for her class. She would do one-on-ones with us, and she advised me to look into the English program," Yañez said. "I come from a family of science majors, but that professor helped me ease into liberal arts and gave me reassurance that I could do it and go after my passion."
Since 2019, Yañez has been working for UTRGV Student Media and has been a reporter and copy editor at The Rider, the student newspaper. She said it was a great way to stay engaged in campus life.
"My best experiences are with the people that I've met in student media, and the relationships are relationships that I've built from working on the paper or going out and doing all these activities that I wouldn't have gone to if it wasn't for the paper," she said.
The experience has swayed her career perspectives. Initially, she wanted to be an English teacher, but her time with Student Media convinced her to pursue journalism as a career, which is currently underway.
"I really want to see how far I can go in this world of journalism," Yañez said. "I recently applied to a job at Channel 4, to be a digital content producer, and I got news last week that I got the job! So that's what I'll be doing."
Yañez will be working full time and will start on her master's degree in English this summer at UTRGV.
"I'm really grateful for the professors and the mentors and my peers and coworkers, because they helped me pursue my education," she said.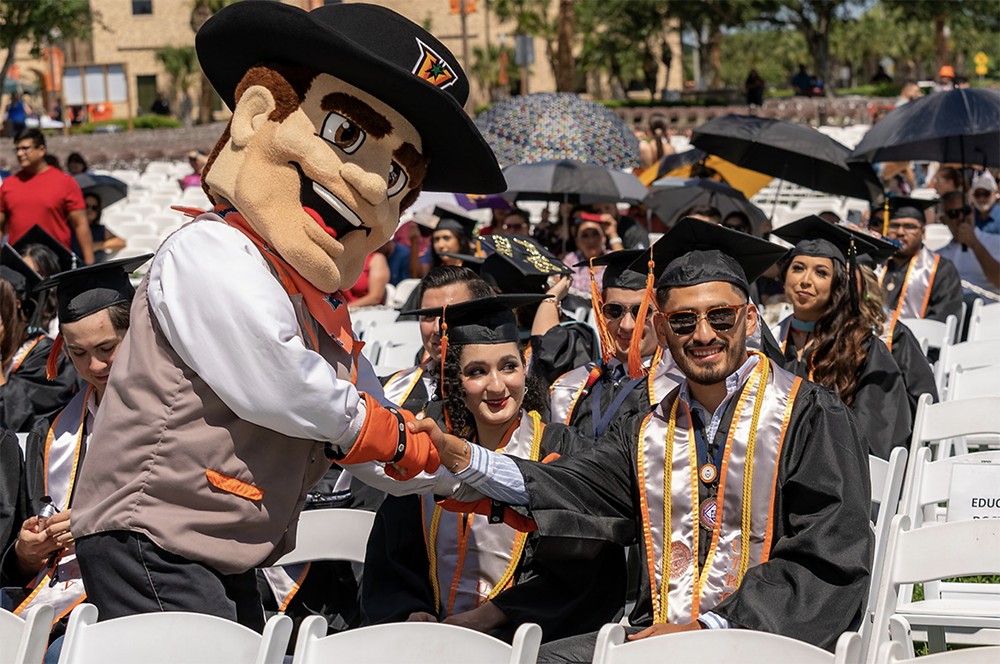 CLASS OF 2022: ITZEL RIVERA
Non-traditional student Itzel Rivera, 28, from Brownsville, graduated from Porter Early College High School in 2011 and was a colleague of Yañez at The Rider. Rivera was a distribution assistant and received her bachelor's degree in Spanish Translation and Interpreting.
She took time off after high school and entered the workforce, working her way up to supervisor in the food service industry. After five years, though, Rivera decided she wanted more out of life and enrolled at UTRGV when she was 23.
Working and learning on campus has given her a lot of hands-on experience and will help her move forward in her career.
"I got to go shadow and interpret at events," she said. "I thought that was super cool, because not only did I gain qualifications and skills that I will use in the workplace, but I also got a little taste of how all this is going to be when I actually graduate and go become an interpreter," Rivera said.
Rivera said that, after graduation, she hopes to get licensed to become a court interpreter and work in the Valley.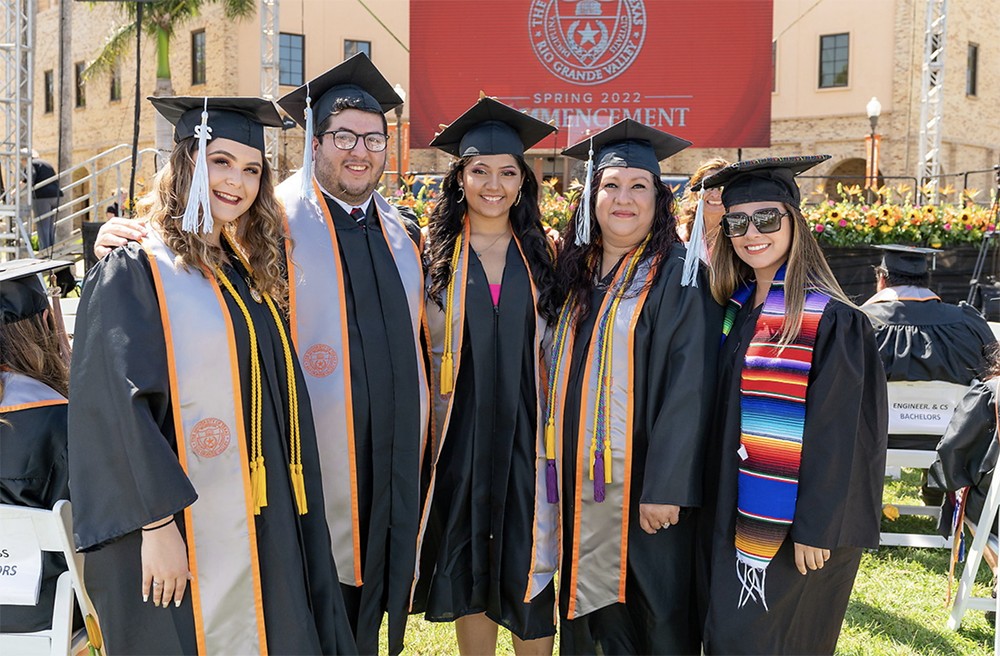 CLASS OF 2022: EMILY JORDAN
Emily Jordan, 28, also had some work experience before enrolling at UTRGV. After finishing high school through homeschooling, she began working as a medical coder and biller, which opened her eyes to the medical field.
She enrolled at UTRGV in 2018 and graduated with bachelor's degree in Biomedical Science with a minor in Psychology.
While at UTRGV, Jordan participated in a lab run by Dr. Sue Ann Chew, associate professor of Biomedical Sciences, that deals with bone engineering. She also was an ambassador for Engaged Scholarship and Learning.
Graduation feels surreal, she said, and she already is preparing to apply for graduate programs.
"My goal is to enter an M.D.-Ph.D. program because, thanks to what I've done at UTRGV, I was able to do research – which was not my plan at all, but I kind of fell in love with it. I don't want to give that up," Jordan said.
"The ultimate goal is to work as a research surgeon," she said. "I want to be able to work in advancing medical devices that are used on patients in surgery."
Jordan will take a gap year to pursue an accelerated online program at UTRGV and get a master's degree in Health Science. Her plan is to begin an M.D.-Ph.D. in fall 2023.
UTRGV commencement continues tomorrow in Edinburg at the Bert Ogden Arena with four ceremonies: 8 a.m., noon, 3:30 p.m. and 7 p.m.
For more information on Spring 2022 Commencement, visit www.utrgv.edu/commencement.
ABOUT UTRGV
The University of Texas Rio Grande Valley (UTRGV) was created by the Texas Legislature in 2013 as the first major public university of the 21st century in Texas. This transformative initiative provided the opportunity to expand educational opportunities in the Rio Grande Valley, including a new School of Medicine, and made it possible for residents of the region to benefit from the Permanent University Fund – a public endowment contributing support to the University of Texas System and other institutions.
UTRGV has campuses and off-campus research and teaching sites throughout the Rio Grande Valley including in Boca Chica Beach, Brownsville (formerly The University of Texas at Brownsville campus), Edinburg (formerly The University of Texas-Pan American campus), Harlingen, McAllen, Port Isabel, Rio Grande City, and South Padre Island. UTRGV, a comprehensive academic institution, enrolled its first class in the fall of 2015, and the School of Medicine welcomed its first class in the summer of 2016.