Introductory ASL program is designed to improve emergency communication

  Friday, May 13, 2022
  Community
By Karen Villarreal
RIO GRANDE VALLEY, TEXAS – Starting May 16, 2022, UTRGV faculty will be providing a free, six-week training in American Sign Language (ASL) to first-responders from Brownsville, Edinburg and McAllen at the municipal police departments.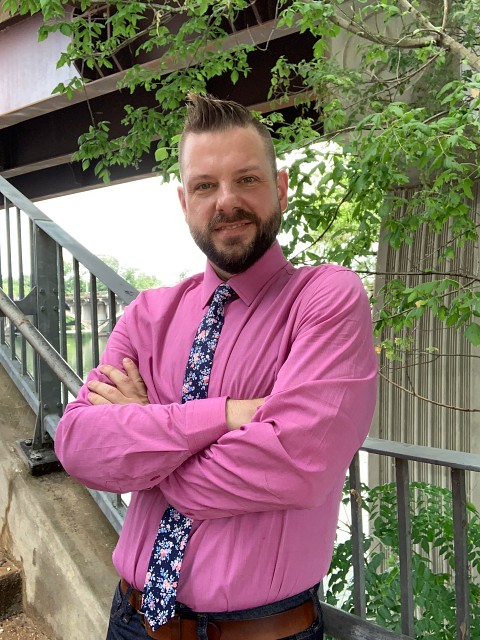 Included are police officers, fire fighters, medical first-responders and other emergency personnel.  
Dr. Brian Cheslik, assistant professor and program coordinator for the American Sign Language and Interpretation (ASLI) degree program at UTRGV, said the training will help bridge the communication gap between first-responders and the deaf community.  
"There's a distrust within the deaf community around calling for help," Cheslik said. "As a deaf person – will I be understood?" 
CHALLENGING SITUATIONS 
When a deaf driver is pulled over by police, that person many experience a heighted sense of anxiety because officers don't always understand deaf cultural norms, such as the need to read lips or sign with their hands, he said.  
Although emergency personnel should call a certified ASL interpreter immediately when a deaf person requires emergency assistance ­– so that legally, the details can be received in public record – there are only about 40 certified interpreters available for the entire Rio Grande Valley. 
Cheslik said situations can escalate before a qualified interpreter arrives.  
"Officers may believe a deaf person is 'fleeing,' when they simply didn't hear their orders to stop," Cheslik said. "People may try shouting to be heard better ­– which is offensive in the deaf community and usually not helpful."  
TRAINING FOR CHANGE 
The hour-and-a-half weekly training sessions will explain deaf culture and basic conversational sign language, such as how to introduce oneself and facilitate communication.  
Training will include roleplay scenarios – such as hand-cuffing suspects with their hands in front rather than behind their backs to allow them to sign. They will teach the signs for identifying characteristics that deaf witnesses may provide, such as clothing, colors and numbers.  
"These first-responders aren't training to be interpreters," Cheslik said. "But with the ability to communicate, they can help diffuse a situation and decrease anxiety." 
For more information about ASL first-responder training, contact Cheslik at brian.cheslik@utrgv.edu.  
ABOUT UTRGV
The University of Texas Rio Grande Valley (UTRGV) was created by the Texas Legislature in 2013 as the first major public university of the 21st century in Texas. This transformative initiative provided the opportunity to expand educational opportunities in the Rio Grande Valley, including a new School of Medicine, and made it possible for residents of the region to benefit from the Permanent University Fund – a public endowment contributing support to the University of Texas System and other institutions.
UTRGV has campuses and off-campus research and teaching sites throughout the Rio Grande Valley including in Boca Chica Beach, Brownsville (formerly The University of Texas at Brownsville campus), Edinburg (formerly The University of Texas-Pan American campus), Harlingen, McAllen, Port Isabel, Rio Grande City, and South Padre Island. UTRGV, a comprehensive academic institution, enrolled its first class in the fall of 2015, and the School of Medicine welcomed its first class in the summer of 2016.