Thursday, May 12, 2022
  Around Campus, Research, Science & Technology
By Karen Villarreal
RIO GRANDE VALLEY, TEXAS – MAY 12, 2022 – UTRGV professor Dr. Constantine M. Tarawneh and several generations of student collaborators have invented and licensed the patent for a railroad industry improvement with the potential to become the global safety standard.   
  
Tarawneh, senior associate dean for Research and Graduate Programs and director of the University Transportation Center for Railway Safety (UTCRS), and his student and faculty collaborators ­have attracted the interest of Hum Industrial Technology, Inc., a supply chain technology company that develops railway safety sensors. 
  
Hum Industrial has exclusively licensed the rights to the safety invention from the University of Texas System Board of Regents and is working with Tarawneh and his team at UTRGV to develop it into a real-world product.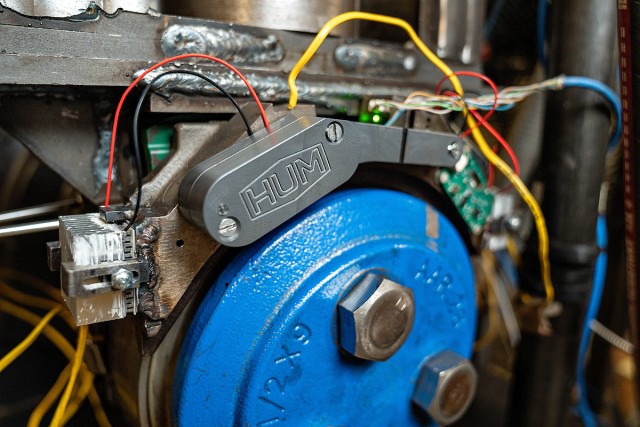 Tarawneh said 17 years of research on improving railroad safety and efficiency has culminated in this monitoring system ­and the accompanying code. The system in part consists of wireless sensors for railcar wheel bearings, which wear down over time and can be dangerous if not replaced.  
  
"It's a great accomplishment," Tarawneh said of the licensing agreement with Hum, which includes two technology patents and a software copyright. 
  
Tarawneh and the students involved currently are in the process of final testing and optimization before the company installs the invention in railcars across the United States.   
  
These are the first fully executed patent licenses to yield royalty payments to UTRGV and the inventors – which include three graduate students, one undergraduate and Tarawneh. Three other UTRGV faculty are listed as co-inventors: Dr. Heinrich Foltz, Dr. Stephen Crown, and Dr. Robert Jones.   
UTRGV students included as inventors on the patents are:  
Anthony Villarreal and Joseph Montalvo, who both graduated in 2019 with master's in science degrees in mechanical engineering and now work for Raytheon.
Jonas Cuanang, who graduated in 2020 with a master's degree in mechanical engineering and now works for ENSCO Rail Division. 
"Although generations of students contributed to prototyping and testing ­– which is called "reduction to practice" in the realm of inventorship law – these four students conceived unique concepts that were significant to the final inventions," said Fernando Gonzalez, director of Technology Commercialization at UTRGV. 
The inventions – which allow rail companies to anticipate problems instead of reacting to a malfunction – are revolutionary for the rail industry, Tarawneh said.  
  
INDUSTRY INNOVATION  
  
The newly developed sensors can be installed in any railcar to alert the freight companies when there are defects in the bearings or wheels and how long they have until high risk of failure.   
  
HUM Industrial also licensed the defect-tracking algorithm Tarawneh and his students developed to allow for specific data-gathering and frequency of reporting.  
  
These measures improve the railcars' operation and safety of the railcar, and allow companies to take efficient preventive measures as needed.   
  
"The next time the train is going through a city where they have a repair station, they can do maintenance instead of risking breaking down on a crowded line and causing costly delays," Tarawneh said. "It's like the dashboard of your car telling you, 'It's time for an oil change.' You can schedule it."   
  
Their sensors are poised to replace less-accurate wayside detectors, which are located on one side of train tracks to monitor the temperature or sound of a passing train's bearings, he said.  
This new system – which can place a monitor on as many bearings on a train car as the customer wants – provides constant and detailed feedback.   
  
Tarawneh believes this new, patented technology will become adopted widely in the railway industry and beyond, as the benefit and functionality of the invention become widely known.   
  
"The idea is to do enough for customers that we convince the seven major U.S. railroads to adopt this technology ­– and have it become a new standard," he said.   
  
FULL STEAM AHEAD  
  
The technology commercialization agreement, originally licensed to Hum for $130,000 and signed in 2018, continues today in a research and development capacity, with Tarawneh and his students under a new contract to Hum Industrial to optimize the invention ­– which Hum calls "Boomerang" – for about $245,000.  
In a pilot test of 40 sensors, Tarawneh said, they detected a severely defective wheel within two months.   
  
"We identified a really bad wheel set that needed to come out or it would've caused a derailment or damages to the track," he said.    
  
Now, he and his students are preparing an optimized "version five" of the sensors for a pilot test, with about 500 sensors.   
  
"We'll keep testing for glitches in the optimized circuits and battery life until we get it to a point that it's ready to release," Tarawneh said. "We are very close to that step."   
  
Until then, he said, seeing trains go by makes him proud of his students ­– knowing that their work soon will be on board, closely monitoring the cars' bearings for safety.   
  
"It's rewarding to see that a product that was developed at UTRGV is going to change the industry ­– not just here, but also in Europe, Africa, South America, Australia and beyond," Tarawneh said.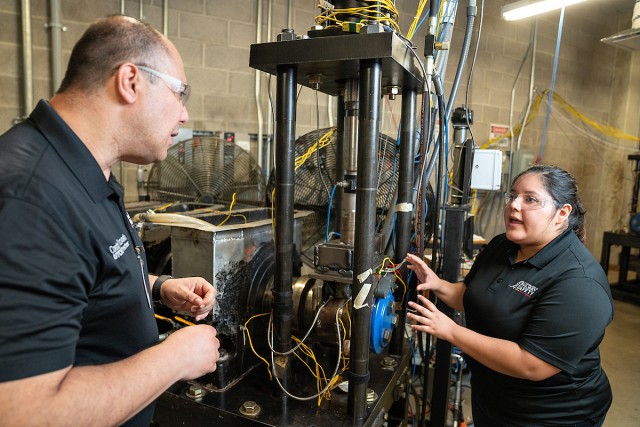 STUDENTS – ON THE RIGHT TRACK 
Since 2005, more than 220 graduate and 600 undergraduate students have been part of the process, picking up the work of up to six previous generations of students and taking it a step further, or completing it.  
Tarawneh's students have made individual components the subject of their thesis projects, such as choosing the sensors, writing parts of the code, or optimizing previous work.  
Tarawneh has watched as the lives of many of his students have changed based on the experience and expertise gained on this project, as they ­secure high-paying positions with companies in the rail or engineering field, like Raytheon.   
One of Tarawneh's former graduate students, Lee Cantu, pursued internships to experience the process of developing or improving products from inception to their final stages.  
"A part of me always knew I wanted to be an inventor," Cantu said. "Tarawneh's dedicated mentorship – and the chance to be part of an invention – shaped the trajectory of my future."
With five years of manufacturing and design experience with UTCRS, which included data analytics and supervising a team, Cantu had opportunities in a variety of industries after graduating. However, he took the offer to work with HUM Industrial and continues to work on the project.   
"We've come full circle," Tarawneh said, "from development to putting our students into the company and continuing implementation. It's a legacy."
ABOUT UTRGV
The University of Texas Rio Grande Valley (UTRGV) was created by the Texas Legislature in 2013 as the first major public university of the 21st century in Texas. This transformative initiative provided the opportunity to expand educational opportunities in the Rio Grande Valley, including a new School of Medicine, and made it possible for residents of the region to benefit from the Permanent University Fund – a public endowment contributing support to the University of Texas System and other institutions.
UTRGV has campuses and off-campus research and teaching sites throughout the Rio Grande Valley including in Boca Chica Beach, Brownsville (formerly The University of Texas at Brownsville campus), Edinburg (formerly The University of Texas-Pan American campus), Harlingen, McAllen, Port Isabel, Rio Grande City, and South Padre Island. UTRGV, a comprehensive academic institution, enrolled its first class in the fall of 2015, and the School of Medicine welcomed its first class in the summer of 2016.