Wednesday, May 11, 2022
  Awards and Recognitions
By Amanda A. Taylor-Uchoa
RIO GRANDE VALLEY, TEXAS – UTRGV has been included in The Hispanic Outlook on Education Magazine's first-ever list of the top 10 schools in the country for Hispanics/Latinos in STEM careers. 
The ranking, listed in the upcoming issue on May 9, is based on the number of graduate degrees (including all master's and Ph.D. degrees) granted to Hispanics/Latinos in the eight STEM fields.  
Hispanic Outlook ranked UTRGV:  
No. 5 – Top 10 Schools for Mathematics and Statistics (Graduate Degrees, 2019-20). 
No. 7 – Top 10 Schools for Health Professions and Related Programs (Graduate Degrees, 2019-20).
Ranking information is based on data from the 2019-20 U.S. Department of Education's National Center for Education Statistics (NCES) Integrated Postsecondary Education Data Systems (IPEDS), a system of interrelated surveys conducted annually by the NCES.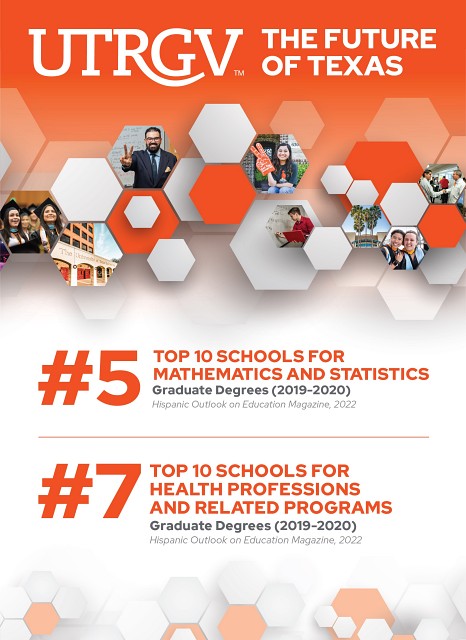 UTRGV also stands out for being one of the institutions with more than a third of all graduate degrees granted to Hispanic/Latino students, with 66 percent in Health Professions and Related Programs and 61 percent in Mathematics and Statistics.  
UTRGV President Guy Bailey said being ranked alongside some of the best Hispanic-/Latino-serving universities in the country reflects UTRGV's commitment to ensuring that all students succeed.  
"UTRGV is committed to creating avenues to success so that our students can go out into the workforce fully equipped with the skills they need to prosper and thrive in a competitive global market," Bailey said. "We are proud of the programs and initiatives we have instituted that allow us to compete with some of the best universities in the United States." 
To view the latest issue of The Hispanic Outlook on Education Magazine, click here. 
ABOUT THE HISPANIC OUTLOOK ON EDUCATION MAGAZINE 
The Hispanic Outlook on Education (HO) is a national monthly magazine that provides education news, innovations, networking, resources and the latest trends impacting students from kindergarten through graduate school all while maintaining a unique Hispanic perspective. Originally entitled The Hispanic Outlook in Higher Education, HO has provided a pipeline delivering nationwide news about multicultural accomplishments and challenges in classrooms for more than 28 years. 
During the year, HO has special theme issues that place particular emphasis on specialized topics including Financing a College Education, Community Colleges, Graduate Schools, Medical Professions, Arts and Media, Law Schools, Hispanic Hiring Institutions, and the Top 100 Schools for Hispanics. 
ABOUT UTRGV
The University of Texas Rio Grande Valley (UTRGV) was created by the Texas Legislature in 2013 as the first major public university of the 21st century in Texas. This transformative initiative provided the opportunity to expand educational opportunities in the Rio Grande Valley, including a new School of Medicine, and made it possible for residents of the region to benefit from the Permanent University Fund – a public endowment contributing support to the University of Texas System and other institutions.
UTRGV has campuses and off-campus research and teaching sites throughout the Rio Grande Valley including in Boca Chica Beach, Brownsville (formerly The University of Texas at Brownsville campus), Edinburg (formerly The University of Texas-Pan American campus), Harlingen, McAllen, Port Isabel, Rio Grande City, and South Padre Island. UTRGV, a comprehensive academic institution, enrolled its first class in the fall of 2015, and the School of Medicine welcomed its first class in the summer of 2016.