Thursday, May 5, 2022
  Community
By News and Internal Communications
By Santana Peralez
RIO GRANDE VALLEY, TEXAS – Trolls, caves and jackalopes – oh, my!
The UTRGV Theatre Department toured schools across the Rio Grande Valley with presentations of "Seymour the Troll," by David B. Carren, theatre professor in the UTRGV College of Fine Arts.
"Seymour the Troll" tells the story of a big green troll named – what else? Seymour.
Everyone laughs when they hear his name, but he can't change it and it's ruining his life. Whoever heard of a scary troll named Seymour? In the play, the big, unhappy troll searches Troll Mountain for a miracle that will stop the laughter once and for all.
The show is directed by Mateo Ramirez, a junior theatre major, with assistance from UTRGV Associate Professor Dr. Brian Warren.
"We decided on 'Seymour the Troll' for a couple of reasons," Warren said. "We like to do theater for young audiences once per semester. Since COVID, we're slowly getting back into it, and 'Seymour' packs a nice message – which is, essentially, 'Hey, kid, whoever you are, that's who you are. You don't need to change because someone else says you must change."
Warren said the play originally was produced for 2020 but was called off due to the pandemic.
Ramirez said this is his first time directing, not only children's theatre, but also a touring show.
"This show made me realize more and more that I'm not a stand-back director. I'm an in-the-middle-of-the-storm director," he said. "We went to an elementary school, and it went really, well. Those kids really liked it."
Ramirez said he pulled a lot of inspiration for this show from early 2000s and late 1990s cartoons, like "Ed, Edd & Eddy," "Courage, the Cowardly Dog," "Foster's Home for Imaginary Friends," "Johnny Bravo," "The Powerpuff Girls" and "SpongeBob SquarePants."
"My approach was to make it stimulating," he said. "There's live music, there's crazy props, there's insane costumes. And then the actors are doing classic comedy bits. It's just ridiculous and I think that ridiculousness wakes up the kids."
Andrea Zents, a mass communications major and sound designer for the show, said designing the sound for 'Seymour' was a lot of fun.
"Mateo had a lot of really great ideas," Zents said. "We'd incorporate little sounds that make it more cartoonish and vibrant, and that would make the kids laugh."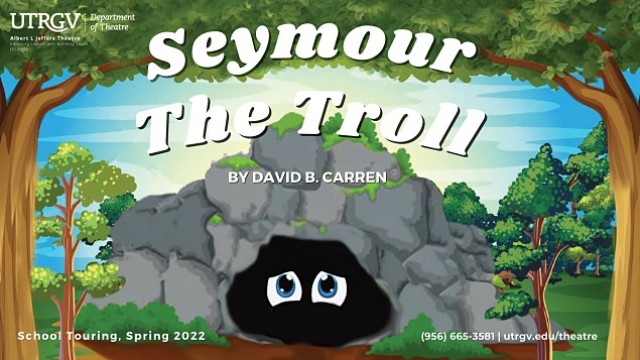 Lina Ortiz-Vera, a junior theatre major, was stage manager and also was one of the farmers in the play. She previously stage-managed the "Coriolanus" production earlier this semester.
"Everything's a learning experience," she said. "I never stop learning and working as a stage manager and as an actor – it's just way more interesting."
Justin Vasquez, a junior theatre major who plays Seymour, said this show is very different from the other UTRGV productions he has acted in, including "The Weird" and "Out of the Cannon."
"It's been fun because sometimes shows don't inherently make you feel you can like let loose in this way," Vasquez said. "It feels different to be in a children's show and to have no boundaries, to be as silly as you possibly can. It's really fun."
The costume for Seymour is a giant puppet head with a hinge inside, that he climbs in and out of. Billowy robes surround Vasquez to create the illusion of a giant troll.
"Seymour the Troll" finished school tours after visiting three schools within the community and performing May 3 at the Weslaco Tower Theatre.
The play will be presented again at 2 p.m. May 8 at the UTRGV Jeffers Theatre on the Edinburg Campus, for a special Mother's Day performance.
Tickets are free, and the show is open to the public.
Contact the box office for more information.
ABOUT UTRGV
The University of Texas Rio Grande Valley (UTRGV) was created by the Texas Legislature in 2013 as the first major public university of the 21st century in Texas. This transformative initiative provided the opportunity to expand educational opportunities in the Rio Grande Valley, including a new School of Medicine, and made it possible for residents of the region to benefit from the Permanent University Fund – a public endowment contributing support to the University of Texas System and other institutions.
UTRGV has campuses and off-campus research and teaching sites throughout the Rio Grande Valley including in Boca Chica Beach, Brownsville (formerly The University of Texas at Brownsville campus), Edinburg (formerly The University of Texas-Pan American campus), Harlingen, McAllen, Port Isabel, Rio Grande City, and South Padre Island. UTRGV, a comprehensive academic institution, enrolled its first class in the fall of 2015, and the School of Medicine welcomed its first class in the summer of 2016.