FOCUS: UTRGV Alumni

  Thursday, May 5, 2022
  Alumni
By News and Internal Communications
By Arnold Gonzalez
RIO GRANDE VALLEY, TEXAS – Carlos Cantu, a UTRGV engineering alum and native of Rio Bravo, Tamps., Mexico, who grew up in McAllen, said the UTRGV College of Engineering and Computer Science influenced his career and helped shape the person he is today.
He started at UTRGV in the Fall 2015 semester and graduated in Fall 2020 with a bachelor's degree in mechanical engineering.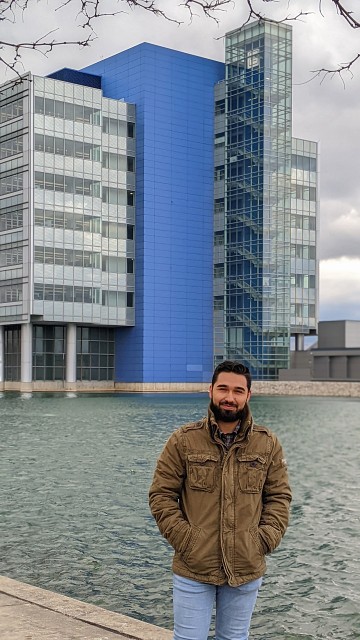 "I chose engineering for a couple reasons," he said. "As a kid, I enjoyed building things from scratch. I was always curious about how the things around us functioned. And finally, I chose engineering because my favorite subjects were math and science."
Fast forward to today, and Cantu now works remotely for General Motors from his home in Warren, Michigan.
"Over the course of two years, since Fall 2019, I had applied for full-time engineering positions," he said. "All my resilience paid off when I finally got a full-time offer to work for General Motors as a die engineer."
As part of a team of 21 engineers, his role is to support the Die Leads in the many various aspects of their project.
"My role in supporting Die Leads consists of many different jobs," he said, "but mostly, what I do is track the construction of what we call blank dies."
A blank die is a blank piece of aluminum placed under a machine that flattens and reshapes the metal into a car door or hood.
"My job here is to keep track of the blank die and make sure it processes through the program," he said.
"I also work a lot with reports and databases that keep track with what we call 'milestones,' which is a fancy word for deadlines," he said. "I keep track of inventory importing and exporting shipments of materials, parts and work orders for the facility."
He said one of the great things about GM is that they have several Employee Resource Groups.
"One of those groups is the General Motors Latino Network, and my goal is to join that group and get involved with the community," he said.
Cantu said his experiences at UTRGV were a significant influence on his career path, especially given all the opportunities offered through the university and his courses.
One of those opportunities at UTRGV was joining an organization called The Rocket Launchers, where he served as recovery team lead and vice president for the organization.
"I gained tons of hands-on experience and certainly improved on multiple skills, like communication, leadership and critical thinking. On top of the amazing experience with Rocket Launchers – which I miss, by the way – is that this learning experience was a huge talking point during my GM interview," he said.
Cantu also applied to the NASA L'SPACE Virtual Academy, which offers opportunities to engineering students for the NASA Lucy Mission internship program.
"And I have to mention how amazing the Society of Hispanic Professional Engineers (SHPE) organization at UTRGV is," he said. "If you don't know about it, I highly recommend looking into it. They offer tons of professional development support and are heavily involved with the community."
Cantu said he wants UTRGV students to know that seeking opportunities and organizations outside of the classroom environment can help build a strong professional foundation. Students pick up the basics from classes, but they gain additional valuable skills in the field.
"Take advantage of the opportunities that are out there. Rocket Launchers, Baja, Institute of Electrical and Electronics Engineers (IEEE), American Society of Mechanical Engineers (ASME) – those and so many more are available to you."
Cantu said the journey to success is not just worthwhile, but also achievable.
"Don't get discouraged," he said. "There will be times when you won't understand what is going on half the time – and it happens to a lot of us! Just don't quit."
ABOUT UTRGV
The University of Texas Rio Grande Valley (UTRGV) was created by the Texas Legislature in 2013 as the first major public university of the 21st century in Texas. This transformative initiative provided the opportunity to expand educational opportunities in the Rio Grande Valley, including a new School of Medicine, and made it possible for residents of the region to benefit from the Permanent University Fund – a public endowment contributing support to the University of Texas System and other institutions.
UTRGV has campuses and off-campus research and teaching sites throughout the Rio Grande Valley including in Boca Chica Beach, Brownsville (formerly The University of Texas at Brownsville campus), Edinburg (formerly The University of Texas-Pan American campus), Harlingen, McAllen, Port Isabel, Rio Grande City, and South Padre Island. UTRGV, a comprehensive academic institution, enrolled its first class in the fall of 2015, and the School of Medicine welcomed its first class in the summer of 2016.