Tuesday, May 3, 2022
  Awards and Recognitions
By News and Internal Communications
By Santana Peralez
RIO GRANDE VALLEY, TEXAS – MAY 3, 2022 – UTRGV Student Media and UTRGV's Gallery Magazine brought home a total of 53 wins at the 2022 Texas Intercollegiate Press Association Convention.
TIPA, founded in 1909, is recognized as the oldest state collegiate press association in the country.
This year's convention was held March 23-26 in Fort Worth and was the first in-person TIPA event since 2020 due to the pandemic.
The annual conference gives out awards in in general magazine, radio, television, online, yearbook, literary magazine and newspaper categories, and more than a dozen on-site contests. 
Robert Velez, faculty advisor for Vaquero Radio and lecturer II for the UTRGV Department of Political Science, attended the convention for the first time. He said he was proud and humbled to see his team bring home the awards.
"To compete against some of these bigger schools and see our hard work recognized is a testament to the dedication of our students," Velez said.
THE AWARDS TALLY
Onsite garnered 12 awards.
Student Media (miscellaneous), 2.
The Rider, 9.
Pulse, 3.
Vaquero Radio, 13.
KVAQ-TV, 10.
Gallery, 4.
Fatima Gamez Lopez, freshman mass communications major and Spanish editor for the Rider, brought home the most individual awards with five, to include Spanish news and features with two first-place awards, two second-place awards and one honorable mention in the On-Site Spanish News Writing Contest.
Gamez Lopez said the competition is an unforgettable experience, especially for someone who hasn't competed before and is starting her college career. She said she was proud of herself for what she was able to accomplish.
"As a Latina, I think it's very important to integrate myself into this type of competition," said Gamez Lopez. "Being a Latina means a lot to me, it means my roots, my family, my past, present, and future. When I got my award, I felt very proud of myself because I showed myself and everyone what I'm capable of doing."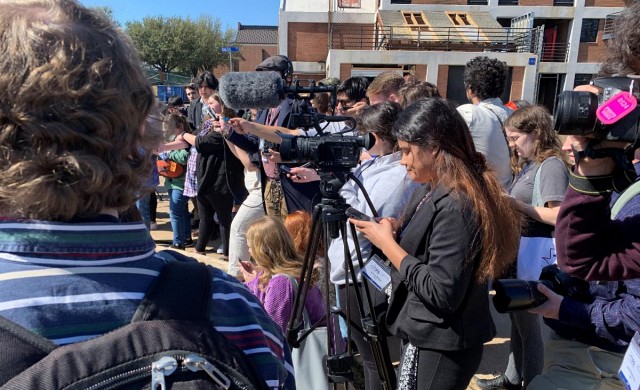 SUPPORT FOR STUDENT MEDIA
Gamez Lopez said she is grateful to several people in the Communication department for helping her achieve so much, including Azenett Cornejo, director of Student Media; Michell Escajeda, Communication lecturer II and faculty advisor for The Rider; and Dr. Aje-Ori Agbese, Communication associate professor and faculty advisor for Pulse magazine.
Attending the convention were Dina Vera, lecturer I in the Department of Communication and faculty advisor for KVAQ-TV, Velez, and Britt Haraway, associate professor in the Creative Writing Department and faculty adviser for Gallery, UTRGV's student literary arts magazine.
"It feels amazing to be able to apply the skills our students have been practicing for these past couple of years," Vera said. "We have some veterans who were unable to attend the convention the past few years because of the pandemic. It was very exciting for everybody."
Along with bringing home the awards, Vera said, participants came back with valuable input from their peers. 
"To be able to hear feedback and actually interact with professionals who are in the business definitely helped many students," she said.
For more information about the Student Media and Gallery, visit: 
ABOUT UTRGV
The University of Texas Rio Grande Valley (UTRGV) was created by the Texas Legislature in 2013 as the first major public university of the 21st century in Texas. This transformative initiative provided the opportunity to expand educational opportunities in the Rio Grande Valley, including a new School of Medicine, and made it possible for residents of the region to benefit from the Permanent University Fund – a public endowment contributing support to the University of Texas System and other institutions.
UTRGV has campuses and off-campus research and teaching sites throughout the Rio Grande Valley including in Boca Chica Beach, Brownsville (formerly The University of Texas at Brownsville campus), Edinburg (formerly The University of Texas-Pan American campus), Harlingen, McAllen, Port Isabel, Rio Grande City, and South Padre Island. UTRGV, a comprehensive academic institution, enrolled its first class in the fall of 2015, and the School of Medicine welcomed its first class in the summer of 2016.