Thursday, April 28, 2022
  Student Life
By Victoria Brito Morales
RIO GRANDE VALLEY, TEXAS – A new administration has taken office at UTRGV as the newest Student Government Association (SGA) leadership.
The university's SGA held an inauguration on Wednesday in Salon Cassia on the Brownsville Campus for the newly elected executive team and college senators. Voting took place last week and was open to all UTRGV students.
The inauguration marked the official passing of the torch from the previous administration to the new one. Current SGA president José Pablo Rojas, on track to graduate this semester with a bachelor's degree in biology, hands over the helm to Jonathan Ricardo Dominguez, senior biological sciences major.
UTRGV Dean of Students Rebecca Gadson said it is a privilege to work in collaboration with student leaders to maximize the student experience at the UTRGV.
"The commitment of our student leaders this year has been marked with resilience," Gadson said.
She offered her sincerest thanks to the outgoing cabinet, and welcomed the new officers.
"Congratulations to you for being elected to represent our student body. May your year be filled with opportunities to maximum the student experience and create amazing memories for all to cherish," she said.
The newly elected SGA executives are:
President: Jonathan Ricardo Dominguez, senior biological sciences major.
Vice President: Kimberly Escalante, junior biology major.
Vice President: Jose Javier Herrera, senior biomedical sciences major.
Dominguez spoke to the excitement and honor of being honored elected.
"We look forward to what's ahead," he said. "Today is not only a day to cherish the hard work of our past leaders, but also to welcome upcoming leaders who will impact the lives of many in the near future. We promise to work hard for you and never settle for anything but our best. Know that we are here for you, we're here to listen to your concerns and to propel the legacy of UTRGV even further."
SGA executives are prioritizing parking, increasing representation on the Brownsville Campus, and incentivizing students to achieve academic excellence, to name a few topics.  
Also inaugurated were the newly elected senators from various colleges within the university.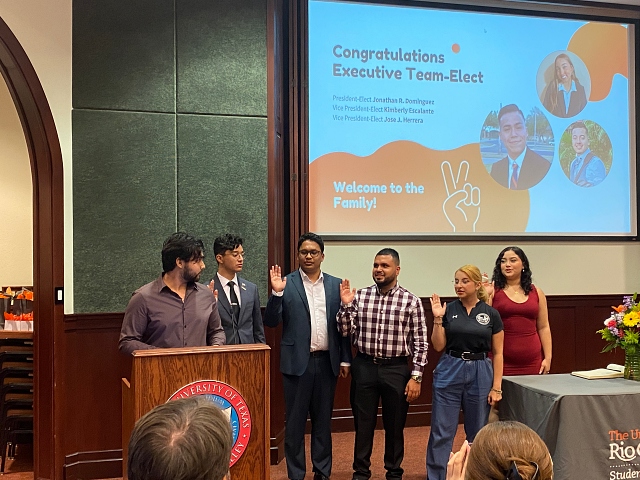 The newly elected senators are:
Robert C. Vacker College of Business and Entrepreneurship
Jacob Ruben Flores
Josiah Gonzalez
College of Health Professions
Juliana DeAnda Castillo
Omar Esteban Salgado
College of Liberal Arts
College of Sciences
Kassandra Ximena Garcia
Batool Ibrahim
Graduate College
M. Sarwar
Abby Marie Davila
Senator-at-Large (Edinburg)
Isabella Maris Macias
Osvaldo Grimaldo
Kimberly Moran
For more information on the UTRGV SGA, visit utrgv.edu/csi/student-government-association.
ABOUT UTRGV
The University of Texas Rio Grande Valley (UTRGV) was created by the Texas Legislature in 2013 as the first major public university of the 21st century in Texas. This transformative initiative provided the opportunity to expand educational opportunities in the Rio Grande Valley, including a new School of Medicine, and made it possible for residents of the region to benefit from the Permanent University Fund – a public endowment contributing support to the University of Texas System and other institutions.
UTRGV has campuses and off-campus research and teaching sites throughout the Rio Grande Valley including in Boca Chica Beach, Brownsville (formerly The University of Texas at Brownsville campus), Edinburg (formerly The University of Texas-Pan American campus), Harlingen, McAllen, Port Isabel, Rio Grande City, and South Padre Island. UTRGV, a comprehensive academic institution, enrolled its first class in the fall of 2015, and the School of Medicine welcomed its first class in the summer of 2016.