Friday, April 22, 2022
  Alumni, Around Campus
By News and Internal Communications
By Arnold Gonzalez

RIO GRANDE VALLEY, TEXAS – Can you imagine having not one, but five – yes, five – internship opportunities? 
UTRGV international student Martin Alejandro Galicia Avila doesn't have to imagine it, though.  He has been able to build a substantial résumé by interning with major manufacturing companies while studying for his master's degree in engineering management. 
The 26-year-old UTRGV graduate student from Matamoros, Tamaulipas, Mexico, has obtained five internships in the past four years – including one this year with acclaimed electric vehicle and clean energy company Tesla.   
Galicia, who earned a bachelor's degree in manufacturing engineering from UTRGV in 2020, said his most recent internship opportunity came about after talking with a friend who recently had graduated from UTRGV and was working with a supplier for Tesla. 
"I thought maybe I should apply to Tesla," Galicia said.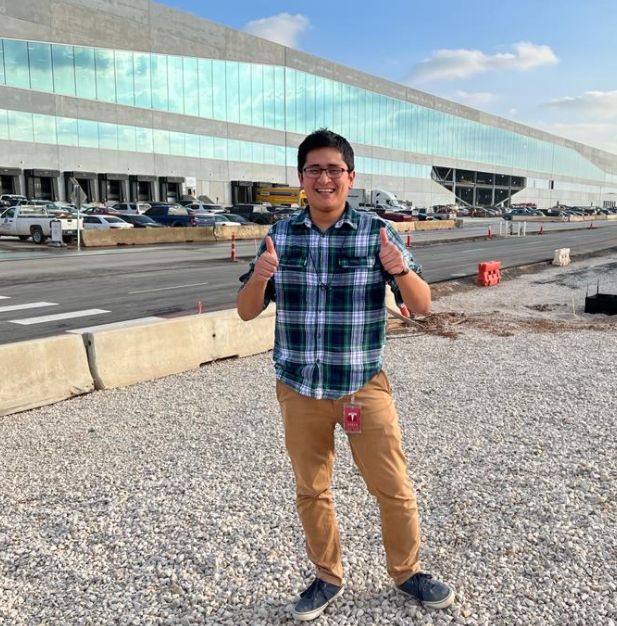 So, he did. And he got a response. Three weeks later, he was hired to intern on the Factory Design and Material Flow team, where he still works remotely on projects like Tesla's Cybertruck, and Megapack, for a vehicle factory based in California. Galicia, who is based in Austin, is part of Tesla's Texas Gigafactory, another facility under Tesla that produces vehicles and special projects.
After he had interned with Tesla for three months, Galicia said, they were impressed with his work ethic and determination, so they extended his internship to six more months.  
That has been a real plus for his future career, and his life in general. 
"I'm still in shock because it has impacted my life a lot," he said. "I still remember when I got the email saying, they were interested – that was a just short time ago." 
UTRGV PATHS TO SUCCESS 
Galicia said he owes his upward momentum to the many opportunities made available to him as a UTRGV student – including campus jobs as a teaching assistant, where he tutored students in the manufacturing lab, and as a research assistant. 
He currently is in the international employment program, Curriculum Practical Training (CPT), working on his master's thesis. He also helps his mentors and professors, and occasionally works remotely from home. 
He is on track to graduate in December 2022 with his master's in engineering management and plans to continue working in the United States and for Tesla. 
"I also want to give back to the university to help other international students like me," he said. "I would like to demonstrate to them that there are opportunities available here, and hopefully to motivate them to follow a path of their own, like I did." 
INCENTIVES 
In addition to Tesla, Galicia has interned at four other manufacturing companies: Reyes Automotive in San Antonio, Panasonic in Los Indios, Calif., Staples in Dallas, and Delphi in Matamoros, Mexico. 
In each of those internships, he said, he was lucky enough to be given the responsibility for overseeing projects, including data analysis, layout design and optimizations. 
He took a moment to consider how he managed to arrive at all his internship opportunities. 
"Looking back, I honestly don't know how I managed to do all that," he said with a laugh. "I guess determination was key. I chose to focus on my short-term plan, and kept adding goals, expecting more from myself each time without giving in to excuses." 
He also said aspiring students should seek out opportunity, and not wait for it to come to them.
"I would advise students to plan what they want out of their career and keep updating that plan each semester," he said. "Be realistic. Our lives change often, and our goals must, too. Always look for opportunities to learn. And focus on giving the best work possible." 
ABOUT UTRGV
The University of Texas Rio Grande Valley (UTRGV) was created by the Texas Legislature in 2013 as the first major public university of the 21st century in Texas. This transformative initiative provided the opportunity to expand educational opportunities in the Rio Grande Valley, including a new School of Medicine, and made it possible for residents of the region to benefit from the Permanent University Fund – a public endowment contributing support to the University of Texas System and other institutions.
UTRGV has campuses and off-campus research and teaching sites throughout the Rio Grande Valley including in Boca Chica Beach, Brownsville (formerly The University of Texas at Brownsville campus), Edinburg (formerly The University of Texas-Pan American campus), Harlingen, McAllen, Port Isabel, Rio Grande City, and South Padre Island. UTRGV, a comprehensive academic institution, enrolled its first class in the fall of 2015, and the School of Medicine welcomed its first class in the summer of 2016.