Friday, April 8, 2022
  Community
By Victoria Brito Morales
EDINBURG, TEXAS – Dozens of students filled the UTRGV Performing Arts Center on the Edinburg Campus this week to learn about the endless possibilities of manufacturing engineering.
The UTRGV I-DREAM4D Consortium hosted its first National Manufacturing Exhibition in Edinburg on April 7 and 8. Middle school students attended on day one, and high school students participated on day two.
Dr. Jianzhi "James" Li, UTRGV professor of manufacturing engineering and principal investigator of the I-DREAM4D Consortium, said the expo's main goal is to inspire prospective students to purse higher education and, eventually, careers in manufacturing engineering.
"If you look at history, manufacturing has been the determining factor of human accomplishment," Li said. "It's also the factor that drives economic prosperity for any nation. For the United States, it is the foundation for our economy and the driver of research and innovation."
On day one, the middle school students and teachers from the across the Valley heard presentations on manufacturing topics from Li and others, including:
Dr. Ala Qubbaj, dean of the UTRGV College of Engineering and Computer Science.
Dr. Dale Klein, UT System vice chancellor.
Dr. Cindy Waters, lead coordinator for DOD STEM Manufacturing Engineering Education Program.
Steve Taulbee, engineer at the Army Research Lab.
Dr. Bopaya Bibanda, department chair, Ernest E. Roth professor of Industrial Engineering at the University of Pittsburg, and president of the Institute of Industrial and Systems Engineers.
Waters, who started her career in academia before working for the U.S. Department of Defense, emphasized how importantit is for students to prepare themselves early for future academic success and, eventually, for careers with reputable organizations, like the DOD.
"You're going to want to position yourself so that you have the most opportunities," Waters said. "We need people who are making things and designing things. We need all of your ideas."
The DOD seeks a diverse and sustainable science and technology engineering talent pool, she said.
"We need every single one of you," Waters said. "don't be scared if you think you aren't the best in math or think you can't do it. Each of you can has a place."
After the speakers, students broke for lunch and a Q&A with engineering professionals. That was followed by a tour for students and teachers of UTRGV's CECS facilities, where manufacturing organizations provided students with information on manufacturing engineering. The organizations included Honeywell, Northrop Grumman, Oak Ridge National Laboratory, Boeing, Los Alamos National Laboratory, Raytheon, Ingalls Shipbuilding and the Army Research Lab.
The expo provided the opportunity to explore engineering topics, including artificial intelligence, 3D printing, advanced manufacturing and autonomy with applications in aerospace and defense manufacturing.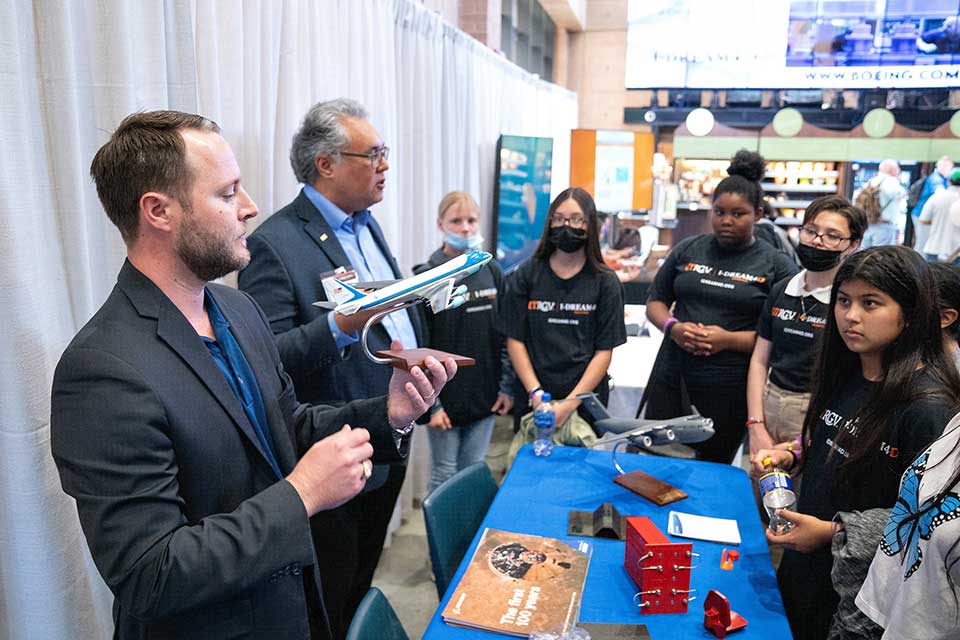 FUTURE ENGINEERS IN THE MAKING
Of the dozens of students in attendance the first day of the expo, one particularly interested student was Tam Asekomeh of Morris Middle School in McAllen.
The seventh grader already is interested in aerospace and art, and has a strong desire to build in the future as a career. He said the expo taught him about the diversity of the engineering fields, as well as their inevitable cohesion.
"More than anything today, I have learned how one type of engineering can transition to other types of engineering," Asekomeh said.
Amanda Salinas, a Morris Middle School Gear Up counselor, said events like this one are important to expose students at a young age the possibilities of STEM.
"It opens their eyes to different careers having to do with STEM," she said. "It's important that they know about the different companies that work in the field and learn first-hand about what they actually do."
For more information on the I-DREAM4D Consortium, contact Li at jianzhi.li@utrgv.edu.
ABOUT UTRGV
The University of Texas Rio Grande Valley (UTRGV) was created by the Texas Legislature in 2013 as the first major public university of the 21st century in Texas. This transformative initiative provided the opportunity to expand educational opportunities in the Rio Grande Valley, including a new School of Medicine, and made it possible for residents of the region to benefit from the Permanent University Fund – a public endowment contributing support to the University of Texas System and other institutions.
UTRGV has campuses and off-campus research and teaching sites throughout the Rio Grande Valley including in Boca Chica Beach, Brownsville (formerly The University of Texas at Brownsville campus), Edinburg (formerly The University of Texas-Pan American campus), Harlingen, McAllen, Port Isabel, Rio Grande City, and South Padre Island. UTRGV, a comprehensive academic institution, enrolled its first class in the fall of 2015, and the School of Medicine welcomed its first class in the summer of 2016.