First-generation college graduate, Valley native battled doubt

  Tuesday, March 29, 2022
  Around Campus, Community
By News and Internal Communications
By Saira Cabrera  

RIO GRANDE VALLEY, TEXAS – In honor of  National Doctors' Day 2022 – marked on March 30 this year – a UTRGV School of Medicine fourth-year med student, Adriana Saavedra-Simmons, shared her own journey to becoming a doctor and her plans for giving back to her community as a physician.  
Saavedra-Simmons is headed to Massachusetts General Hospital - Harvard Medical School, after matching March 18 to that institution's internal medicine residency program. It was what she had hoped for, as she sees internal medicine as an opportunity to be a leader and advocate for her patients. 
Then, she wants to come home to the Valley to help her community. 
"Internal medicine is a specialty where I can be best molded into the compassionate, competent physician I aspire to be," she said, "one that values teamwork, honors the patient's voice and is committed to health equity and social justice."   
A first-generation college graduate and the daughter of Mexican immigrants, Saavedra-Simmons grew up in the Rio Grande Valley and understands well the hardships of being an immigrant.  
Still, while the Valley too often has been an underserved region, she said, she has learned that difficulties can indeed be overcome. 
"A sense of community has been instrumental in my becoming a physician," she said. "It reminds me that we succeed together, not alone. I learned about the power of leaning on each other when difficulties arise. My church family also has been instrumental in shaping my appreciation and respect for the patient's voice." 
Medicine was not always her first career choice, and she at times wondered if she belonged in medicine. However, throughout her education, she grew to understand it was the perfect venue to contribute to a community she often saw as marginalized. Given that experience, she said, she could better relate to her patients.   
"I was on the fence about becoming a doctor since I was the first one in my family to go to college. Part of what made pursuing medicine so difficult was questioning whether I belonged in medicine or not," Saavedra-Simmons said. "As I learned about the physician shortage, though, and especially the need for more Hispanic doctors, I understood that I, too, could belong in medicine." 
In high school, she was intrigued by physiology. Later, while attending Ivy League Brown University, she realized medicine is an evolving field that requires lifelong learning. The field combines the tireless work of researchers, collaboration between health professionals, and compassion for patients. She feels it is the best fit for her.  
"As a daughter of Mexican immigrants, I now know that my listening ear, my experiences with poverty, and my grit will make me a better physician," Saavedra-Simmons said. "I will be able to better relate to my patients and have the privilege of earning their trust." 
Saavedra-Simmons said she is grateful for the medical education she received at UTRGV and feels fortunate for the opportunity to be part of the Class of 2022.   
"The UTRGV School of Medicine has prepared me in multiple ways. For one, I am grateful for the faculty that taught me to be a critical thinker and approach problems systematically," Saavedra-Simmons said. "I am also grateful for my peers, who showed me compassion and motivated me to be the best I can be." 
As a soon-to-be internal medicine resident physician, Saavedra-Simmons has a strong vision of what she wants to do with her medical career. 
"Attending UTRGV has cemented my commitment to serving underserved communities. My goal is to return to the Rio Grande Valley as a hematologist / oncologist," she said.  
Part of the plan is to connect with community organizations, to help teach them about cancer prevention and increase access to cancer screening tests for those with decreased access to routine care. She also aspires to continue mentoring underrepresented students – like herself –who are interested in higher education.  
"My motto is, 'Our limitations do not define our aspirations,'" she said.   
Saavedra-Simmons has been recognized with several awards, including the "2020 U.S. Public Health Service Excellence in Public Health Award" and the "2019 American Society of Hematology Minority Medical Student Award."  
"I am thrilled to be part of expanding healthcare access across the Rio Grande Valley," Saavedra-Simmons said. "As we get more specialists, fewer families will have to travel hours to receive care. We can make medicine a safe place for everyone in their most vulnerable time." 
Dr. Michael B. Hocker, dean of the UTRGV School of Medicine and senior vice president for UT Health RGV, said students from the UTRGV School of Medicine, like Saavedra-Simmons, reflect the talent found in the Valley.   
"Ms. Saavedra-Simmons is an example of the incredibly talented and service-oriented students raised here," Hocker said. "She reflects, along with all our other medical students, the passion for the profession and serving the community.  
"I am confident the future of healthcare in the Valley is in great hands because of the physicians we are developing here," he said, "and I look forward to following them in their journey as they graduate and complete their physician training in residencies here and across the country."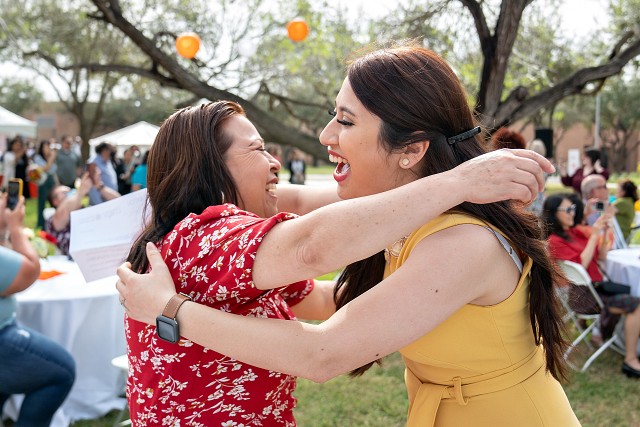 ABOUT UTRGV
The University of Texas Rio Grande Valley (UTRGV) was created by the Texas Legislature in 2013 as the first major public university of the 21st century in Texas. This transformative initiative provided the opportunity to expand educational opportunities in the Rio Grande Valley, including a new School of Medicine, and made it possible for residents of the region to benefit from the Permanent University Fund – a public endowment contributing support to the University of Texas System and other institutions.
UTRGV has campuses and off-campus research and teaching sites throughout the Rio Grande Valley including in Boca Chica Beach, Brownsville (formerly The University of Texas at Brownsville campus), Edinburg (formerly The University of Texas-Pan American campus), Harlingen, McAllen, Port Isabel, Rio Grande City, and South Padre Island. UTRGV, a comprehensive academic institution, enrolled its first class in the fall of 2015, and the School of Medicine welcomed its first class in the summer of 2016.