Saturday, March 19, 2022
  Around Campus
By Saira Cabrera
RIO GRANDE VALLEY, TEXAS – MARCH 18, 2022 – The UTRGV School of Medicine's Class of 2022 celebrated its annual Match Day on Friday, March 18, with 51 medical students who applied to residency programs across the United States.
This year marked the third Match Day for the UTRGV School of Medicine – and the first as dean of the School of Medicine for Dr. Michael B. Hocker.
Leaders said this was the most diverse class yet, with students from Nigeria, the Democratic Republic of the Congo, Turkey, England. A broad range are from across the United States, and many are from Texas and the Rio Grande Valley.
Match Day is a National Day of Transition, when fourth-year medical students open and read their letters from the National Residency Matching Program (NRMP). The NRMP matches graduating students with available training positions at health systems around the country.
Fifty percent of the UTRGV Class of 2022 will stay in Texas for their residencies, 20 percent of whom will continue to train locally in programs sponsored by the UTRGV School of Medicine in partnership with area hospitals.
The students who will not be staying in Texas will be heading out across the country to Arkansas, California, Florida, Georgia, Idaho, Iowa, Kansas, Louisiana, Maryland, Massachusetts, New York, North Carolina, Ohio, Tennessee and Virginia.
Some of the prestigious residency programs matched included Massachusetts General Hospital-Harvard; Duke University Medical Center; Cornell Medical Center; Vanderbilt University Medical Center; Johns Hopkins Hospital; Stanford Health; UT Southwestern Medical School and UT Austin Dell Medical School.
This Match Day celebration brought together UTRGV's fourth-year med students with classmates and close family members for an in-person event on UTRGV's Troxel Lawn in Edinburg. The event also was live-streamed.
Hocker, dean of the UTRGV School of Medicine and senior vice president for UT Health RGV, said medical students this year learned how to successfully navigate and excel in a new age of medicine, as they faced the many setbacks and challenges of an ongoing pandemic.
"I have a personal philosophy, also professionally, that we have to adapt, improvise and overcome," Hocker said. "This is our third match, and every year it seems to get better because this reflects how good our students are here."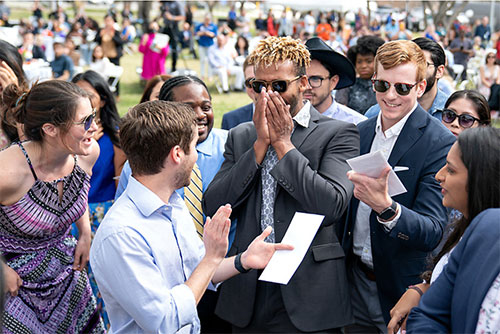 This class had more than 7,000 applications for about 50 available spots, he said, which illustrates just how difficult it can be to get into medical school.
"We got the best and the brightest students here who made it into medical school," Hocker said. "Students, cherish this moment. Congratulations to each one of you today. We look forward to your continued success."
'A LONG DREAM'
Ronkino McCoy, a UTRGV fourth-year medical student, enrolled in 2018 after leaving the military. While in the U.S. Army, he worked as a combat medic in Iran and Korea, and got his degree in the military after attending more than five different colleges while in the service.
McCoy matched in urology, an early Match program, and a notably challenging match with only a limited number of medical graduates accepted.
"This is the realization of a dream, a long dream," McCoy said. "I have a lot of people supporting me. I have a community behind me. And honestly, I think this really is a realization for everybody that they can be here, that they can do this, that we can be a part of something like this."
'TEN YEARS IN THE MAKING'
Adriana Saavedra-Simmons – a first-generation college graduate and the daughter of Mexican immigrants who grew up in the Rio Grande Valley – now leaves her South Texas roots to head to the East Coast.
She matched to the internal medicine program at Massachusetts General Hospital-Harvard.
"This moment has been 10 years in the making," Saavedra-Simmons said. "I am thankful to God, to my family, to all my peers who are amazing and supportive, and to all the mentors at UTRGV who helped me throughout this process. I am excited to make a difference for myself and represent my community."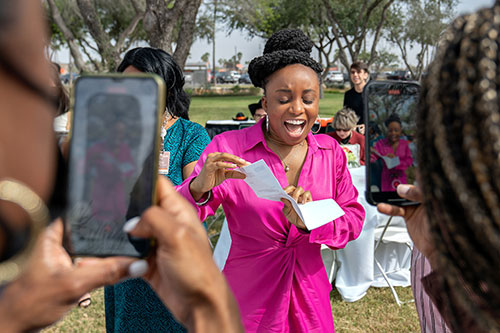 'THE STRUGGLE HAS BEEN REAL'
Unyime-Abasi Eyobio, Saavedra-Simmons' friend and classmate, also matched into Harvard's internal medicine program. Born in Nigeria, she grew up in Houston and is now Massachusetts-bound.
"Never in a million years did I think I would get to go to Harvard," she said. "I am so grateful for this opportunity because the path that it has taken to get here has been an obstacle-filled journey. But despite all that, being able to accomplish and achieve my dreams is crazy."
Both Saavedra-Simmons and Eyobio believe hard work and faith got them to match to one of the country's most prestigious and competitive medical institutions – Harvard.
"The struggle has been real," Eyobio said. "But it's also been an amazing journey to be together in this."
Saavedra-Simmons chimed in: "We're going to make a change, an impact, in our own way, for our communities."
'DEDICATION AND HARD WORK'
Dr. Leonel Vela, UTRGV senior associate dean for Educational Resources and senior associate vice president for Education, recalled the long, sometimes arduous journey students experience to make it to Match Day – not just this year, but every year.
"The entire school of medicine has looked forward with excitement and anticipation for this Match Day," Vela said. "We congratulate you on achieving this significant milestone in your preparation for a lifelong career in medicine.
He said faculty and staff at the UTRGV School of Medicine are happy to know the medical students – now resident physicians – can enjoy Match Day as a memorable event with their family and friends
"We join the entire UTRGV School of Medicine family in acknowledging the dedication and hard work that has prepared you to participate in this time-honored event we know as Match Day."
ABOUT UTRGV
The University of Texas Rio Grande Valley (UTRGV) was created by the Texas Legislature in 2013 as the first major public university of the 21st century in Texas. This transformative initiative provided the opportunity to expand educational opportunities in the Rio Grande Valley, including a new School of Medicine, and made it possible for residents of the region to benefit from the Permanent University Fund – a public endowment contributing support to the University of Texas System and other institutions.
UTRGV has campuses and off-campus research and teaching sites throughout the Rio Grande Valley including in Boca Chica Beach, Brownsville (formerly The University of Texas at Brownsville campus), Edinburg (formerly The University of Texas-Pan American campus), Harlingen, McAllen, Port Isabel, Rio Grande City, and South Padre Island. UTRGV, a comprehensive academic institution, enrolled its first class in the fall of 2015, and the School of Medicine welcomed its first class in the summer of 2016.