Wednesday, March 9, 2022
  Around Campus
By Victoria Brito Morales
 PHOTO GALLERY by David Pike
BROWNSVILLE, TEXAS – March is Women's History Month, and UTRGV on Tuesday celebrated International Women's Day on the Brownsville Campus with a special luncheon.  
International Women's Day celebrates the social, economic, cultural and political achievements of women. Each year, the UTRGV International Admissions and Student Services office in the Division of Strategic Enrollment and Student Affairs hosts a celebration to recognize the achievements of the international female population at the university.  
The theme this year is #BreakTheBias and calls for action to create a gender-equal world, and although biases are not intentional, they do exist, according to the IWD website.  
The UTRGV celebration kicked off with opening remarks from Samantha Lopez, IASS director. 
"This event is to honor outstanding women and celebrate our day," she said. 
During the luncheon, the IASS named an outstanding faculty, doctorate, graduate and undergraduate international female at UTRGV. 
This year, the Women's Faculty Network at UTRGV nominated Dr. Carolina Huerta, professor of Nursing, to be recognized.  
Huerta has years of international experience, both in Thailand and Mexico. In 2008, she took a group of nursing students from UTRGV legacy institution UT Pan American on a study abroad trip to Naresuan University (NU) in Phitsanulok, Thailand. Additionally, she has been a visiting professor at NU and has had NU exchange students spend a semester learning alongside UTRGV's nursing students.  
"I come from humble beginnings," Huerta said. "Fortunately for me, my family believed in education. By the time I was born, I already had three brothers graduate from college, which was an achievement considering I was born in 1949. There was no doubt that I was going to college." 
Once Huerta finished her education, she began teaching at what was then Pan American College, which later became UT Pan American and then UTRGV. She served as department chair for 27 years.  
"I believe I accomplished a lot. I was able to form relationships with Mexico and Thailand and I believe it is important to get that international experience," she said. 
As a final remark, Huerta gave a new definition for the word "happy," in the form of an acronym: Honesty, Accountability, Patience, Partnership and You. 
"Just remember, your job is just a job," she said. "You should be taking care of yourself."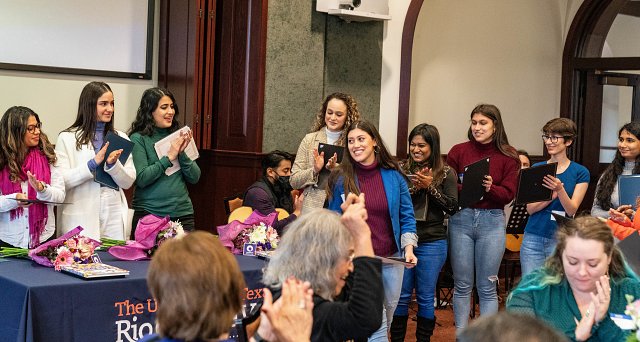 OUTSTANDING INTERNATIONAL FEMALE STUDENTS 
Doctoral winner: Chaitali Bonke, of India, is pursuing a doctorate in management information systems. 
She said she comes from a technical background and sees first-hand and daily the plight of women.  
"Nowadays, women have taken stance in different areas, and it is important for women to break the bias if they feel they are not being given an equal chance," Bonke said. "Especially in the workplace, we should stand for promotions, and we should be given the same opportunities everyone else is given."  
Graduate winner: Joceline Mena Teran, from Mexico, is pursuing a master's degree in clinical psychology.  
Teran said her journey as an international student has included hard work and sacrifice. She said she feels privileged to be able to have an impact on future generations of women and hopes to break the bias by challenging gender stereotypes in her future career as a counselor.  
"My role as a mental health advocate and graduate student in the clinical psychology program has prepared me to better attend to the needs of my community and allows me to collaborate and work alongside amazing professors and peers in research projects related to the mental health disparities in the Latino community," Teran said. "I hope that through my work I can not only address these inequalities and help eliminate the stigma associated with mental health for Hispanics, but also inspire other women to do the same by seeking higher education."
Undergraduate winner: Grecia Huerta, from Mexico, is a junior pursuing a bachelor's degree in psychology.  
Huerta said she is grateful to be an international student at UTRGV, and proud to be part of the movement for gender equity. 
"It is exciting to know that we are part of a time in history where the world now expects diversity, equity and inclusion," she said. "Everyone has a role to play. No matter how insignificant you think an action can be, just do it. Your words and actions help more than just thoughts." 
Each Outstanding International Female Student winner received a $1,000 scholarship toward continuing their education at UTRGV.  
Dr. Janna Arney, UTRGV executive vice president and provost, said today's women have the power to pave the way for the women of the future.   
"It is an honor to be here today with all these incredible women in the room, to celebrate International Women's Day," Arney said. "This day honors the hard work and dedication of all women. Women have the power to effect change and to help produce gender inequality change worldwide."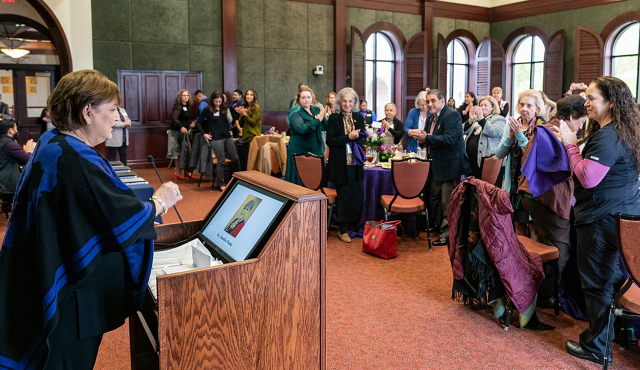 ABOUT UTRGV
The University of Texas Rio Grande Valley (UTRGV) was created by the Texas Legislature in 2013 as the first major public university of the 21st century in Texas. This transformative initiative provided the opportunity to expand educational opportunities in the Rio Grande Valley, including a new School of Medicine, and made it possible for residents of the region to benefit from the Permanent University Fund – a public endowment contributing support to the University of Texas System and other institutions.
UTRGV has campuses and off-campus research and teaching sites throughout the Rio Grande Valley including in Boca Chica Beach, Brownsville (formerly The University of Texas at Brownsville campus), Edinburg (formerly The University of Texas-Pan American campus), Harlingen, McAllen, Port Isabel, Rio Grande City, and South Padre Island. UTRGV, a comprehensive academic institution, enrolled its first class in the fall of 2015, and the School of Medicine welcomed its first class in the summer of 2016.