Monday, March 7, 2022
  Research
By Dimitra Trejo
RIO GRANDE VALLEY, TEXAS – You go to the doctor to get your check-up, but have you ever thought, "Who checks up on my doctor?"
Now, funded by a $1.75 million grant, the UTRGV School of Medicine is looking to address just that – the mental health of physicians and ways to support and improve it.
As part of the Health Resources & Services Administration (HRSA)'s Fortify Resilience Initiative grant, the School of Medicine plans to implement programs designed to "check up" on physicians to combat the mental health issues seen in the medical field.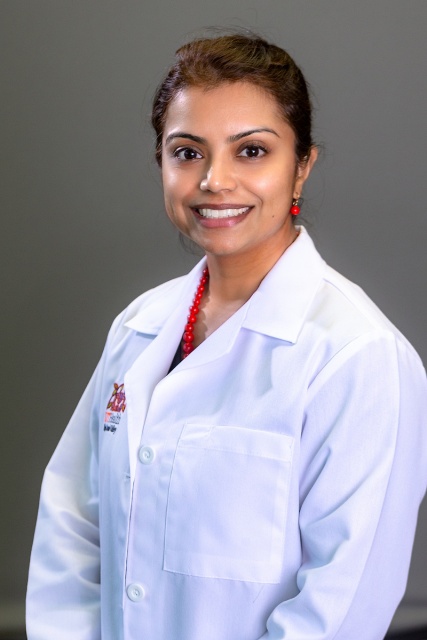 Dr. Nausheen Jamal – associate dean of Graduate Medical Education, Designated Institutional Official, and professor and chair of the UTRGV School of Medicine's department of Otolaryngology-Head & Neck Surgery – was one of 34 grantees across the country to get the grant, aimed at improving the wellbeing of the healthcare workforce.
"From research that we do, we have seen that patients get higher-quality and safer care when their physicians are doing well," she said.
According to a 2018 report on physician mental health and suicide, 66 percent of male physicians and 58 percent of females who reported burnout, depression, or both had never received professional help, were not currently seeking professional help, and did not plan to seek professional help.
Given that data, the UTRGV School of Medicine decided aggressive steps are needed to address the rampant problem of burnout among healthcare practitioners.
Jamal, along with Dr. Deepu George – co-principal investigator on the grant, UTRGV associate professor of Family Medicine, and a behavioral health consultant – will develop and implement training activities to reduce and address burnout, suicide, mental health conditions and substance use disorders among healthcare workers.
"The intended goal is to boost the resiliency of healthcare students, residents, professionals and trainees in rural and underserved communities like the Rio Grande Valley," Jamal said.
KEY DRIVERS
The team plans to address mental health disparities via three key drivers:
Access Strategies – The School of Medicine will provide clinical coaching services; evidence-based wellness curricula through live online-learning sessions; and yearly wellness checks for all residents and fellows.
Empowerment Initiatives – The School of Medicine will provide self-management at the individual and program level, powered by the launch of the Wellness Mobile Application (WMA) prototype, and the dissemination of a Wellbeing Champion Toolkit (WCT) to each UTRGV Graduate Medical Education (GME) program.
System Redesign – The School of Medicine will develop a Master Trainer Faculty Development (MTFD) track to graduate 20 GME faculty members with competency to internally deliver resiliency curricula to residents and fellows.
"Our intended goal is that, by 2024, the Fortify Resilience initiative will impact more than 150 UTRGV residents and fellows, along with training 20 faculty members," Jamal said.
Dr. Michael B. Hocker. dean of the UTRGV School of Medicine and senior vice president for UT Health RGV, said these projects are crucial to the future of medicine.
"We know here at UTRGV just how important being proactive with one's mental health is," Hocker said. "This is a perfect example of how we are thinking to the future to ensure that our patients, as well as those who serve them, are healthy."
Jamal and her team will begin implementing the program by summer 2022.
"If our residents are healthy and resilient, then our patients and our Valley community will be safer and get higher-quality healthcare. That's our goal."
ABOUT UTRGV
The University of Texas Rio Grande Valley (UTRGV) was created by the Texas Legislature in 2013 as the first major public university of the 21st century in Texas. This transformative initiative provided the opportunity to expand educational opportunities in the Rio Grande Valley, including a new School of Medicine, and made it possible for residents of the region to benefit from the Permanent University Fund – a public endowment contributing support to the University of Texas System and other institutions.
UTRGV has campuses and off-campus research and teaching sites throughout the Rio Grande Valley including in Boca Chica Beach, Brownsville (formerly The University of Texas at Brownsville campus), Edinburg (formerly The University of Texas-Pan American campus), Harlingen, McAllen, Port Isabel, Rio Grande City, and South Padre Island. UTRGV, a comprehensive academic institution, enrolled its first class in the fall of 2015, and the School of Medicine welcomed its first class in the summer of 2016.