ENGINEERS WEEK 2022:

  Friday, February 25, 2022
  Awards and Recognitions
By Letty Fernandez
EDINBURG, TEXAS – Listen to your mother, because that could win you $25,000. Just ask UTRGV student Mario Valadez, who took his mother's advice and now is one of four Bimbo USA College Grant Sweepstakes grand prize winners.
Back in fall 2021, Valadez and his mother were watching the morning news on Univision Noticias 48 and heard about the Bimbo grant competition.
"While I was getting ready to head off to work, both my mom and I heard the announcement and I immediately entered the sweepstakes," said Valadez, a UTRGV junior from Edinburg studying mechanical engineering.
A few long months went by before he got an email from the company, congratulating him on being named one of the four grand prize winners in the country. Still, Valadez had his doubts, so he contacted the financial adviser at UTRGV to see if he indeed had won the grant.
It was all true – Valadez was one of the grand prize winners.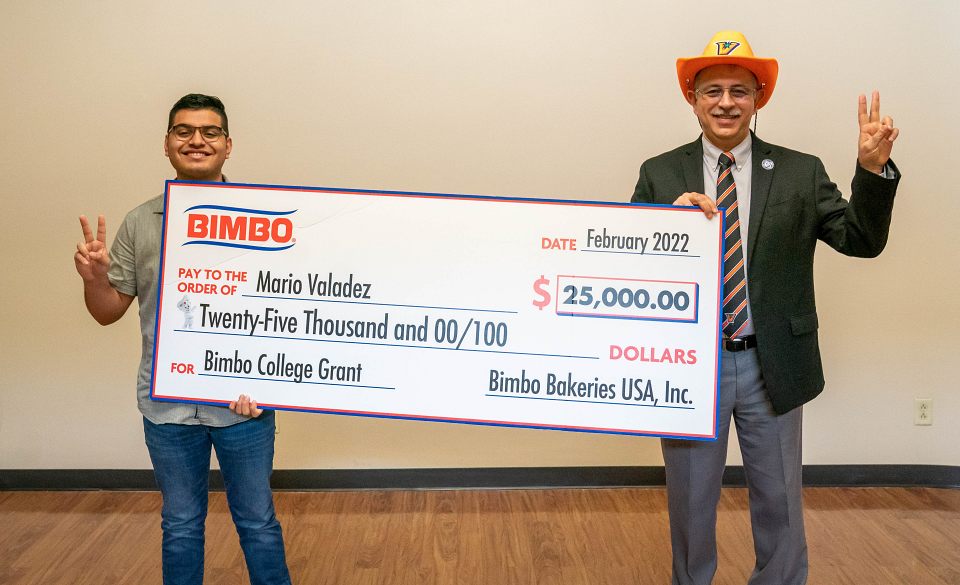 "This grant will help me pay for most of my tuition for my bachelor's degree, and it will help relieve a vast amount of financial pressure off my family and me," he said.
The sweepstakes was open to students 18 and older who were enrolled in college full time. All students had to do was register via the company's website, or mail in an entry. Only one entry was allowed, and only four winners would be selected. The sweepstakes began last September and ended in October.
Valadez is a first-generation college student. He said he enjoys working with tools, and in his spare time tinkers with the appliances at home.
His mother may have urged him to enter the competition, but it was his father who inspired him to pursue engineering.
"He was the one that supported my decision to become an engineer. When I came of age, he offered me a job at the company he works at, to become more familiar with the different tools and the ethics of being an engineer," Valadez said. "I give him thanks for helping me throughout the years."
Valadez is on track to graduate in 2024. After graduation, he hopes to get a job and then plans to return to college to pursue a bachelor's degree in business, with the goal of starting a business in the Rio Grande Valley.
For now, he can pursue his studies without having to worry about tuition, thanks to the largest bakery company in the United States.
His mother, Juana Valadez, said she is so happy for her son, and this scholarship will go a long way in helping him earn his degree.
"This award is a big help for us, and it guarantees his education," she said.
ABOUT BIMBO BAKERIES USA
Bimbo Bakeries USA is the largest bakery company in the United States, and the American corporate north-of-the-border arm of the Mexican multinational bakery product manufacturing company, Grupo Bimbo.
ABOUT ENGINEERS WEEK 2022
The UTRGV College of Engineering and Computer Science is celebrating the fields of engineering and technology with Engineers Week 2022, also known as E-Week.
The week, Feb. 21-25, includes in-person and virtual events for college students and K-12 students. Engineers Week is an opportunity to increase community awareness about what engineers and computer scientists do and recognize their contributions. It also is a chance to engage and inspire the next generation of engineers, computer scientists and innovators.
For a complete schedule of Engineers Week events, click here.
ABOUT UTRGV
The University of Texas Rio Grande Valley (UTRGV) was created by the Texas Legislature in 2013 as the first major public university of the 21st century in Texas. This transformative initiative provided the opportunity to expand educational opportunities in the Rio Grande Valley, including a new School of Medicine, and made it possible for residents of the region to benefit from the Permanent University Fund – a public endowment contributing support to the University of Texas System and other institutions.
UTRGV has campuses and off-campus research and teaching sites throughout the Rio Grande Valley including in Boca Chica Beach, Brownsville (formerly The University of Texas at Brownsville campus), Edinburg (formerly The University of Texas-Pan American campus), Harlingen, McAllen, Port Isabel, Rio Grande City, and South Padre Island. UTRGV, a comprehensive academic institution, enrolled its first class in the fall of 2015, and the School of Medicine welcomed its first class in the summer of 2016.