Thursday, February 24, 2022
  Community
By Victoria Brito Morales
BROWNSVILLE, TEXAS – The collaborative eBridge Center for Business and Commercialization at UTRGV had a special visit from Assistant Secretary of Commerce for Economic Development Alejandra Y. Castillo, U.S. Economic Development Administration.   
The visit started with a tour of the site for the center, currently under renovation, in the heart of downtown Brownsville in the former Casa del Nylon.
The eBridge Center – a collaboration between UTRGV, the UTRGV Entrepreneurship and Commercialization Center, Brownsville Community Improvement Corporation, Brownsville Chamber of Commerce, Lower Rio Grande Valley Economic Development Council, City of Brownsville, U.S. Economic Development Administration and U.S. Small Business Administration – will serve as an incubation center for local entrepreneurs. 
Veronica Gonzales, senior vice president for UTRGV Governmental and Community Relations, said it was an exciting opportunity to be able to have someone from the federal government tour the facility.  
"We are beyond excited to provide a tour of eBridge and highlight the many partnerships that are turning an abandoned clothing store in downtown Brownsville into a full-service Entrepreneurial Resource Center that will serve new and existing businesses and innovative entrepreneurs throughout the Rio Grande Valley and Mexico," Gonzales said.  
"We are truly grateful to the U.S. Economic Development Administration for investing in a region that is rapidly growing and highly entrepreneurial, and that is educating the next generation of business owners and professionals," she said. 
The UTRGV Entrepreneurship and Commercialization Center (ECC) hosted a roundtable discussion at Salón Cassia on the Brownsville Campus, to share ideas and talk about the eBridge and what it is doing for economic growth of the community. 
Castillo, who asked to be called by her first name, asked not only about the challenges of the region, but also about the opportunities available. 
 "This is a moment in time when there are a lot of investments that are going to come from the federal government," she said. "It is going to be transformational, unprecedented, which by definition means that there is no previous roadmap. By definition, it is also a moment where the rules of engagement are being created." 
She said at this moment in time, we are tasked with changing paradigms – no matter how difficult that may be.  
"It is uncomfortable, it is unsettling, but if we don't do it now, we're going to fail to really leverage what this means," she said. "We all have roles to play."  
The New York native and UT Austin alumna said there is not much difference between a New Yorker and a Texan when it comes to changing the norm. 
"That is what I am trying to instill in this conversation, because this is a moment for Brownsville, for the Rio Grande Valley, for Texas," Castillo said. "So, with what you're doing here – our job is to be the multiplier, that every dollar we invest grows times 20, times 50. If not, then we shouldn't be in business. The only way we can do this is to bring all of these partners to the table." 
Castillo said the EDA has not been reauthorized or updated, since 2004, but the process is imminent.  
"We need champions and individuals to carry out what EDA does," she said. "But we also want to be a part of changing the narrative. We are changing the narrative with eBridge already. The fact that that Center of Technology and Innovation is going to help transform, help the minority business startups, and develop in scale, if that is not a good story, I don't know what is."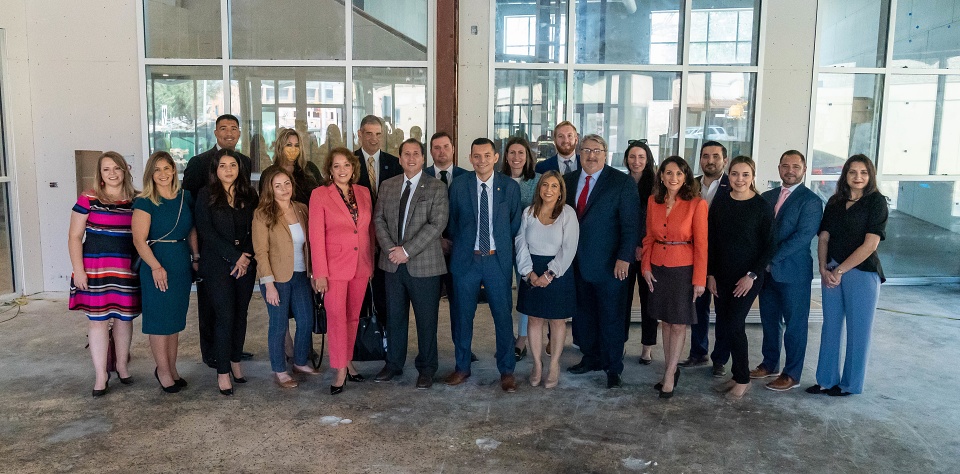 eBRIDGE: Next Generation of Entrepreneurs  
The eBridge Center for Business and Commercialization provides foundational resources necessary for entrepreneurs to start their ventures, obtain capital, scale them up, and eventually reach new markets. 
In summer 2021, a groundbreaking was held to commemorate the beginning of renovations to the facility, which are scheduled for completion later in 2022.  
The two-story building will house the UTRGV ECC and will serve as an extension office to the BCIC. Additionally, it will allocate temporary office space for business startups involved in the center, which currently serves more than a dozen startups in the region.  
For more information on eBridge, visit utrgv.edu/ecc/ebridge or email ECC@utrgv.edu. 
ABOUT UTRGV
The University of Texas Rio Grande Valley (UTRGV) was created by the Texas Legislature in 2013 as the first major public university of the 21st century in Texas. This transformative initiative provided the opportunity to expand educational opportunities in the Rio Grande Valley, including a new School of Medicine, and made it possible for residents of the region to benefit from the Permanent University Fund – a public endowment contributing support to the University of Texas System and other institutions.
UTRGV has campuses and off-campus research and teaching sites throughout the Rio Grande Valley including in Boca Chica Beach, Brownsville (formerly The University of Texas at Brownsville campus), Edinburg (formerly The University of Texas-Pan American campus), Harlingen, McAllen, Port Isabel, Rio Grande City, and South Padre Island. UTRGV, a comprehensive academic institution, enrolled its first class in the fall of 2015, and the School of Medicine welcomed its first class in the summer of 2016.