Tuesday, February 22, 2022
  Around Campus, Science & Technology
By Amanda Taylor
RIO GRANDE VALLEY, TEXAS – A red-carpet premiere of "Energy & U," a collaborative film that includes chemical demonstrations and natural connections between energy and STEM education, was held Thursday night in the Student Union Theatre on the Edinburg campus.
A hundred invitees and media partners attended the invitation-only event to see the movie which was inspired by the University of Minnesota's live action STEM shows.
The movie was produced by UTRGV professors Dr. Karen Lozano, a Julia Beecherl Endowed Professor in mechanical engineering and director of the UTRGV Nanotechnology Center of Excellence; Dr. Arturo Fuentes, professor of mechanical engineering; and Brian Warren, associate professor of theater, in collaboration with UMN chemistry professor, Dr. Aaron Massari.  
"What an amazing team effort of our faculty and our students, family and community to put together an education experience that's fun and captivating," said Dr. Janna Arney, UTRGV executive vice president and provost.
"One of the challenges we all have in these disciplines is catching students when they're young and igniting that excitement and interest, and this kind of outreach does exactly that. This gives students the opportunity to have fun while learning science and hopefully saying I want to be an engineer or be a scientist."
"Energy & U" presentations were meant to be collaborative, hands-on, live productions. However, virtual shows were adapted in 2021 because of the COVID-19 pandemic, to reach more than 15,000 K- through sixth-grade students.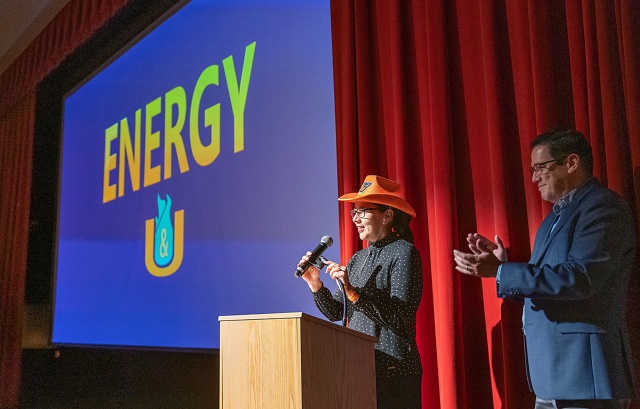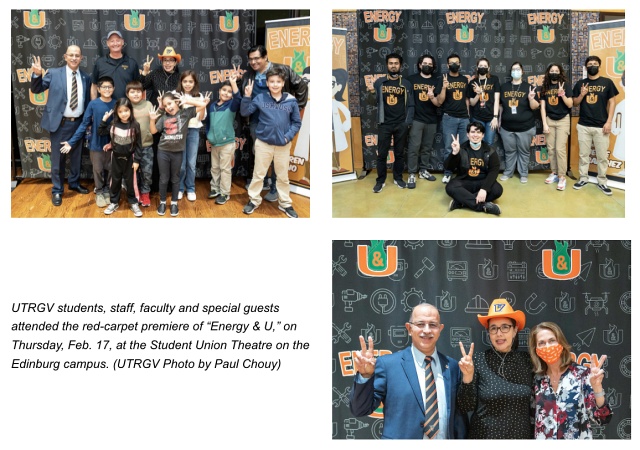 "We took what UMN did and migrated the show to UTRGV and tried it out with our own experiments and audiences," Lozano said. "We had to adjust virtually due to the pandemic, but students were still able to benefit to our virtual shows."
The group obtained funding from the National Science Foundation (NSF) under grant #1906885 to bring the show to South Texas.
The show has a running theme of interconverting different forms of energy, often in dramatic fashion, while emphasizing that you cannot create or destroy energy (the First Law of Thermodynamics).
"The First Law of Thermodynamics can be hard to conceive sometimes, especially at a younger age," Lozano said. "These science demonstrations in the movie teach kids about these laws and all about what energy is and the types of energy."
The film discusses the implications of this Law on our global energy supply and showcases energy conversions that are as large-scale and memorable as possible. There are numerous explosions, bright flashes and music that get students (and adults) dancing, as evidenced during the virtual presentations. 
"It's amazing, the response we have received," Lozano said. "You can see how excited the students are by the way they light up and dance to the music. This kind of outreach is important. I probably saw something like this on TV when I was young and decided to become a scientist because I was inspired, so we hope to do the same for our potential future scientists."
"Energy & U" will be shown virtually during UTRGV's E-Week on Wednesday at 10 a.m., 11 a.m. and 1 p.m. through registration only. Those interested can register here.
"I'm so proud and so honored to be part of UTRGV with these incredible faculty," Arney said. "The amount of effort that goes into something that professional is astounding but it's the passion and the love they feel, and you can see it – it shines through. Next week the film will roll out for E-Week, and we will be able to see how the classrooms ignite with excitement."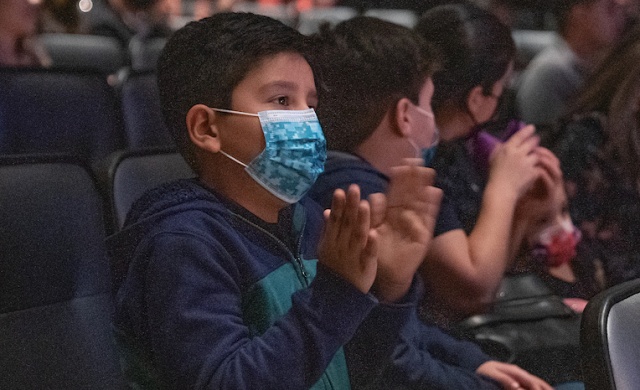 ABOUT UTRGV
The University of Texas Rio Grande Valley (UTRGV) was created by the Texas Legislature in 2013 as the first major public university of the 21st century in Texas. This transformative initiative provided the opportunity to expand educational opportunities in the Rio Grande Valley, including a new School of Medicine, and made it possible for residents of the region to benefit from the Permanent University Fund – a public endowment contributing support to the University of Texas System and other institutions.
UTRGV has campuses and off-campus research and teaching sites throughout the Rio Grande Valley including in Boca Chica Beach, Brownsville (formerly The University of Texas at Brownsville campus), Edinburg (formerly The University of Texas-Pan American campus), Harlingen, McAllen, Port Isabel, Rio Grande City, and South Padre Island. UTRGV, a comprehensive academic institution, enrolled its first class in the fall of 2015, and the School of Medicine welcomed its first class in the summer of 2016.