Monday, February 14, 2022
  Around Campus, Community
By Amanda Alaniz
BROWNSVILLE, TEXAS – FEB. 14, 2022 – A poignant smile blossoms across Martha Lovett's face as she remembers her colleague, Dr. Elena Quercioli. 

Quercioli had battled breast cancer since 2017 but succumbed in July 2021. 

"She was passionate about everything," Lovett said of Quercioli, a former assistant professor of Economics in the UTRGV Robert C. Vackar College of Business and Entrepreneurship. "When someone is passionate about everything, it injects into you."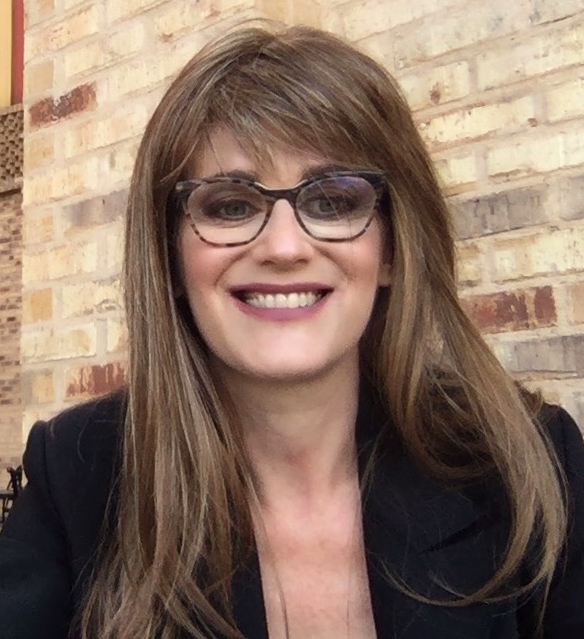 Lovett, Lecturer I of Management in the UTRGV RCVCoBE, said she and Quercioli had a sister-like bond. Mainly, she admired her friend for always living her life to the fullest, never letting anything bring her down, and always having unforgettable energy.
"She was always so bubbly. We laughed about everything," Lovett said with a soft laugh. "She had these memorable expressions. She really was bigger than life."  
When Quercioli lost her battle with cancer, she was just shy of her 54th birthday. 
The breast cancer diagnosis had come in 2017. She did several rounds of chemotherapy, then went into remission. Although she was facing so many challenges, she stayed dedicated to her classes at UTRGV.  
Despite the remission, the cancer eventually metastasized. She began immunotherapy. Through it all, Quercioli kept on teaching virtually – until she just couldn't anymore.  
Lovett said Quercioli could no longer walk, but still made it to all her appointments. She could barely do things on her own, though. The two friends kept in touch, and Quercioli would tell her friend she was going to be OK.  
"She would still try to be cheerful," Lovett said. "She would say, 'I'm going to beat this, Martha. I'm still going to come back.' I said, 'Of course. You'll fight this and we'll be here.'"  
Lovett's voice broke as she spoke. "I lost a friend. We lost a human being who was so wonderful. She fought so hard."  
After Quercioli passed, her colleagues began to talk about what they could do in her memory, Lovett said. They decided on a scholarship in her name, for business students.  
Then, the idea of "Dancing for Elena" was put into motion, with Lovett leading the planning for the event meant to help raise funds for the Quercioli scholarship. It's fitting, Lovett said, that Elena herself would have loved such a festive event.  
"Dancing for Elena" will be full of performances presented by faculty, staff, students, alumni and community members, and will showcase a variety of dance styles from Jalisco to Tamaulipas to Veracruz.  
The name for the event came from conversations Lovett and Quercioli had shared, with Lovett talking with her friend on the phone while she was away for treatments. When she had to end conversations to go exercise, Quercioli would ask Lovett to run for her, or swim for her. Those words stayed with Lovett. 
"Let's dance for Elena," she said. It was perfect. 
"She was in a wheelchair and would ask me, 'Martha, how do I look in this outfit?' When she would go to the doctor she would ask, 'How does my makeup look? How does my wig look?' I would see that and say, that's a strong will to live," Lovett said with a smile. "She was just an inspirational person." 
Visit the
UTRGV website
to make a donation to the Robert C. Vackar College of Business and Entrepreneurship scholarships.  
Anyone with questions about the event can contact Lovett at
martha.lovett@utrgv.edu
or call 956-882-7135.
ABOUT UTRGV
The University of Texas Rio Grande Valley (UTRGV) was created by the Texas Legislature in 2013 as the first major public university of the 21st century in Texas. This transformative initiative provided the opportunity to expand educational opportunities in the Rio Grande Valley, including a new School of Medicine, and made it possible for residents of the region to benefit from the Permanent University Fund – a public endowment contributing support to the University of Texas System and other institutions.
UTRGV has campuses and off-campus research and teaching sites throughout the Rio Grande Valley including in Boca Chica Beach, Brownsville (formerly The University of Texas at Brownsville campus), Edinburg (formerly The University of Texas-Pan American campus), Harlingen, McAllen, Port Isabel, Rio Grande City, and South Padre Island. UTRGV, a comprehensive academic institution, enrolled its first class in the fall of 2015, and the School of Medicine welcomed its first class in the summer of 2016.