Thursday, February 10, 2022
  Faculty Focus, Around Campus, SEEMS
By Victoria Brito Morales
RIO GRANDE VALLEY, TEXAS – Dr. Alexis Racelis, associate professor in the UTRGV School of Earth, Environmental and Marine Sciences and director of Agroecology and Resilient Food Systems Program, has been appointed to the inaugural Agriculture Subcommittee of the U.S. Department of Agriculture's Equity Commission. 
Racelis is one of 15 appointees, and the only one from Texas, on the subcommittee, which is made up of industry individuals with diverse agriculture backgrounds, such as farming, civil rights and research.
"It is a tremendous honor to be one of just two university professors in the country appointed to this federal advisory committee," Racelis said. "I am excited to serve in a spirit of full commitment to the goals of the committee."
The subcommittee will provide recommendations to USDA Agriculture Secretary Tom Vilsack on policies, programs and actions needed to address equity issues – including racial equity issues – to strengthen accountability within the federal department and its programs.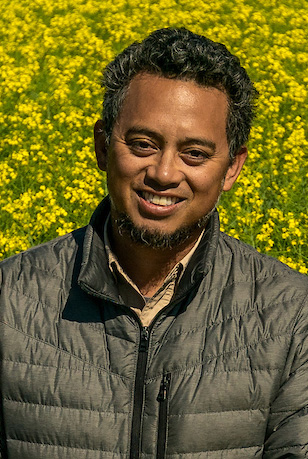 The commission can then use the advice and recommend action on how USDA programs, policies, structures, practices and resources may contribute to or address barriers to inclusion, access and diversity for more positive outcomes in underserved communities.
"USDA acknowledges we have not done enough to provide all farmers and ranchers an equal chance of success and prosperity, and we are striving to change that," Vilsack said. "This commission will support our work to build a USDA that does not ignore or leave anyone behind as we dismantle barriers that historically underserved communities have faced in accessing USDA programs and services."
Racelis said participation in this historic group is not only an honor, but also a duty.
"I grew up in a military family, so there is a tremendous sense of duty to country that I was raised with," he said. "This is part of my civic duty. I have the privilege of coming to this position as someone who has benefited from education and who has had the experiences I've had as an academic and as a former USDA scientist."
Racelis' appointment to the subcommittee comes on the heels of being recognized at the USDA's National Institute of Food and Agriculture's Hispanic Heritage Month celebration,  where he spoke about education at UTRGV and its importance to the community.
"The USDA Equity Commission will have a tremendous impact on the future of the USDA and the future of our country, when it comes to addressing barriers that contribute to discrimination or perpetuate disparities that are present in our own communities," he said. "What I am hoping for is that some of these recommendations trickle down to communities like the Valley in ways that improve the well-being of our residents."
Member on-boarding and training for the ag subcommittee will be held virtually next week and the first public meeting will be held at the end of the month.
For more information on the subcommittee, visit www.usda.gov/equity-commission.
ABOUT USDA EQUITY COMISSION
The USDA Equity Commission, and its Subcommittee for Agriculture, is a group of agriculture industry members, experts and advocates. It includes members of organizations that serve or advocate for underserved communities, minorities, women, individuals with disabilities, individuals with limited English proficiency, rural communities and LGBTQI+ communities. The small business community, higher education institutions and farmworker groups are also represented.
ABOUT UTRGV
The University of Texas Rio Grande Valley (UTRGV) was created by the Texas Legislature in 2013 as the first major public university of the 21st century in Texas. This transformative initiative provided the opportunity to expand educational opportunities in the Rio Grande Valley, including a new School of Medicine, and made it possible for residents of the region to benefit from the Permanent University Fund – a public endowment contributing support to the University of Texas System and other institutions.
UTRGV has campuses and off-campus research and teaching sites throughout the Rio Grande Valley including in Boca Chica Beach, Brownsville (formerly The University of Texas at Brownsville campus), Edinburg (formerly The University of Texas-Pan American campus), Harlingen, McAllen, Port Isabel, Rio Grande City, and South Padre Island. UTRGV, a comprehensive academic institution, enrolled its first class in the fall of 2015, and the School of Medicine welcomed its first class in the summer of 2016.