Four UTRGV piano students selected as co-recipients for 'Method Book' project

  Monday, February 7, 2022
  Around Campus, Awards and Recognitions
By Amanda Taylor
RIO GRANDE VALLEY, TEXAS – The Music Teachers National Association (MTNA) has named four UTRGV piano students co-recipients for their project, "Creating Your Own Method Book: A Blueprint for Aspiring Young Pedagogues."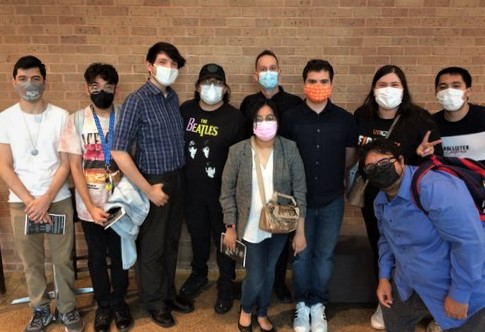 The pedagogical project also named the UTRGV MTNA the Collegiate Chapter of the Year
The students – Elias Mendiola-Tagle, Christian Davila, Aaron Serna and John Hernandez – were awarded for work submitted in 2021. Due to the COVID-19 pandemic, the awards were postponed until this year. Winning students will be recognized in a virtual awards ceremony in late March.
The other university awarded as co-recipients is the Florida State University Collegiate Chapter of MTNA.
The award in years past has been given to top programs around the country, including programs out of Colorado, Michigan and Oklahoma.
Now, UTRGV has been recognized for years 2021 and 2022 consecutively by MTNA.
For 2022, piano students Edelir Garza, Jacqueline Guevara and Liliana de Luna have been invited to present their research, "Notes from La Frontera: Strategies for Teaching Underserved Students," during the virtual MTNA National Conference to be held March 26-30.
The four undergraduate piano majors are all members of the South Texas Collegiate Chapter of MTNA, founded by Brendan M. Kinsella, associate professor of piano in the UTRGV College of Fine Arts.
"While some student groups might have an acceptance to this conference once every few years, it's practically unheard of to be accepted in consecutive years and also to win the award for Outstanding Collegiate Chapter," Kinsella said.
"Our goal is always student success, and this shows that our piano students at UTRGV are on par with music schools across the nation in their achievements," he said.
Student Mendiola-Tagle said he is honored to be able to share the award with Florida State.
"I have to say that I was quite surprised to hear that our chapter had won the Collegiate Chapter of the Year Award, and in our first year of participation, too," he said. "I feel everyone in our chapter has done excellent work in this research project, and I am very proud to work alongside such talented and professional individuals."
The UTRGV students have been accepted, upon graduation, to graduate programs including the Peabody Institute at Johns Hopkins University, the University of Michigan, the University of Cincinnati College-Conservatory of Music, and others.
Kinsella said students who have elected to stay and work in the Valley all have found full-time employment already, either as pianists with local school districts or working as educators.
"This award is not only a recognition for the students who worked so diligently last year, but also a confirmation of the efforts of our faculty and local teachers in creating a musical atmosphere in the UTRGV School of Music that allows them to thrive as young professionals," Kinsella said.
ABOUT MTNA
MTNA is the preeminent source for music teacher support, where members embody like-minded values and commitment to their students, colleagues and society while reaping the rewards of collaboration, continuity and connection throughout their careers. MTNA's mission is to advance the value of music study and music making to society and to support the professionalism of music teachers.

MTNA maintains two subsidiary programs: MTNA Professional Certification Program and the MTNA Foundation Fund. The Professional Certification Program exists to improve the level of professionalism within the field of applied music teaching and helps the public readily identify competent music teachers in their communities. The MTNA Foundation Fund supports programs to financially assist teachers and students with their educational pursuits while providing an opportunity for individual and corporate support of MTNA and its programs.
ABOUT UTRGV
The University of Texas Rio Grande Valley (UTRGV) was created by the Texas Legislature in 2013 as the first major public university of the 21st century in Texas. This transformative initiative provided the opportunity to expand educational opportunities in the Rio Grande Valley, including a new School of Medicine, and made it possible for residents of the region to benefit from the Permanent University Fund – a public endowment contributing support to the University of Texas System and other institutions.
UTRGV has campuses and off-campus research and teaching sites throughout the Rio Grande Valley including in Boca Chica Beach, Brownsville (formerly The University of Texas at Brownsville campus), Edinburg (formerly The University of Texas-Pan American campus), Harlingen, McAllen, Port Isabel, Rio Grande City, and South Padre Island. UTRGV, a comprehensive academic institution, enrolled its first class in the fall of 2015, and the School of Medicine welcomed its first class in the summer of 2016.