More than 3,000 Vaqueros take part in second day of commencement ceremonies in the Rio Grande Valley

  Saturday, December 11, 2021
  Around Campus
By News and Internal Communications
EDINBURG, TEXAS – More than 3,000 graduates took centerstage on the second day of UTRGV's Fall 2021 Commencement ceremonies.  
Family and loved ones showed their excitement on Saturday with cheers and applause as their graduates walked the stage at Bert Ogden Arena in Edinburg, marking the start of a new chapter in their lives.
The university's Fall 2021 Commencement ceremonies took place over two days, with the first ceremony held Friday evening on the Brownsville Campus, where more than 800 Vaqueros took part in the outdoor ceremony.
Saturday included three ceremonies in Edinburg at 8:30 a.m., noon and 3 p.m., with a combined total of 3,908 graduates getting a degree this weekend.
UTRGV President Guy Bailey, who greeted and praised the graduates via video, told them to be proud of all they have accomplished as they and the entire world faced the challenges of COVID-19.  
"American higher education has not seen this for a century and yet you dealt with it, you persisted, you succeeded and you overcame in the most difficult of circumstances. I can't tell you how proud we are of you for doing that," he said.
Bailey reminded the grads that commencement is not the end of the journey, but the beginning of a new adventure.
"We hope you will stay connected with us and that you will let us know about your successes. You will always be part of our family. We hope that we will always be part of yours, as well," Bailey said.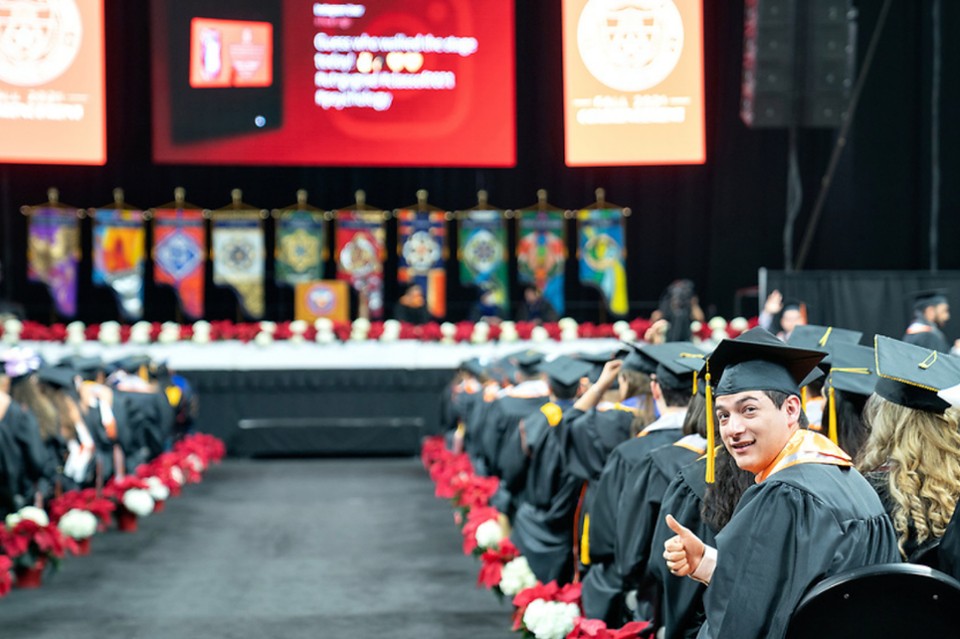 'FEEL SOME SENSE OF NORMALCY AGAIN'
New graduate Merary De La Fuente, of Alamo, said resilience, determination, faith and a strong support system helped her throughout her college journey, especially during the pandemic.
"The lonely and long days weighed me down, and it wasn't until this semester that I finally started to feel some sense of normalcy again," De La Fuente said. "I give all the credit to my family and friends, who would encourage me and push me to continue to grow and flourish academically and personally despite the circumstances."
De La Fuente graduates from UTRGV with a Master of Science in Criminal Justice. She said she has always wanted to work with children.
"I think it is a perfect area for me to make an impact," she said. "A former supervisor would always tell me, 'We are in the business of changing lives.' And that has always stuck with me. That's why I chose this area of study and I am hoping to start a career in this field."
At the 3 p.m. commencement ceremony in Edinburg, in front of an audience that included her family and friends, De La Fuente rang the commencement bell. She said she was honored to have been selected to be part of the bell tradition.
"It has been such a tremendous journey to get my master's degree and being able to ring that bell is the most memorable and amazing way to end my journey at UTRGV," she said. "I will keep this memory with me forever."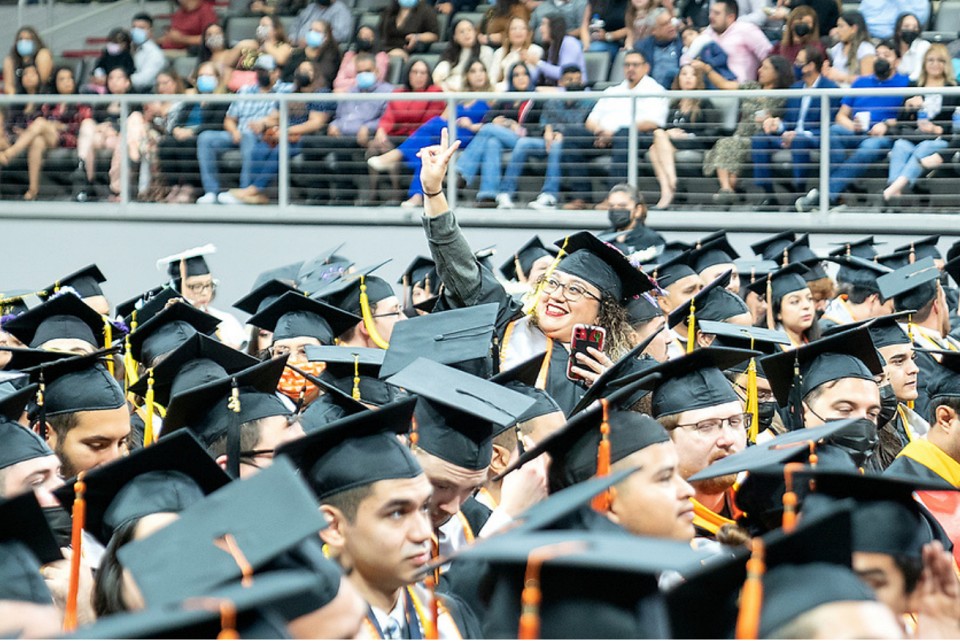 THANKFUL FOR THE SUPPORT
Another student who had been waiting for the big day is Samantha Colunga, a UTRGV environmental science grad. She took a moment to reflect on her college journey, and said she is not only proud of herself, but also thankful for all the support she has received.
"I still can't believe I made it. I've worked so hard ever since high school with dual credit, and now that I'm about to cross the stage, it feels amazing," she said before the ceremony. "My heart flutters when I remember how far I've come, and I just can't be more thankful to my family and friends.
"Although my undergraduate journey has come to an end, my next journey is graduate school. My success has no limit," she said.
Colunga plans to continue her education at UTRGV by pursuing a Master of Science degree in Agricultural, Environmental and Sustainability Sciences (AESS).
She said UTRGV has prepared her for future opportunities, like graduate school, and she thanked her professors – especially Dr. Engil Pereira, assistant professor of soil ecology in the UTRGV School of Earth, Environment and Marine Sciences – who have guided her to success in her college career.
"Thank you to Dr. Pereira for helping me gain experience in my undergraduate research, gain valuable knowledge and spark further interests. And thank you to all the other professors for giving me more knowledge to use in the future," she said.
'I CAN DO ANYTHING'
Samantha Avila picked up her master's degree in Civil Engineering on Saturday knowing she already has a job waiting for her at Jacobs Engineering in Dallas. Avila was offered a full-time position as a junior engineer and is excited for her future.
She interned with the company from June to August, working on the ongoing renovation of the Hidalgo County Courthouse in Edinburg. The internship gave her three months of crucial, hands-on field experience and was a dream come true for Avila, especially because it led to a full-time job with the engineering firm.
The Laredo native said attending UTRGV has been a great experience. She is happy about getting to graduation day, but is sad to leave her alma mater.
"Being able to walk across the stage with my hood is so exciting. I've worked so hard for it and earning my master's degree gives me validation that I can do anything I aspire to," Avila said.
"But I will most definitely miss UTRGV. I moved here almost six years ago and it has become my home."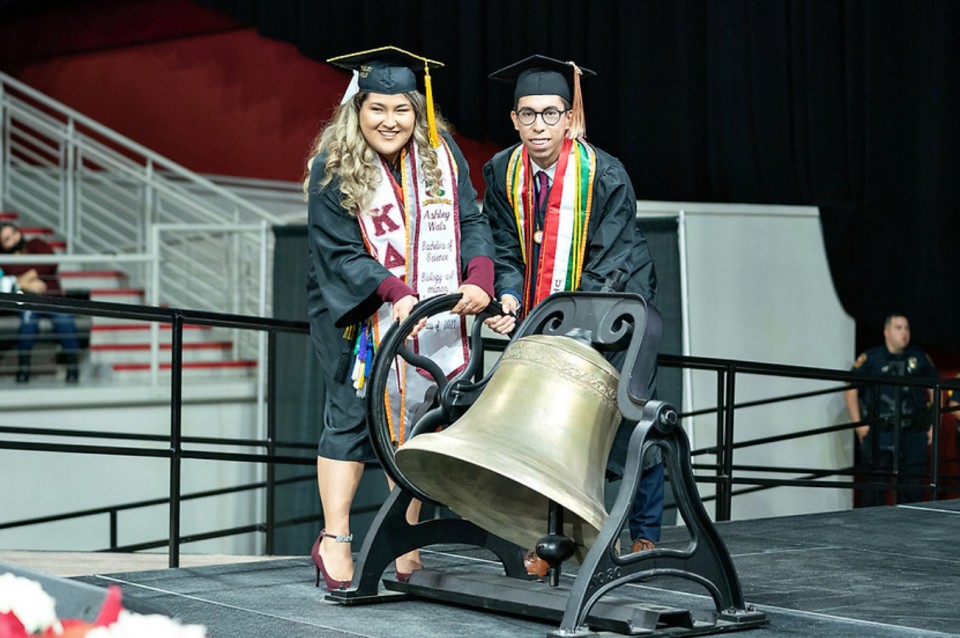 'FIRST IN MY FAMILY'
Gabriela Valdez, of Weslaco, said that during the pandemic, she earned not just one but two degrees, an accomplishment that still amazes her, given the difficult circumstances, she said.
"I have the privilege of saying I graduated during a pandemic – twice. I earned my bachelor's degree in Fall 2020 in exercise science with a concentration in physical therapy. And I will graduate with a master's degree in Fall 2021 with a 4.0 GPA in the accelerated program for kinesiology. I hope to use my degree to teach here at UTRGV," Valdez said.  
Currently an enrollment specialist at the UTRGV Student Service Centers, Valdez began working with the university as a work-study enrollment assistant five years ago. That experience helped shape the person she is today, she said. Valdez said her family deserves a big thank you, because they spent so much time together during the pandemic and were her constant support as she juggled work and school.
"I will be the first in my family to earn a graduate-level degree, and I couldn't have done it without the continued support my family has given me throughout the past five years," she said.
Valdez plans to continue her education and pursue a doctorate.
"My knowledge does not end here, and I hope to serve my alma mater in every way possible after graduation," she said.
For more information on Fall 2021 Commencement, visit www.utrgv.edu/commencement. 
ABOUT UTRGV
The University of Texas Rio Grande Valley (UTRGV) was created by the Texas Legislature in 2013 as the first major public university of the 21st century in Texas. This transformative initiative provided the opportunity to expand educational opportunities in the Rio Grande Valley, including a new School of Medicine, and made it possible for residents of the region to benefit from the Permanent University Fund – a public endowment contributing support to the University of Texas System and other institutions.
UTRGV has campuses and off-campus research and teaching sites throughout the Rio Grande Valley including in Boca Chica Beach, Brownsville (formerly The University of Texas at Brownsville campus), Edinburg (formerly The University of Texas-Pan American campus), Harlingen, McAllen, Port Isabel, Rio Grande City, and South Padre Island. UTRGV, a comprehensive academic institution, enrolled its first class in the fall of 2015, and the School of Medicine welcomed its first class in the summer of 2016.