Thursday, December 9, 2021
  Around Campus
By Amanda Alaniz
RIO GRANDE VALLEY, TEXAS – Samantha Colunga, a UTRGV environmental science major, said she chose her major because math and science were always her strengths.
"I was a founder of the Green Team at my high school in Monte Alto. It was a fun experience. We learned different ways to recycle, and learned about climate change, all of which sparked my interest and helped me finalize my choice for college," she said.
The Class of 2021 graduate will walk the stage at UTRGV's in-person commencement on Saturday, Dec. 11, at the Bert Ogden Arena in Edinburg.
She said she's looking forward to finally graduating, a fact that probably will hit her fully on the day of the ceremony.
"I think once I'm on the stage and probably crying, it'll hit me that I did it. I graduated college," she said with a smile. "This milestone shows dedication and commitment and to keep pushing forward no matter the obstacle. Many students are graduating during a pandemic, but this accomplishment shows that hard work does pay off."
As Colunga gets ready to accept her diploma, she took some time to reflect on her experiences at the university and all the things she was able to accomplish, like joining organizations, getting involved in undergraduate research, and completing a virtual internship with Brown University.
One of the organizations she joined was the Environmental Awareness Club and became one of the club's vice presidents. They participated in community events, like the Texas Butterfly Festival, and created environment-friendly activities. They also recently crafted holiday cards by making their own paper from recycled paper and flowers.
Landing the internship was a personal goal. She had applied for the virtual internship with Brown after seeing a flyer the previous summer. She was able to complete some research on future climates and the effects of carbon on plants, based on paleoclimates.
"I was able to gain more experience with undergraduate research and learned what to present at a conference," she said. "It helped me enhance my skills for a future research career and expand my research interests."
The internship helped connect interns with agencies to discuss graduate school and potential PhD degree paths, she said.
Colunga plans to continue her education at UTRGV through the Master of Science in Agricultural, Environmental and Sustainability Sciences (AESS) program.
'MY SISTER GRADUATED; I CAN DO THE SAME THING'
Colunga isn't the only one going to college in her family; her mother made the decision to go back to school after taking some time off and now is working toward an associate degree.
They are helping each other on this educational journey, she said. Her mother helps her with writing assignments, and she helps her mother with math, science and technology.
"My mom motivates me to work hard. She had started to go to college sometime back, but she took some time off to work and raise me and my sister. She decided to go back recently," she said. "I'm glad to see her continuing her education."
Colunga said she wants to set a positive example for her younger sister, as her mother and other mentors have done.
"My sister is a freshman in high school, and a lot of the teachers she has now were my teachers," Colunga said. "I want to keep showing her what she can accomplish. I did my bachelor's degree; I'm going for a master's. I want to show her, 'I can do this, and you can, too. Don't be afraid to keep going.'"
Colunga was nominated for UTRGV's Profiles in Excellence feature, and her grandmother collected some newspapers when the feature went out in print.
"My grandma saves everything that I do. Anytime I would come out in the newspaper, like in high school for sports or the Profiles in Excellence, she'll buy so many copies," Colunga said, laughing. "She and my mom like to share my accomplishments with their friends. It's a lot of support, and I thank them for it."
NEXT STEPS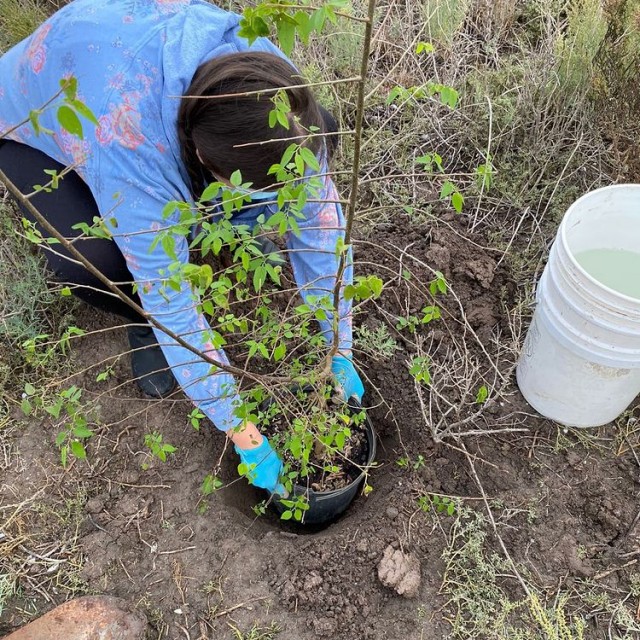 While working for her degree, Colunga said, she discovered how much research really did interest her. She wants to keep going.
She began working on some undergraduate research with Dr. Engil Pereira, assistant professor of soil ecology in the UTRGV School of Earth, Environment and Marine Sciences, and participated in the TRESS (Training, Research and Education in Soil Science) program, researching "sandy soils within arid and semi-arid regions, and the impact of conversation agricultural practices have on soil carbon." She said she looks forward to continuing that research in graduate school.
Colunga said she is grateful for the experiences and opportunities available to her at UTRGV and is looking forward to her future after graduation.
To others just beginning a college career, she offered her own hard-earned wisdom.
"Take your time and breathe. Hard work does pay off, but still enjoy your college experience," she said. "UTRGV has opened so many doors for me, and I know it will do the same for others."
UTRGV Fall 2021 Commencement ceremonies are taking place Dec. 10-11 in Brownsville and Edinburg.
For more information and where to watch the ceremonies online, visit https://www.utrgv.edu/commencement/.
ABOUT UTRGV
The University of Texas Rio Grande Valley (UTRGV) was created by the Texas Legislature in 2013 as the first major public university of the 21st century in Texas. This transformative initiative provided the opportunity to expand educational opportunities in the Rio Grande Valley, including a new School of Medicine, and made it possible for residents of the region to benefit from the Permanent University Fund – a public endowment contributing support to the University of Texas System and other institutions.
UTRGV has campuses and off-campus research and teaching sites throughout the Rio Grande Valley including in Boca Chica Beach, Brownsville (formerly The University of Texas at Brownsville campus), Edinburg (formerly The University of Texas-Pan American campus), Harlingen, McAllen, Port Isabel, Rio Grande City, and South Padre Island. UTRGV, a comprehensive academic institution, enrolled its first class in the fall of 2015, and the School of Medicine welcomed its first class in the summer of 2016.