Friday, November 19, 2021
  Community
By Dimitra Trejo
RIO GRANDE VALLEY, TEXAS – November is Pancreatic Cancer Awareness Month, and the UTRGV School of Medicine will host "Purple Night" on Sunday, Nov. 21, 2021 – Pancreatic Cancer Day – to raise awareness about the disease.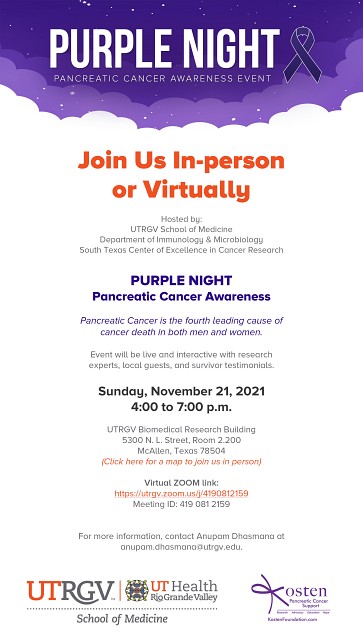 The event will take place both online and in-person and will feature discussions on pancreatic cancer and how it has become the fourth-leading cause of cancer-related deaths in the United States.
Dr. Anupam Dhasmana, assistant research scientist with the Department of Immunology and Microbiology at the UTRGV School of Medicine, said events like this one are critical to teaching the community about cancer awareness and possibly saving lives.
"Pancreatic cancer is a deadly disease," Dhasmana said. "By 2030, this condition is going to secure the second position for causes of death by cancer.
"The most dangerous part of this disease is that there is no way of early detection, and the treatment portfolio is very narrow. Survival rate is extremely low. So, in that context, it is necessary to have increased clinical focus along with awareness to our community."
A report by the American Cancer Society in 2021 says pancreatic cancer affects more than 60,000 people a year in the United States alone and is difficult to diagnose and treat.
Attending Purple Night will be Dr. Michael B. Hocker, dean of the UTRGV School of Medicine; Dr. Stephen W. Behrman, chair of the department of surgery at Baptist Memorial Hospital in Memphis and founder to the Herb Kosten Pancreatic Cancer Research Endowment Fund; and Dr. Subhash C. Chauhan, chair of the UTRGV Department of Immunology and Microbiology and director of UTRGV's South Texas Center of Excellence for Cancer Research.
For more information on UT Health RGV's "Purple Night," contact Dhasmana at Anupam.dhasmanda@utrgv.edu.
ABOUT UTRGV
The University of Texas Rio Grande Valley (UTRGV) was created by the Texas Legislature in 2013 as the first major public university of the 21st century in Texas. This transformative initiative provided the opportunity to expand educational opportunities in the Rio Grande Valley, including a new School of Medicine, and made it possible for residents of the region to benefit from the Permanent University Fund – a public endowment contributing support to the University of Texas System and other institutions.
UTRGV has campuses and off-campus research and teaching sites throughout the Rio Grande Valley including in Boca Chica Beach, Brownsville (formerly The University of Texas at Brownsville campus), Edinburg (formerly The University of Texas-Pan American campus), Harlingen, McAllen, Port Isabel, Rio Grande City, and South Padre Island. UTRGV, a comprehensive academic institution, enrolled its first class in the fall of 2015, and the School of Medicine welcomed its first class in the summer of 2016.