Monday, November 15, 2021
  Science & Technology, Community
By Amanda Taylor
HARLINGEN, TEXAS – A ribbon-cutting ceremony on Monday morning officially celebrated the specialized dual enrollment school, UTRGV Harlingen Collegiate High, a collaborative endeavor between UTRGV, the City of Harlingen and Harlingen Consolidated Independent School District (HCISD).  
UTRGV President Guy Bailey said the new facility is a milestone for Valley students.  
"This is a great facility for Harlingen and it's great for the Rio Grande Valley," Bailey said. "There is nothing like this in the state of Texas or UT System – not to this degree of collaboration.  
"For all of you students, we are fully committed to your success. We want you to graduate and we want you to stay in the Valley. We couldn't provide this kind of education without partners like HCISD and the leaders we have here," he said. 
The new facility, which welcomed students in October 2021, specializes in career tracks for computer science, engineering and teacher preparation. UTRGV-HCH offers bachelor's degree programs that focus on academic core curriculum requirements, engineering, computer science and education. Students can earn up to 60 hours of college credit by the time they graduate high school.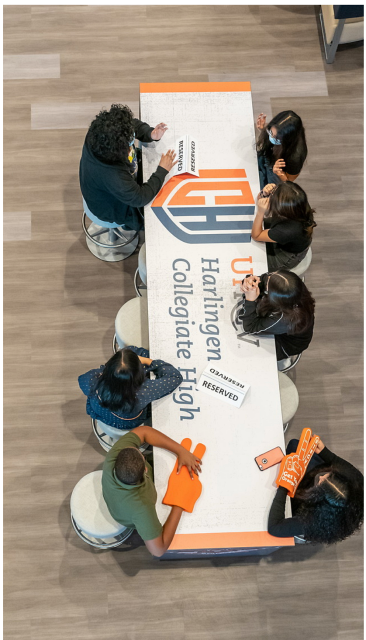 Sierra Vidaurri, a UTRGV-HCH senior, said she is excited to be earning an education in this new facility as it will help her peers as well as her community.  
"This building will help future Valley students by providing them a state-of-the-art building to take both high school and college courses under the same roof," she said. 
Vidaurri plans to pursue a major in biomedical sciences and credits her high school for aptly preparing her for university life.  
"UTRGV Harlingen Collegiate High has granted me numerous opportunities to better both my academics and personal connections," she said. "I have created many long-lasting relationships here and will forever miss everyone after graduation."  
NEW FACILITY 
The $14 million facility broke ground in 2019 after the City of Harlingen gifted a 6.3-acre parcel that now houses 64,000 square feet of state-of-the-art classrooms and teaching labs. 
An agreement between UTRGV and HCISD to each pay half for construction helped replaced the old Early College High School (ECHS) campus, located on Pecan Street in Harlingen.   
"The new facility is further representation of UTRGV's institutional commitment to expanding educational opportunities for students throughout the region," said Michael Aldape, director of Dual Enrollment within the Division of Strategic Enrollment and Student affairs. 
"The work that these students will engage in under the guidance of our faculty will undoubtedly launch their postsecondary success — what an honor it is for us to be part of their academic and professional journeys."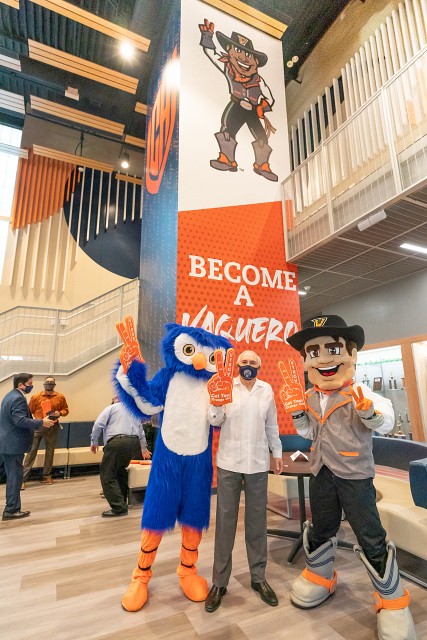 The school is an open-enrollment campus available to all who live in the Valley, with a special focus on recruiting at-risk students and historically underrepresented minorities.  
HISTORIC PARTNERSHIP 
UTRGV-HCH opened its doors under the name of Early College High School in August 2007.  
"Our district leaders recognized a need for an instructional program that would provide students an early jumpstart to a postsecondary education," said Dr. Pamela Flores, principal of UTRGV Harlingen Collegiate High.  
"Currently, our campus houses high school students, and as we move forward to 2022, our doors will open to community members who are interested in advancing their education." 
HCISD was awarded the TEA grant designed to minimize the barriers students face when transitioning from high school to college. The primary goal of ECHS was to provide first-generation college students the opportunity to receive a higher education through a partnership with TSTC.  
In 2019, the City of Harlingen, HCISD and UTRGV partnered to expand the postsecondary program for students to include pathways in engineering and computer science and for aspiring educators. The partnership helped HCISD move forward with replacing the old ECHS campus.  
"Our goal is to provide students with choices through the university experience, and to afford our families in the community the opportunity to pursue a higher education at Harlingen Collegiate High," Flores said.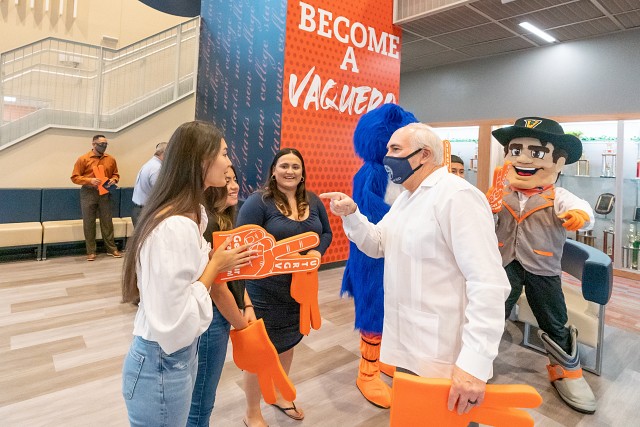 ABOUT UTRGV
The University of Texas Rio Grande Valley (UTRGV) was created by the Texas Legislature in 2013 as the first major public university of the 21st century in Texas. This transformative initiative provided the opportunity to expand educational opportunities in the Rio Grande Valley, including a new School of Medicine, and made it possible for residents of the region to benefit from the Permanent University Fund – a public endowment contributing support to the University of Texas System and other institutions.
UTRGV has campuses and off-campus research and teaching sites throughout the Rio Grande Valley including in Boca Chica Beach, Brownsville (formerly The University of Texas at Brownsville campus), Edinburg (formerly The University of Texas-Pan American campus), Harlingen, McAllen, Port Isabel, Rio Grande City, and South Padre Island. UTRGV, a comprehensive academic institution, enrolled its first class in the fall of 2015, and the School of Medicine welcomed its first class in the summer of 2016.