Wednesday, November 3, 2021
  Faculty Focus, Community
By Victoria Brito Morales
RIO GRANDE VALLEY, TEXAS – Dr. David Bowles can relate.  
An associate professor of Literature and Cultural Studies at UTRGV, his latest book, My Two Border Towns, reminisces about life on the border through the eyes of an empathetic child.  
That's close to home for Bowles, who grew up half Anglo, half Latino in the predominantly Latino Valley town of McAllen.
The picture book, published by Penguin Random House, has been in development since 2018 when the Central American refugee migrant caravan crisis displaced thousands of refugees along the Mexican border. It prompted Bowles to contemplate his life growing up on the border and his experiences crossing the bridge as a child, and eventually, his own children's experiences.  
That's when the idea for the book ​emerged. 
My Two Border Towns is set in a quasi-Weslaco/Donna, Texas, town that neighbors a city similar to ​Nuevo Progreso, Tamaulipas, Mexico. The main character is an unnamed boy inspired by Bowles's now-grown son, Angelo, who regularly goes with his father to Mexico for the basics, like shopping, visiting family and going out to eat. Like Angelo, the boy in the book is moved by the plight of the less fortunate.  
To do this, Bowles had to put himself into the mindset of his 20-year-old son to approximate how Angelo would have reacted to these topics of humanity.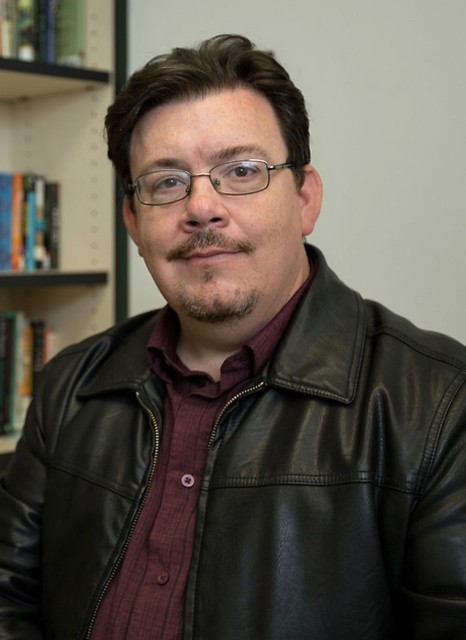 "My dad knows me well, and he pretty much nailed my response," Angelo Bowles said. "The protagonist isn't me, exactly, but I see myself in his DNA."  
In the story, the boy takes comics, games and treats to the ​children of the migrant families ​camped on the border.  
"His father ​has explained that they're refugees from Central America and the Caribbean," Bowles said. "There's ​supposedly no room for them ​here, and Mexico says they're having a hard time taking care of them. The kid sees that everybody is coming up with excuses to not help them – and he's upset by that." 
Bowles said the challenge in writing the book was depicting the issue in simple terms that would be easy to understand for children. The artwork played an integral role in illustrating the crisis, he said, so he turned to illustrator Erica Meza, a Mexican ​artist based in London.  
"She does a really good job of it in the facial expressions, letting us see how this boy is moved and troubled​, how he reacts," Bowles said.  
Bowles wanted to depict life in a transnational community and present the wonders and joys of living in such an amalgamated region – and incorporated the highly visible migrant crisis that can have such an emotional impact on the most compassionate, especially children.  
"I wanted to show how children are just naturally big-hearted and upset when they see injustice and how they are willing to give of themselves to other people who are who are in need," Bowles said.  
The characterization of a good-hearted boy was a major goal while writing this story, he said, in an effort to create a sense pride in the transnational identity so prevalent in the Rio Grande Valley.  
"I hope outsiders read it and realize South Texas is not this post-apocalyptic, Mad Max kind of hellscape," Bowles said. "There are beautiful​, powerful​, very human and very relatable things about living down there. ​This book can serve as kind of an ambassador of a positive message about our area." 
REPRES​ENTATION MATTERS 
Bowles has written books for a variety of different age ranges. His focus is on Mexican American culture, and it is his mission to always give a voice to the Latinx community through his writings.  
"The people from the Mexican American community have a right to what I call literary dignity, to having their lives in their community, their stories, their voices," Bowles said.  
Hispanics historically have been typecast in the media as domestic helpers, Bowles said, so he creates Hispanic protagonists to end that cycle.    
"People who are not from the Mexican American community need to see us in roles other than the gardener, the servants, the drug dealer," he said. "We have a lot of wonderful things some people might be surprised by​, and they need to see us as humans​. They need to see our culture as something that is valuable." 
This goal keeps Bowles inspired to keep writing characters Latinx children not only can look up to, but also identify with. He hopes all Mexican Americans can prosper and be inspired to achieve greatness.  
"It's not enough that I be successful," Bowles said. "I can't rest until I see success being the norm for Mexican Americans coming into this business."  
My Two Border Cities can be found at any major retail stores wherever books are found. Locally, signed copies can be purchased at Weslaco's The Storybook Garden, 260 South Texas Boulevard Suite 106.  
Bowles also has an author appearance scheduled for Nov. 6 at Barnes and Noble Palms Crossing in McAllen.
ABOUT UTRGV
The University of Texas Rio Grande Valley (UTRGV) was created by the Texas Legislature in 2013 as the first major public university of the 21st century in Texas. This transformative initiative provided the opportunity to expand educational opportunities in the Rio Grande Valley, including a new School of Medicine, and made it possible for residents of the region to benefit from the Permanent University Fund – a public endowment contributing support to the University of Texas System and other institutions.
UTRGV has campuses and off-campus research and teaching sites throughout the Rio Grande Valley including in Boca Chica Beach, Brownsville (formerly The University of Texas at Brownsville campus), Edinburg (formerly The University of Texas-Pan American campus), Harlingen, McAllen, Port Isabel, Rio Grande City, and South Padre Island. UTRGV, a comprehensive academic institution, enrolled its first class in the fall of 2015, and the School of Medicine welcomed its first class in the summer of 2016.