Tuesday, November 2, 2021
  Around Campus
By News and Internal Communications
RIO GRANDE VALLEY, TEXAS – More than 60 percent of students at UTRGV are first-generation college students, according to Dr. Reymundo Ramos, associate vice president for Student Success.
To commemorate the success of these students, along with alumni, faculty and staff, the university is hosting a weeklong First-Gen Celebration Nov. 1-8, which includes virtual and in-person events.
"Our first-generation campus population is such an integral part of our institutional fabric," Ramos said. "These trailblazers, often take that important first step to college without the benefit of proper educational role models, without an understanding of the campus environment and without knowing how to navigate the college experience. Yet, they do it – fearlessly.
"They should be celebrated. I am so proud to be a part of UTRGV, an institution that truly sees these students, acknowledges them and demonstrates an unwavering commitment to their success," he said.
First-Gen Week is coordinated by the university's Office of Student Success, in collaboration with TRiO Student Support Services (SSS) and the Center for Student Involvement.
One person proud to be a first-generation college student is Mariah Lopez, a sophomore environmental science major from Weslaco, who designed the winning artwork for the TRiO SSS second annual First-Gen Button Contest.
Lopez, also a TRiO student, said that when creating the button design, she wanted to celebrate first-generation students of all ages and to teach others about first-generation representation.
"Winning this contest has reminded me that I do have the potential to be successful if I just be myself," she said. "This design represents my creativity, my thoughts and my feelings toward the concept of what it means to be a first-generation student."
Her winning design will be distributed during the national First-Generation College Celebration on Nov. 8 on both campuses.
Camelia Rubalcada, director of Special Programs for TRiO SSS, said First-Gen week is crucial to address the barriers first-generation students face and identify resources to combat those barriers. 
"We hope students will connect with other students and staff to build a sense of community, be empowered to seek support and view their first-gen identity as a source of strength and inspiration," Rubalcada said.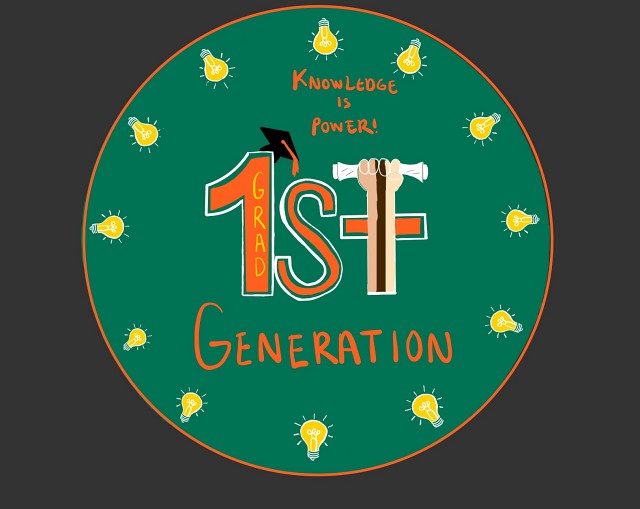 FIRST GEN CELEBRATION HIGHLIGHTS
WEDNESDAY, NOV. 3 – Real Talk: Primera Generación

–

Learn about the experiences of first-generation college students in an open forum. Through stories and anecdotes, listeners will begin to see the world with another set of lenses.

Time: Noon;
Place: Zoom



THURSDAY, NOV. 4 – First-Gen Plática –

Hear from current UTRGV faculty about their personal journeys as first-generation college students

.

Time: 2 p.m.;
Place:

Edinburg Academic Services Building (EACSB), Rm. 1.104 or via 

Zoom.


MONDAY, NOV. 8 – First-Generation College Celebration – Dedicated to UTRGV students, faculty and staff. Free food and T-shirts will be provided on a first-come, first-served basis. The First-Gen buttons designed by Mariah Lopez will be distributed at these festivities.

Time: 11 a.m. to 1 p.m. (Brownsville Campus) and 11:30 to 1:30 p.m. (Edinburg Campus);
Place: Salon Cassia (Brownsville Campus) and East Patio and Lawn (Edinburg Campus)



TUESDAY, NOV. 9 – UTRGV Men's Basketball vs. Texas A&M International University –

The team will celebrate first-generation students at the game. The first 500 students will receive a wristband voucher for a free meal, and the first 500 regular attendees will receive a free T-shirt. Students get in free and

discounted tickets are available for faculty and staff.

Time: 6 p.m. Pregame, 7 p.m. Tip-off;
Place: UTRGV Fieldhouse (Edinburg Campus)
To learn more about the First-Gen Celebration and a full list of events, visit www.utrgv.edu/studentsuccess/for-students/first-gen/index.htm.
ABOUT UTRGV
The University of Texas Rio Grande Valley (UTRGV) was created by the Texas Legislature in 2013 as the first major public university of the 21st century in Texas. This transformative initiative provided the opportunity to expand educational opportunities in the Rio Grande Valley, including a new School of Medicine, and made it possible for residents of the region to benefit from the Permanent University Fund – a public endowment contributing support to the University of Texas System and other institutions.
UTRGV has campuses and off-campus research and teaching sites throughout the Rio Grande Valley including in Boca Chica Beach, Brownsville (formerly The University of Texas at Brownsville campus), Edinburg (formerly The University of Texas-Pan American campus), Harlingen, McAllen, Port Isabel, Rio Grande City, and South Padre Island. UTRGV, a comprehensive academic institution, enrolled its first class in the fall of 2015, and the School of Medicine welcomed its first class in the summer of 2016.