Wednesday, October 27, 2021
  Around Campus
By News and Internal Communications
By Marisol Villarreal
RIO GRANDE VALLEY, TEXAS – Helping students and building communities within UTRGV is nothing new for Peter James J. Ehimika. 
Now, director of Student Success Initiatives, he began representing employees as UTRGV Staff Senate parliamentarian in 2016. A year later he became vice president of Staff Senate, and president the following year. As part of the Staff Senate, Ehimika helped convey information and made recommendations to university leadership about topics relevant to the interests and concerns of UTRGV staff.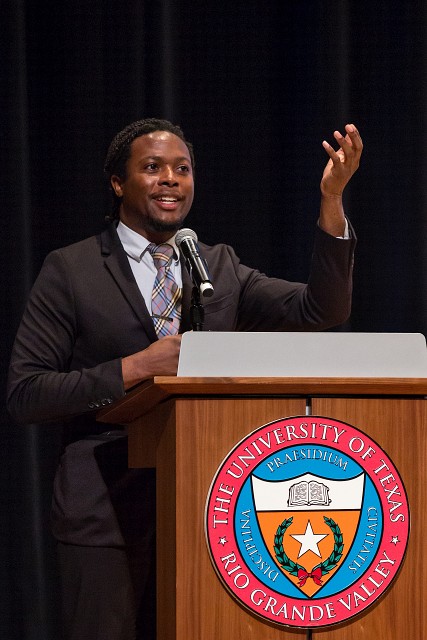 Most recently, he was elected chair for The University of Texas System Employee Advisory Council (UT EAC), making him the first UTRGV employee to serve in that position. The UT EAC is an advisory group of staff representatives from each institution within the UT System who share information, communicate issues and ideas, and convey the best interests of staff from across the System to the UT chancellor and the Board of Regents.
"Public service is a role that I naturally gravitate to. I love learning about policies and rules, as well as the Constitution," Ehimika said. "I feel like, when you learn and understand those things really well, you can help governments and the infrastructure to stay well intact, as well as finding out areas that need growth." 
Before becoming chair of the UT EAC, he chaired the Campus Safety Committee, where a team of staff members from across the UT System came together to create recommendations on how to improve safety, emergency preparedness and resiliency across institutions. 
"I thought, 'There is a reason why I am here, and I can learn,'" he said. "And I am so glad that I joined the committee."
Now in his third year with the UT EAC, he and the council have finished making recommendations on guidelines and procedures and are gearing up to present them to the Board of Regents. Focus areas are campus safety, emergency preparedness and resiliency, as well as diversity, mentoring and coaching for UT System employees. 
"My goal, going in, was to listen and to hear what the people have to say and think through how we can be helpful," he said. 
"I feel our roles are borrowed, these aren't positions that we are going to have forever," he said. "So, it is our responsibility to do the best with these roles that we've been given during the time that we have them. In any role we are given, we should make it a point to leave things better than we found them."  
Ehimika will serve as EAC chair for the 2021-2022 fiscal year. He and the EAC Executive Board will present recommendations to the Board of Regents in February 2022.
ABOUT UTRGV
The University of Texas Rio Grande Valley (UTRGV) was created by the Texas Legislature in 2013 as the first major public university of the 21st century in Texas. This transformative initiative provided the opportunity to expand educational opportunities in the Rio Grande Valley, including a new School of Medicine, and made it possible for residents of the region to benefit from the Permanent University Fund – a public endowment contributing support to the University of Texas System and other institutions.
UTRGV has campuses and off-campus research and teaching sites throughout the Rio Grande Valley including in Boca Chica Beach, Brownsville (formerly The University of Texas at Brownsville campus), Edinburg (formerly The University of Texas-Pan American campus), Harlingen, McAllen, Port Isabel, Rio Grande City, and South Padre Island. UTRGV, a comprehensive academic institution, enrolled its first class in the fall of 2015, and the School of Medicine welcomed its first class in the summer of 2016.