Friday, October 22, 2021
  Community, Around Campus
By Marci Caltabiano-Ponce
By Pat Rodriguez
RIO GRANDE VALLEY, TEXAS - OCT. 22, 2021 - UTRGV's Theatre department is getting into the Halloween spirit with a production of "The Weird," a play by Roberto Aguirre-Sacasa and directed by Peter (Trey) Mikolasky, associate professor of Theatre.
"The Weird is a short play with six vignettes dealing with different horror situations. Each one deals with ideas from horror comics, horror movies, horror books or horror TV shows, then mixes in some literary or pop culture references," Mikolasky said.
"I think each vignette has its moments of hilarity, I mean, there are some pretty gruesome moments and some pretty strong language, so we want to make sure that audiences know that before going in," he said.
The six vignettes happen separately from one another, connected only by the actors and the show's ghoulish master of ceremonies, M.T. Grave (played by UTRGV junior Mateo Ramirez).
M.T. Grave takes the audience across decades, weaving one wickedly horrifying (and/or hilarious) tale after another for a night that promises to be full of laughs and scares.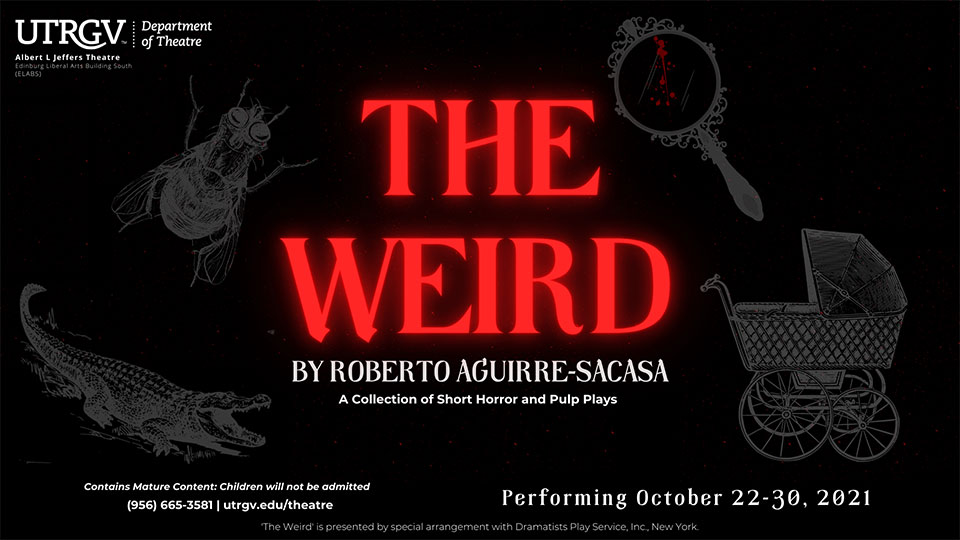 However, the audience won't be the only ones having fun. The Weird is UTRGV's second production since coming back after the 2020 lockdown, and cast and crew shared how much they have enjoyed being back.
Justin Vazquez, a sophomore and Theatre major acting in the vignettes "Insect Love" and "Dinner with Super Friends," said it really has been fun to be back on campus.
"After a year and a half stuck at home, it's just really nice to be back and go through the rehearsal process, and to see the camaraderie people build just preparing for a show," he said.
"Insect Love" pays homage to the 1950s horror movie The Fly, but with a twist. "Dinner with Super Friends" is inspired by well-known DC superheroes, but has a heroine with a rather strange request.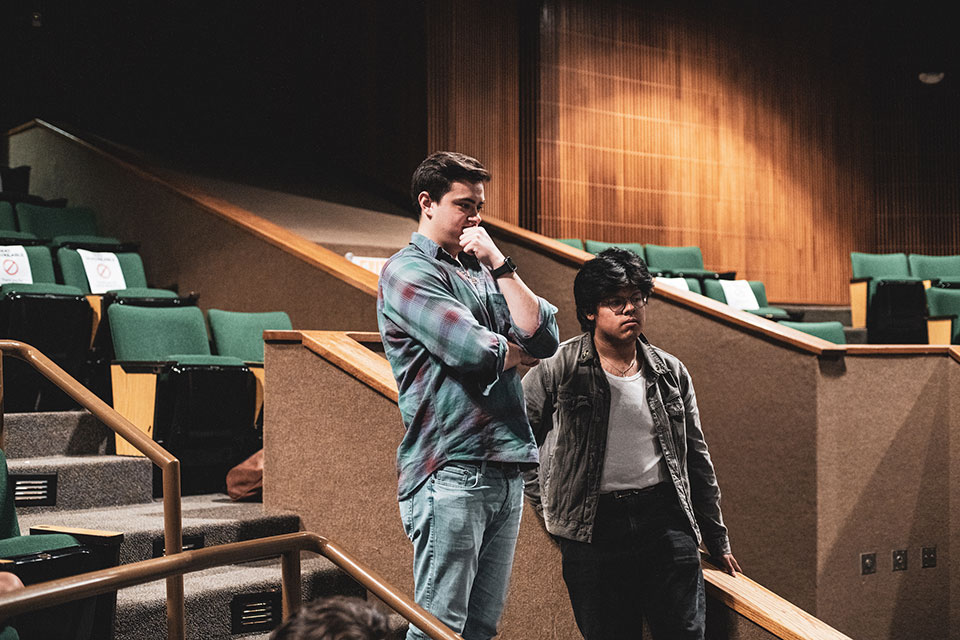 "The vibes are great, being back," said Diego Ramirez Meda, a senior Mass Communications major. "It's been so much fun. I had enough time being home and I hope it's as exciting for the audience as it has been for me."
Meda has roles in two vignettes – "Bloody Mary" and "Swamp Gothic."
"Swamp Gothic" took its inspiration from the 1930s horror flick White Zombie and its campiness from other 1930s and '40s films. The setting is a bayou in Louisiana. "Bloody Mary" is based on an urban legend but includes nods to other scary movies, like Halloween.
J. Alexis Salinas, a sophomore studying Theatre at UTRGV, worked as an assistant stage manager for the show.
"I really have had a lot of fun. We have all of these crazy things going on and crazy ideas, and I encourage everyone to come and see this. I've had a lot of fun being part of this show," he said.
UTRGV senior Frida Aviles, a Multidisciplinary Studies major, stars in the vignettes "Rosemary's Baby" and "Dinner with Super Friends." Being in the show has been an amazing and challenging experience, she said.
"The cast is so talented, and the show is unlike anything I've done before. I have also never been able to play multiple roles in past productions, so it's been more nerve-wracking but also great for experience," she said.
"Rosemary's Baby" smashes together the movie and the book and is set in the 1960s. The audience will experience horror and drama in its 10-minute run time.
Aviles wanted to acknowledge the crew's dedication and work on the production.
"I would like to bring attention to the amazing makeup, wardrobe, prop crews who have been working on this show. The costumes are amazing, and the time spent and effort the designers put into their work truly shines. They've been incredibly hard-working, and without them the show would not be what it is," she said.
Admission to 'The Weird' is free. Seats are limited, so audience members are encouraged to come early.
"All the tickets are free. We just want people to come and enjoy themselves at the theatre. That's why we picked the show -- so people could, come and have fun," Mikolasky said.
Opening curtain is 7:30 p.m. Oct 22. 2021. The show runs through Oct 30, with an ASL Interpreted show on Oct 23.
For more information, visit https://www.utrgv.edu/theatre/productions/shows/index.htm
ABOUT UTRGV
The University of Texas Rio Grande Valley (UTRGV) was created by the Texas Legislature in 2013 as the first major public university of the 21st century in Texas. This transformative initiative provided the opportunity to expand educational opportunities in the Rio Grande Valley, including a new School of Medicine, and made it possible for residents of the region to benefit from the Permanent University Fund – a public endowment contributing support to the University of Texas System and other institutions.
UTRGV has campuses and off-campus research and teaching sites throughout the Rio Grande Valley including in Boca Chica Beach, Brownsville (formerly The University of Texas at Brownsville campus), Edinburg (formerly The University of Texas-Pan American campus), Harlingen, McAllen, Port Isabel, Rio Grande City, and South Padre Island. UTRGV, a comprehensive academic institution, enrolled its first class in the fall of 2015, and the School of Medicine welcomed its first class in the summer of 2016.