Wednesday, October 13, 2021
  Community, Announcements, Alumni
By News and Internal Communications
RIO GRANDE VALLEY, TEXAS – UTRGV has announced $1 million in endowed academic scholarships bequeathed by the Burkhart family.   
The legacy gift was announced during a press conference Wednesday, Oct. 13, at Rio Bank in McAllen. It is awarded in perpetuity through the estate of Jon and Elizabeth Burkhart, and establishes a permanent fund to open doors to success for students in South Texas.  
Anne Coltrane, Jon Burkhart's niece, who attended the press conference, said she and Jon were very close and that the couple would have loved to be on hand to be a part of the event. 
"We are so pleased that Jon and Elizabeth chose to give this scholarship to the university because education meant so much to them," she said. "We hope this does provide education, and helps people to graduate debt-free." 
She said she was "very impressed" by UTRGV's track record at making college affordable for its students.  
"We are very pleased that the university has managed to do that … I think that's wonderful," she said. "Thank you so much for this recognition for Jon and Elizabeth."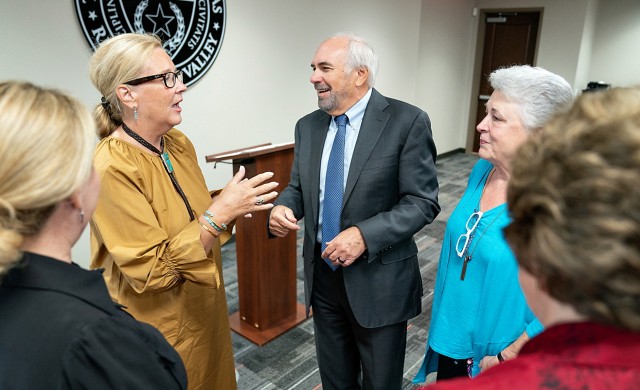 ABOUT THE BURKHARTS 
Jon Burkhart, of Corsicana, and Elizabeth Flores Burkhart, of Donna, believed strongly in the power of education, and while they had no children of their own, they filled the role of surrogate parents to Elizabeth's younger siblings and strongly encouraged the pursuit of educational opportunities.   
Elizabeth was the eldest of 12 children born to Pablo M. and Helen G. Flores. She graduated from Donna High School in 1954, then joined the Marine Corps.   
After she departed from duty, she attended UTRGV legacy institution Pan American College and considered her time there a stepping-stone to what she would accomplish in her long teaching career.  
Jon, born in Corsicana, was a UT Austin graduate who began his career in broadcast in the Valley.  
Although they eventually moved away, the Burkharts returned often to visit family in Donna. In recognition of Elizabeth's achievements, then Donna Mayor Jose Yañez declared Jan. 27, 1985, as Elizabeth Flores Burkhart Day.   
"UTRGV is proud to continue sharing the Burkhart commitment to higher education through their endowed scholarships fund," said Dr. Kelly Nassour, executive vice president for Institutional Advancement. "This will help many UTRGV students on their academic journeys to long and fulfilling careers."
ABOUT UTRGV
The University of Texas Rio Grande Valley (UTRGV) was created by the Texas Legislature in 2013 as the first major public university of the 21st century in Texas. This transformative initiative provided the opportunity to expand educational opportunities in the Rio Grande Valley, including a new School of Medicine, and made it possible for residents of the region to benefit from the Permanent University Fund – a public endowment contributing support to the University of Texas System and other institutions.
UTRGV has campuses and off-campus research and teaching sites throughout the Rio Grande Valley including in Boca Chica Beach, Brownsville (formerly The University of Texas at Brownsville campus), Edinburg (formerly The University of Texas-Pan American campus), Harlingen, McAllen, Port Isabel, Rio Grande City, and South Padre Island. UTRGV, a comprehensive academic institution, enrolled its first class in the fall of 2015, and the School of Medicine welcomed its first class in the summer of 2016.