Tuesday, September 14, 2021
  Community
By Amanda Alaniz
RIO GRANDE VALLEY, TEXAS – Did you know a blood stem cell transplant from a matched donor can be a cure for blood cancers, sickle cell and other diseases?  
Not all patients have an equal chance of finding a match, though.  
To help level the playing field, a nonprofit organization called Be the Match, operated by the National Marrow Donor program and in partnership with the South Texas Blood and Tissue Center, is helping increase the chance of getting a match for more patients from all ethnic backgrounds. 
Statistics from Be the Match show that Hispanic / Latinx individuals have a 46 percent chance of finding a match; Black or African Americans have a 23 percent chance; Asian or Pacific Islander have a 41 percent chance; and Caucasian individuals have a 77 percent chance.
So UTRGV students are working to help change the statistics by keeping the discussion alive about what it means to be a donor – and working hard to keep the community informed.  
Alyssa Cerroni, lecturer III for the UTRGV Department of Communication, has spearheaded UTRGV's efforts. About two years ago, she said, the South Texas Blood and Tissue Center, in partnership with Be the Match, contacted her, asking to speak to her classes about becoming potential marrow donors and sharing some statistics.  
"I was just shocked to learn about the health disparities that exist for people who are battling blood cancers and disorders," Cerroni said. "I decided to incorporate what they do into my health communications courses." 
She worked with the organizations to start a "small, but mighty" internship program for students to participate, with students working with the South Texas Blood and Tissue Center along with Be the Match.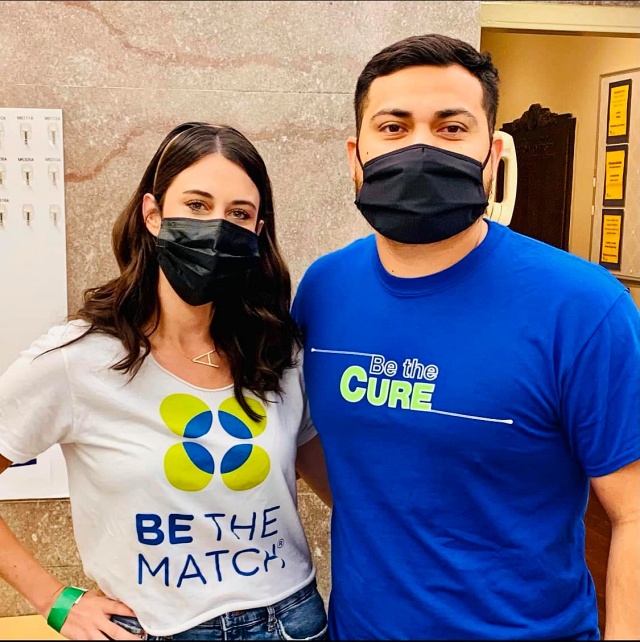 For this internship, students would help educate the university community about Be the Match, the processes to become a donor, what being a donor could do, and how to work in the center's offices.  
Shelby Rios, a UTRGV grad student in communications, was taking one of Cerroni's health communication class as an undergraduate when she learned about Be the Match. She started out volunteering with the organization, then began her year-long internship.   
Rios, an Edcouch-Elsa native, held the internship prior to the COVID-19 pandemic and was able to participate in campus-wide drives. She toured the center's facility and shared valuable information about the health disparities.  
"The drive was really a highlight of the internship. We were at the Student Union and we would have different registrants from different colleges. We had about 1,500 at one of the drives, about 900 at another," she said.  
She also was able to learn more about the work behind the scenes, like reviewing medical charts and standard operational procedures, and is grateful for the insight she has been able to apply in her graduate classes.    
Throughout the drives, Cerroni said, they were able to register about 3,000 UTRGV students to be potential donors. 
STEPPING UP ON SOCIAL MEDIA  
Jaclyn Smith, a senior communication studies major, and Emily Villarreal, a senior communication studies major, have the same internship. Since the pandemic, they've turned to utilizing social media more to engage the community and keep them informed about the organization's efforts.   
Villarreal recalled when Rios and Cerroni did a presentation in one of her classes about Be the Match and their mission. She felt an instant connection, she said, because about that time, her mother was diagnosed with cancer. She knew right then and there that she was going to register to become a donor. 
"I understand the struggles that come with being a family that cancer has affected. I can't imagine, on top of all that, having to find a match," she said. "I really wanted to join the registry after that. So, when I was asked to join the internship, everything really came full circle." 
The internship as an opportunity to help save lives, she said.  
Smith took several different classes with Cerroni and learned about Be the Match, and also volunteered for one of the on-campus drives prior to the pandemic. She joined the internship with Villarreal and, after seeing first-hand the kind of impact the organization's efforts could have, she was highly motivated to help.  
"The situation is different now, since the pandemic. We reach a lot less people, there's a lot less opportunity for outreach, so we have to be more creative," she said. "I was really inspired by the cause even though I don't have a personal connection with someone who has suffered from cancer. I really just want to help my community."  
One of the common misconceptions about bone marrow and peripheral blood stem cell donation is that it's a very difficult process. But the students and Cerroni work to expel myths and misinformation of that sort.  
Rios recalls the chance she had to interview a young person while he was donating marrow. He was on his phone the entire time and able to carry on a conversation while he was donating.  
Cerroni stresses the importance of donating and possibly being the match either for someone in the donor's own family or someone else's.  
"About 80 percent of marrow or stem cells donations come from your arm, just like donating blood or plasma. About 20 percent is an outpatient procedure through the hip, it's the procedure most people think about when they think about bone marrow transplants. But it's fairly uncommon," Cerroni said. "I just try to get my students to understand that, while they may be young and healthy now, they never know what's going to happen to them or their family."  
There currently are about 11,639 UTPA/UTB/UTRGV students and alumni registered with Be the Match -- 41 of them were matched donors.  
'ONE OF MY DREAMS TO GET THE CALL' 
The students and the professor all want to continue to stress the message that the more people on the registry, the more chances for someone in the community to find a match.  
"It doesn't guarantee they'll be a match, but it would really help close that gap that we have, which is significant," Smith said. 
Villarreal, too, urges donation as a way to do something important for others.  
"There's something so rewarding knowing that you could potentially save someone's life," she said.  "To ever get a call – that's one of my dreams, to get the call that says I'm someone's match."  
Rios said she, too, is also hoping to be a match for someone. She has a friend who was diagnosed recently with a certain type of leukemia, and he reached out to her for more information about Be the Match.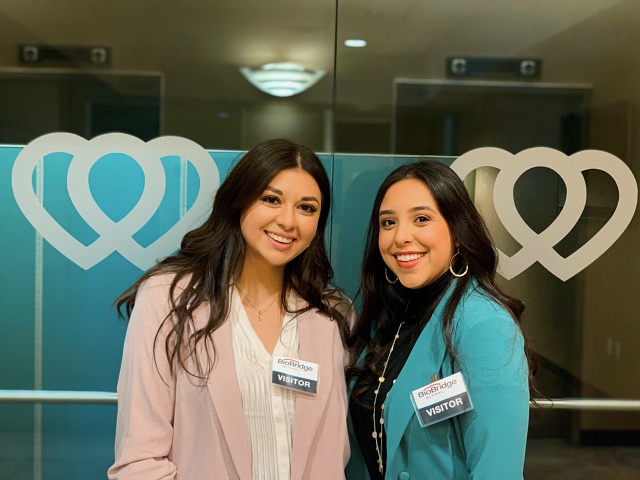 "I got in contact with the supervisor, and they set up a whole campaign for him. So, he wound up having about 12 initial or partial matches. Now, he's going through the process with Be the Match," she said. 
Students who took part in the internship all have been able to apply what they've learned in their communication classes, all while being part of an organization that helps save lives, Cerroni said, and that is a major benefit of having the internship available. 
She would like to continue offering the internship to her students, so they can continue to bring attention to health-related disparities. And she has changed her health communication course to a service-learning course, which means it will require students to participate in Be the Match on-campus drives to help recruit potential donors. 
"We really need students like Shelby, Jaclyn and Emily," Cerroni said. "We need them in the Rio Grande Valley to keep working on health communication initiatives. There are too many health disparities in the Valley – this is just one of them. So, for them to be able to learn about health communication and apply it back to the community, is a great benefit."  
For more information about Be the Match at UTRGV, visit join.bethematch.org/UTRGV or email Cerroni at alyssa.cerroni@utrgv.edu. 
ABOUT UTRGV
The University of Texas Rio Grande Valley (UTRGV) was created by the Texas Legislature in 2013 as the first major public university of the 21st century in Texas. This transformative initiative provided the opportunity to expand educational opportunities in the Rio Grande Valley, including a new School of Medicine, and made it possible for residents of the region to benefit from the Permanent University Fund – a public endowment contributing support to the University of Texas System and other institutions.
UTRGV has campuses and off-campus research and teaching sites throughout the Rio Grande Valley including in Boca Chica Beach, Brownsville (formerly The University of Texas at Brownsville campus), Edinburg (formerly The University of Texas-Pan American campus), Harlingen, McAllen, Port Isabel, Rio Grande City, and South Padre Island. UTRGV, a comprehensive academic institution, enrolled its first class in the fall of 2015, and the School of Medicine welcomed its first class in the summer of 2016.