From sketching on a TV show to opening a new art exhibit, UTRGV alum Alex Macias keeps artistic aesthetic alive

  Wednesday, September 1, 2021
  Alumni
By Amanda Taylor
RIO GRANDE VALLEY, TEXAS – SEPT. 1, 2021 – Bold blocks of color fill in most of an outline of artist Alejandro "Alex" Macias.
An alum of UTRGV legacy institutions UT Brownsville-TSC and UT-Pan American, Macias says there's a method to his visual chaos.
The color bars are stacked up to Macias' mouth, allowing his face to be visible from the nose up. The portrait, entitled "Shift," addresses themes of heritage, immigration and ethnicity – a prominent message behind most of his work.
Macias, a Brownsville native, is now working as an assistant professor at the University of Arizona School of Art, but he was born and raised on the border in Brownsville and uses his art to contrast the critical engagement of the assimilation and acculturation process. Macias calls it "Americanization."
He received a Bachelor of Arts from legacy institution UTB-TSC in 2008, and a Master of Fine Arts in 2-D Studio Art from UTPA in 2012. Being taught art in Brownsville right on the Mexican-American border was an advantage, he said, since he was able to hone his artistic integrity about the sociopolitical turmoil he saw on a regular basis.
"I use a lot of negative space in my art – sort of like a literal division – to talk about this river Valley that is, oftentimes, difficult to define," Macias said. "I understand the Rio Grande Valley because I am a product of it."
During his time in graduate school, Macias was able to identify first-hand what it's like to be a mesh of two cultures. He often felt he was trying to describe a place that exists, but also was not there at all, in terms of using negative space and geography in his work.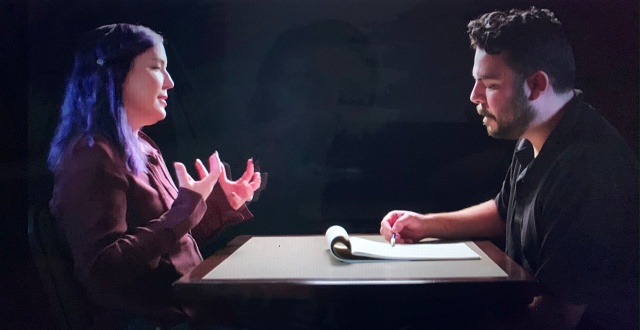 "I basically had two years and a half of exploration," he said of his time in grad school. "It was a very natural approach to finding my voice during my time at UTPA. I was able to understand my technique and find my voice.
"I think grad school is a huge learning experience and it's a great way for young artists to help find their own aesthetic," he said.
After finishing graduate school, Macias started to work as an adjunct professor at UTB-TSC. In 2019, he started work with the University of Arizona School of Art, where he continues to teach art students and works on his own projects.
"I connected with the faculty immediately," he said. "They understand my work and respect what I am doing, so this is definitely the type of environment I was hoping for."
Immediately after moving to Arizona, Macias was hired as a sketch artist to appear on the Travel Channel's "The Dead Files." On the show, a physical medium, Amy Allan, and retired NYPD homicide detective Steve Di Schiavi combine their skills to solve unexplained paranormal phenomena in haunted locations across America.
"When they initially reached out to me, I thought it was a scam," he said. "But they sent me the link to their show, and I watched a few episodes to understand the concept of it. It seemed like fun, so I agreed to it."
Since the show was filming in Arizona, one of the producers looked for art professors from the University of Arizona and found Macias. It was a whole new experience, sketching what the mediums and investigators were describing on the fly, Macias said.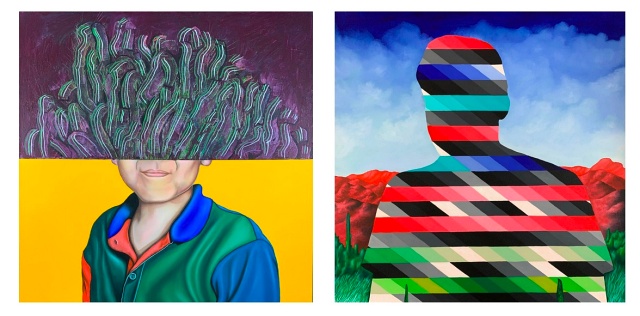 "It was challenging, drawing what they were describing to me in real-time, but it was also really interesting. I've done three episodes already, and if they ever call me back to do some more, I definitely will," he said.
Macias also has an exhibition at the Tucson Museum of Art through September this year. The collection, 4x4, presents four solo shows that make up one large exhibition by four preeminent artists selected by four of the museum's curators. The exhibition curates artists influenced by their personal experiences to contribute to the region's artistic landscape.
"This has been a very surreal experience for me," Macias said of the exhibition. "To be able to make it into the Tucson Museum within the two years that I have been in Arizona – it's been an incredible experience."
To view some of Macias's work, visit the link here. Macias's work can also be viewed on his Instagram account and his website.
ABOUT UTRGV
The University of Texas Rio Grande Valley (UTRGV) was created by the Texas Legislature in 2013 as the first major public university of the 21st century in Texas. This transformative initiative provided the opportunity to expand educational opportunities in the Rio Grande Valley, including a new School of Medicine, and made it possible for residents of the region to benefit from the Permanent University Fund – a public endowment contributing support to the University of Texas System and other institutions.
UTRGV has campuses and off-campus research and teaching sites throughout the Rio Grande Valley including in Boca Chica Beach, Brownsville (formerly The University of Texas at Brownsville campus), Edinburg (formerly The University of Texas-Pan American campus), Harlingen, McAllen, Port Isabel, Rio Grande City, and South Padre Island. UTRGV, a comprehensive academic institution, enrolled its first class in the fall of 2015, and the School of Medicine welcomed its first class in the summer of 2016.