Tuesday, August 31, 2021
  Awards and Recognitions
By Letty Fernandez
RIO GRANDE VALLEY, TEXAS – Nancy Riddick met UTRGV's Dr. Bruce J. Reed in 2017, where they were both attending the National Council on Rehabilitation Education (NCRE) conference in California.  
At the time, Riddick was searching for a university to pursue her doctorate in Rehabilitation Services and Counseling. 
"From the many professors and universities, I was introduced to, I decided on UTRGV," Riddick said. "I interviewed, completed all the paperwork and was honored to be accepted to the doctoral program. So, I closed my home in North Carolina, said so-long to family, friends and my job, and made the 23-hour drive to Edinburg, Texas."  
This July, Riddick was honored with the Doctoral Student of the Year award from the National Council on Rehabilitation Education (NCRE), the professional organization of educators dedicated to providing quality services for persons with disabilities through education and research. The organization represents institutions of higher education. 
"I am grateful and honored for being recognized by a group of professionals who value the work we do by having a positive impact on the lives of individuals with disabilities," said Riddick, now a graduate teaching assistant who will earn her doctorate in December. "I have always known, through all my life, disruptions and struggles. I know that, if I want to advance in school and life, I have to work hard, continue learning and get back up with the failures and mistakes I have made."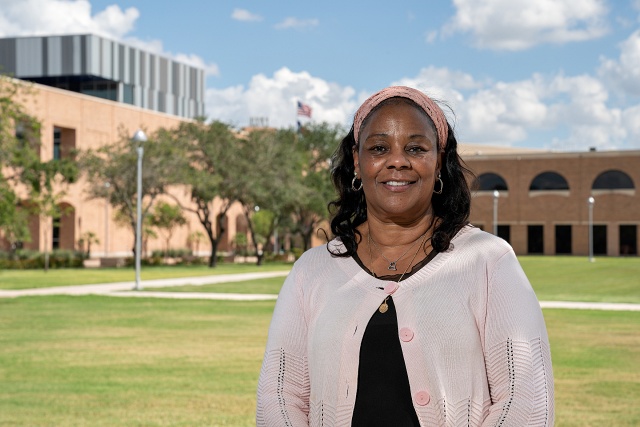 Riddick was nominated for the award by Reed, who calls her "an advocate and role model for people with disabilities, people of color and females."  
"Ms. Riddick is a born leader," said Reed, professor of Rehabilitation Services and Counseling and director of the School of Rehabilitation Services and Counseling at UTRGV. "She advocates for others in a mature, professional manner with an emphasis on positive role-modeling and integrity, and she has developed into an accomplished instructor in her short time at UTRGV." 
A WORTHY MENTOR 
Reed, too, was honored this year by the NCRE with the Distinguished Career in Rehabilitation Education Award, which recognizes an individual "who has demonstrated significant career achievement in rehabilitation education and celebrates the individual's lifelong commitment to bettering the lives of persons with disabilities as a rehabilitation educator." 
"To have my career contributions recognized by my peers is quite an honor," Reed said. "And, to have one of my students honored is rewarding."  
Related Link: UTRGV Rehab Services program earns two national honors
The School of Rehabilitation Services and Counseling is housed in the UTRGV College of Health Professions. It offers undergraduate and graduate degrees to help prepare professionals to assist people with disabilities.  
ABOUT UTRGV
The University of Texas Rio Grande Valley (UTRGV) was created by the Texas Legislature in 2013 as the first major public university of the 21st century in Texas. This transformative initiative provided the opportunity to expand educational opportunities in the Rio Grande Valley, including a new School of Medicine, and made it possible for residents of the region to benefit from the Permanent University Fund – a public endowment contributing support to the University of Texas System and other institutions.
UTRGV has campuses and off-campus research and teaching sites throughout the Rio Grande Valley including in Boca Chica Beach, Brownsville (formerly The University of Texas at Brownsville campus), Edinburg (formerly The University of Texas-Pan American campus), Harlingen, McAllen, Port Isabel, Rio Grande City, and South Padre Island. UTRGV, a comprehensive academic institution, enrolled its first class in the fall of 2015, and the School of Medicine welcomed its first class in the summer of 2016.