Wednesday, August 18, 2021
  Around Campus, Research
By News and Internal Communications
By Maria Gonzalez 
RIO GRANDE VALLEY, TEXAS – Dr. Gladys Maestre, UTRGV professor and director of The UTRGV Alzheimer's Disease Resource Center for Minority Aging Research (AD-RCMAR), has been selected to serve on the Neurological, Aging and Musculoskeletal Epidemiology (NAME) Study Section of the Center for Scientific Review. 
Maestre, professor of neurosciences and human genetics, has worked with Alzheimer's disease and related disorders for more than 20 years. 
She said she is excited to contribute to NAME in her specialty area, especially in topics of geographic- and age-related patterns of neurological disorders in minority populations.  
"My expertise in age-related disorders in minority populations and in national or international low-resource settings, could be useful as many researchers are trying to develop programs to benefit those underserved and economically challenged.   
"Also, as a Latina, I expect to contribute the unique perspective that my cultural values sustain," she said 
Maestre will serve a four-year term ending June 30, 2025. Her scientific service in the extramural appointment will help assure the quality of the National Institutes of Health peer review process, review grant applications submitted to the NIH, and make objective recommendations that will contribute to the national biomedical research effort.  
The research designs and methodologies reviewed in NAME include cohort, case-control, prospective, longitudinal, retrospective, clinical trial, cross-sectional, surveillance and meta-analysis.  
"This appointment is very significant for me," she said. "NAME reviews applications on epidemiologic research on neurological disorders, conditions related to aging and musculoskeletal conditions, in addition to studies of communication and visual disorders. All these topics are of utmost interest for me and allow me to be aware of the proposed innovations and solutions to limitations." 
Dr. Ihsan M. Salloum, director of the UTRGV Institute for Neuroscience, said Maestre is doing cutting-edge research that will benefit the Valley and congratulated her on her selection to the NAME Study Section. 
"Dr. Maestre's work focusing on Alzheimer's disease and aging research is of high significance for the Rio Grande Valley and the Latino population, and her contributions will enhance our mission of improving the lives of persons with Alzheimer's disease and their families – here, nationally and beyond," he said. "This appointment is further recognition and affirmation of her standing as a scientist at the national level. Dr. Maestre is not only an outstanding scientist, but a true champion and ambassador for Alzheimer's disease." 
Maestre said she is thankful for all the support she receives at UTRGV and expressed special gratitude to university colleague Dr. Michael Mahaney of the Department of Human Genetics. 
"He held this same position until two years ago, and I am sure that his successful participation in this Study Section created the right conditions to facilitate my nomination," she said.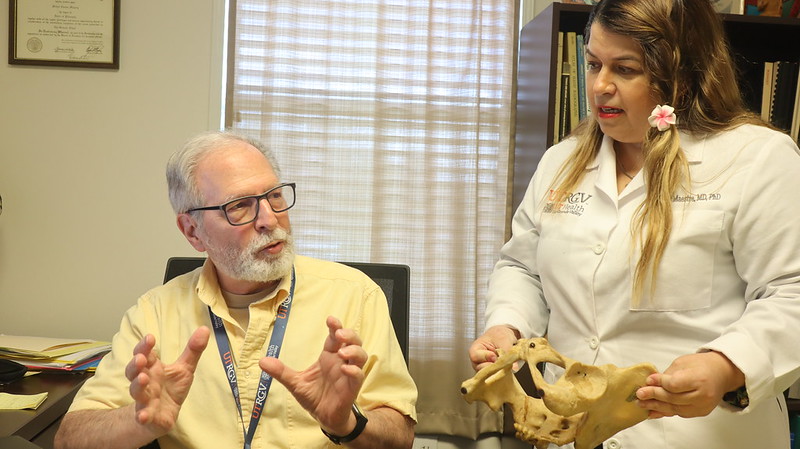 ABOUT MAESTRE 
Maestre's role at RGV AD-RCMAR reinforces the center's commitments to build a community of expert researchers to reduce health discrepancies among Hispanics in South Texas through advanced research about the high numbers of Alzheimer's and dementia cases in the Rio Grande Valley's Latino Population.   
Maestre's achievements in her field are a reflection of her scientific discipline as evidenced by her research projects, including the  Maracaibo Aging Study, the first longitudinal study on aging in Latin America, other significant achievements. and more than 145 publications in scientific journals. 
She began her career education in her native Venezuela, where she obtained a Doctor of Medicine (M.D.) degree at The University of Zulia in 1989. She completed her postdoctoral studies in the Department of Psychiatry at Harvard Medical School and got a Ph.D. in the Department of Pathology and Center for Neurobiology and Behavior at Columbia University in 1996.
ABOUT UTRGV
The University of Texas Rio Grande Valley (UTRGV) was created by the Texas Legislature in 2013 as the first major public university of the 21st century in Texas. This transformative initiative provided the opportunity to expand educational opportunities in the Rio Grande Valley, including a new School of Medicine, and made it possible for residents of the region to benefit from the Permanent University Fund – a public endowment contributing support to the University of Texas System and other institutions.
UTRGV has campuses and off-campus research and teaching sites throughout the Rio Grande Valley including in Boca Chica Beach, Brownsville (formerly The University of Texas at Brownsville campus), Edinburg (formerly The University of Texas-Pan American campus), Harlingen, McAllen, Port Isabel, Rio Grande City, and South Padre Island. UTRGV, a comprehensive academic institution, enrolled its first class in the fall of 2015, and the School of Medicine welcomed its first class in the summer of 2016.