Saturday, July 24, 2021
  Around Campus
By Karen Villarreal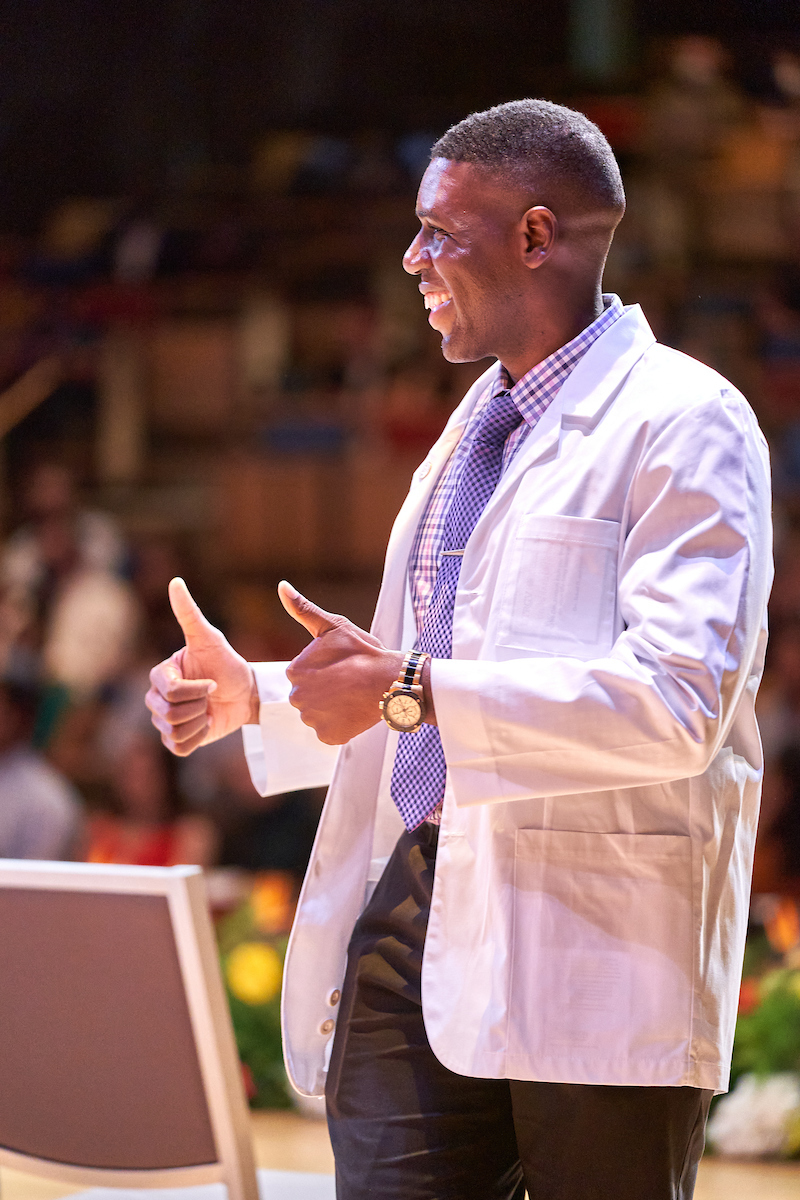 RIO GRANDE VALLEY, TEXAS – The UTRGV School of Medicine welcomed its sixth class of medical students with a White Coat Ceremony on Saturday, July 24, at the UTRGV Performing Arts Complex Auditorium.
Dr. Michael B. Hocker, the new dean of the UTRGV School of Medicine, was among the school's leaders who greeted the 55 medical students and spoke of the important symbolism of the white coat. 
"Those who take care of patients every day, you are the heroes and, maybe, the white coat is your cape ­– that piece of clothing you wear to help you in healthcare and education," said Hocker. "It will serve you well as you look at innovation and discovery in medicine."
The ceremony is an important first step in the career of a future physician, serving as a rite of passage at medical schools around the country. On Saturday morning, the new students committed to their future before friends and family with the recitation of the Hippocratic Oath and the donning of the white coat.
In this sixth class of UTRGV medical students, 24 of the 55 are from the Rio Grande Valley and 12 are UTRGV graduates, all selected from more than 7,545 highly competitive applications.
Keynote speaker Julie Ann Freischlag, FACS, FRSCE, MD, dean of the Wake Forest School of Medicine and CEO of Wake Forest Baptist Health, provided recorded remarks due to COVID-19 travel restrictions. In her address, she addressed the leap students took at the beginning of their medical school journey during a pandemic that transformed the medical practice as a whole.
"The pandemic has shown us the value of teamwork and how we're stronger together," said Freischlag. "As you wear your white coat and treat each patient with dignity and respect, I want you to also think about how you are going to have a safe, healthy journey through these years so you can thrive in school and at home."
 STUDENTS' INSPIRATION, PERSONAL EXPERIENCES
With the recitation of the Hippocratic Oath, students pledged to uphold the ethical standards of medical practice. As class representative, medical student Lesley Chapa, of San Juan, led the class in reciting the oath, an experience she describes as deeply personal. 
Chapa was 10 years old when she contracted viral encephalitis, a serious inflammation of the brain, and was in a coma. She remembers the cultural and language barriers between her parents and the doctors during her treatment and recovery, which made the trauma even more stressful, she said. 
"It inspired me, made me want to become a culturally aware physician, the kind I wish had been able to treat me back then," she said.
As an undergraduate student, Chapa worked as an assistant in the Myles and Sylvia Aaronson Library at the UTRGV School of Medicine. Her interactions with the medical students she saw each day inspired her to pursue her goals, so she applied to the UTRGV School of Medicine.
"Day in and day out, I had the privilege to observe their relentless dedication and perseverance," she said of the students she spoke with. "They inspired me to believe in my potential, improve my work ethic and take my shot. Now, it's coming full circle."
Another member of the new class, Aaron Carrillo, is excited to be the first in his family to become a doctor. A May 2021 UTRGV graduate of the Biomedical Sciences program (BMED), he said taking this step into medical school fulfills a deeply personal motive that his mentors helped him plan toward since he was an undergraduate student.
"One of the strongest men I knew, my grandfather, suffered from diabetes, hypertension and other medical complications that limited his mobility," he said.
Seeing firsthand how the diseases took a toll on loved ones was a driving factor in choosing his career, he said.
 "As a physician, I want to identify the health disparities that affect so many families in the Rio Grande Valley and take steps to address them," Carrillo said.
Carlos Cisneros, from Brownsville, also joined the medical class of 2025 and donned his white coat on Saturday. Having graduated from the University of Texas at Austin in May 2021, he knows the next four years of medical training will be tough, but he is motivated to tackle the rigorous curriculum ahead.
His mother battled cancer when he was just 6 years old, and he was awed by the doctors at The University of Texas MD Anderson Cancer Center who saved his mother's life.
"It was not until I was a bit older, in middle school, that I truly understood how amazing and inspiring doctors are," Cisneros said. "I want to help heal the people of my community with that same high level of care and compassion I have witnessed." 
The event was streamed live and is available for viewing at https://www.utrgv.edu/school-of-medicine/education/white-coat-ceremony/.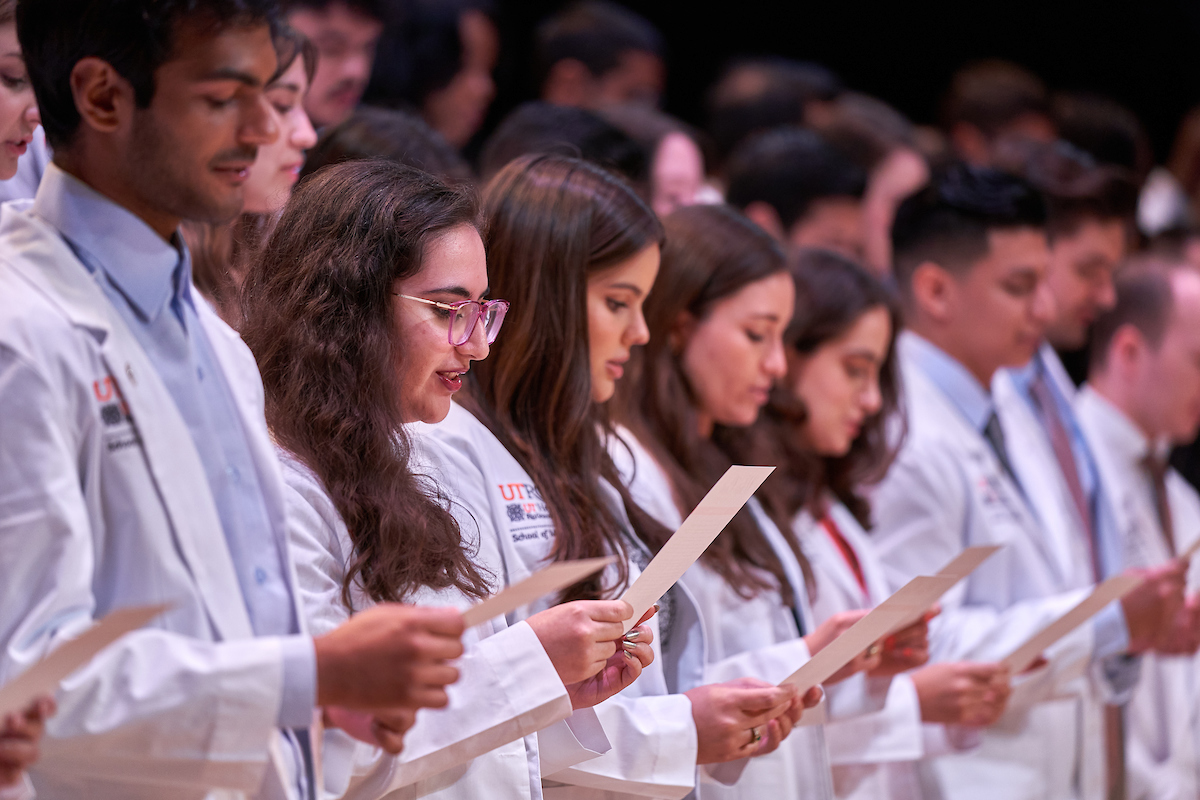 ABOUT UTRGV
The University of Texas Rio Grande Valley (UTRGV) was created by the Texas Legislature in 2013 as the first major public university of the 21st century in Texas. This transformative initiative provided the opportunity to expand educational opportunities in the Rio Grande Valley, including a new School of Medicine, and made it possible for residents of the region to benefit from the Permanent University Fund – a public endowment contributing support to the University of Texas System and other institutions.
UTRGV has campuses and off-campus research and teaching sites throughout the Rio Grande Valley including in Boca Chica Beach, Brownsville (formerly The University of Texas at Brownsville campus), Edinburg (formerly The University of Texas-Pan American campus), Harlingen, McAllen, Port Isabel, Rio Grande City, and South Padre Island. UTRGV, a comprehensive academic institution, enrolled its first class in the fall of 2015, and the School of Medicine welcomed its first class in the summer of 2016.