Tuesday, July 6, 2021
  Around Campus
By Karen Villarreal
RIO GRANDE VALLEY, TEXAS – JULY 6, 2021 – In his first week as the new dean of the UTRGV School of Medicine, Dr. Michael B. Hocker welcomed the Class of 2025, the newest cohort of medical students on July 2. 
During a student townhall meeting, Hocker spent some time answering questions about himself and sharing stories of flying helicopters in the Navy, his hobbies, his family, his own journey to become a doctor, and his goals as dean.
"This is the next generation of leaders who will go through our medical school to become physicians, and hopefully stay in our area and take care of our patients in the RGV," said Hocker. "We have a diverse and unique group of students in this sixth class who will carry on our legacy in four years. It's great to see such enthusiastic, energetic students getting ready to start." 
The Class of 2025 is made up of 62 students that were selected from more than 7,545 applications. Hocker reassured the new class that despite the challenges to come, they're on a rewarding path now – a transformative one that begins as soon as they don their white coats.
"You're a doctor-in-training now," said Hocker. "For the next four years, you'll see patients who will call you 'doctor.' Own it. It's cool!"
After the townhall, the group met in the courtyard of the Medical Education Building in Edinburg to take the official class photo. Then, they were fitted for their white coats which will be formally presented at a ceremony this month.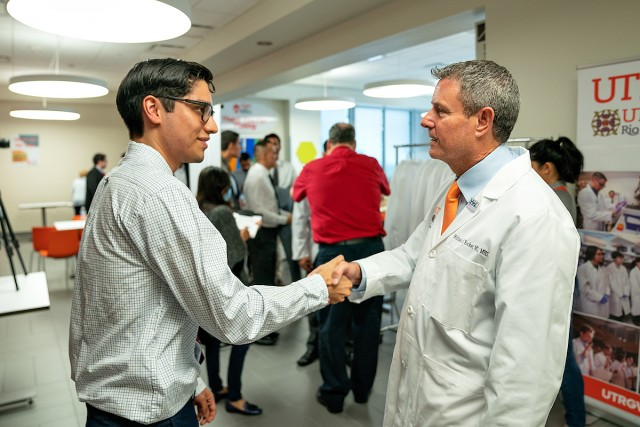 The White Coat ceremony represents a transition in a student's career from academic to clinical; it is the day students commit to the healthcare profession and begin their medical school education. It is a day of celebration for the students and their families as well as a milestone for healthcare professionals – the first time they can wear the title of 'doctor' and the uniform that goes with it.
For Aaron Carrillo, a May 2021 UTRGV graduate, the white coat symbolizes the culmination of four years of hard work and a major milestone toward becoming a physician.
"There is a certain responsibility and an immense feeling of gratitude that accompanies the white coat. Those feelings were finally sinking in as I was getting fitted for the first time," said Carrillo.  "I understand the journey to become a doctor will be difficult, but I am eager to start learning from my peers and the faculty."
The first in his family to pursue a career in medicine, Carrillo wants to make an impact on the health disparities that affect so many families in the Rio Grande Valley, including his own.
"My grandfather suffered from diabetes, hypertension and a string of medical complications that confined him to a wheelchair. Seeing one of the strongest men I knew go through these health issues was a driving factor in choosing my career," said Carrillo, who earned a bachelor's degree in biomedical sciences and chemistry.
This year, 24 students in the Class of 2025 are from the Rio Grande Valley and 12 are UTRGV alumni. An official White Coat Ceremony will be held on Saturday, July 24.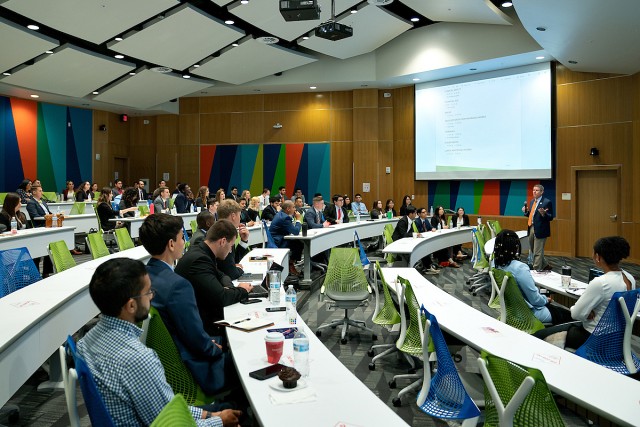 ABOUT UTRGV
The University of Texas Rio Grande Valley (UTRGV) was created by the Texas Legislature in 2013 as the first major public university of the 21st century in Texas. This transformative initiative provided the opportunity to expand educational opportunities in the Rio Grande Valley, including a new School of Medicine, and made it possible for residents of the region to benefit from the Permanent University Fund – a public endowment contributing support to the University of Texas System and other institutions.
UTRGV has campuses and off-campus research and teaching sites throughout the Rio Grande Valley including in Boca Chica Beach, Brownsville (formerly The University of Texas at Brownsville campus), Edinburg (formerly The University of Texas-Pan American campus), Harlingen, McAllen, Port Isabel, Rio Grande City, and South Padre Island. UTRGV, a comprehensive academic institution, enrolled its first class in the fall of 2015, and the School of Medicine welcomed its first class in the summer of 2016.