Fourteen-year-old Los Fresnos triplets first to get vaccine with UT Health RGV

  Wednesday, May 12, 2021
  Community
By News and Internal Communications
RIO GRANDE VALLEY, TEXAS – This evening UT Health RGV began vaccinating children ages 12-15 against COVID-19. 
Parents and their children lined up earlier today on the UTRGV Brownsville Campus to be the first to get the vaccine for their age group including the 14-year-old Strader Triplets – Brooklyn, Logan and Madison Sage – from Los Fresnos.
"Finally, our life will go back to normal," said Madison Sage after getting her vaccine.
The eighth-grade students were the first to get vaccinated at the UT Health RGV vaccine clinic, which began administering the vaccine to the 12-15 age group after 5 p.m.
The siblings all agreed they were excited to receive the vaccine and encourage all their peers to get vaccinated. All three said they are ready to get back to school in person and, most of all, to see their friends again.
"Please take the COVID vaccine that is 100 percent safe, and do your part to wear your masks," said Madison Sage.
Their mother, Goldie Strader, who is also a nurse practitioner with the UT Health RGV Primary Care Laguna Vista Clinic, was excited to have her teenagers receive the vaccination as she knows the importance of getting it. She said her kids are ready to go back to school.
"It's good to get your kids vaccinated. It helps the community. It helps the family. It helps the schools. It helps life return back to normal," Goldie said.
"I never thought that as a parent I would hear my kids ask to go to school. They really want to go back to school, but we want to do it safely," Goldie said. "And it is not just for the kids safety but we want it to be safe for the teachers, for the principal and for all the people around them."
Close to 50 children were vaccinated this evening according to Dr. Linda Nelson, a Doctor of Nurse Practice (DNP), RN, pediatric nurse practitioner and senior director of Clinical Operations for the UTRGV School of Medicine and UT Health RGV.
The administration of the vaccine for this age group comes after the U.S. Food and Drug Administration expanded its emergency use authorization on Monday for the Pfizer vaccine, and the Center for Disease Control approved the usage of the vaccine for 12-15-year-olds today. 
In preparation of the announcement, UT Health RGV began pre-registering 12–15-year-olds last week. So far, more than 4,000 adolescents have been pre-registered with UT Health RGV.
UT Health RGV is encouraging parents or legal guardians to pre-register their children at uthealthrgv.org/minor-registration, so that they can begin receiving the vaccine.
Please keep in mind that all minors must be accompanied by a parent or legal guardian.
To learn more about UT Health RGV's COVID-19 vaccine efforts, visit https://uthealthrgv.org/health-care-news/coronavirus/vaccine/.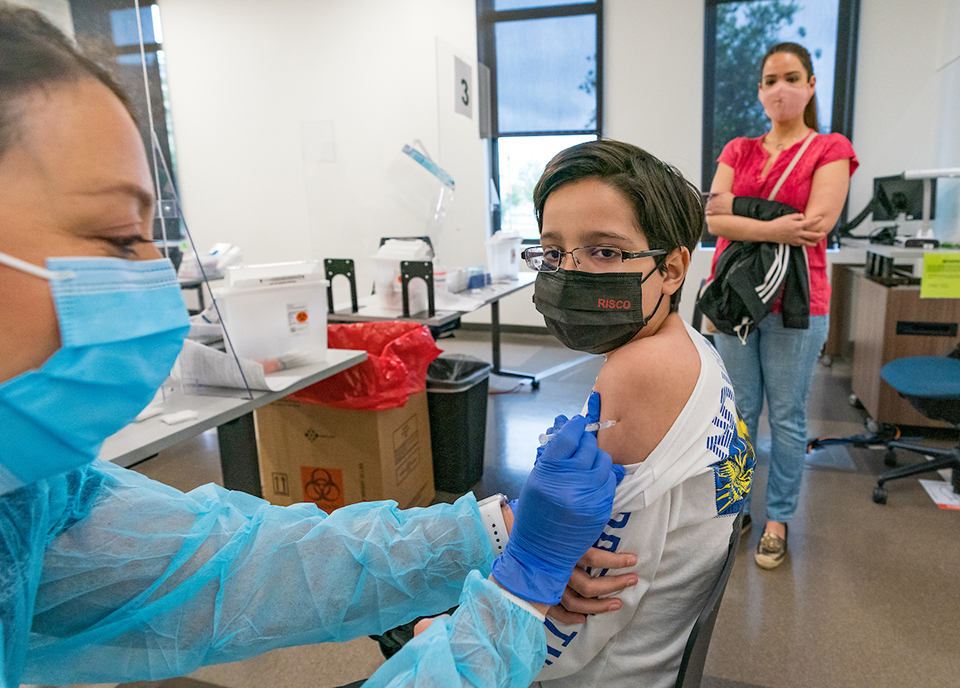 ABOUT UTRGV
The University of Texas Rio Grande Valley (UTRGV) was created by the Texas Legislature in 2013 as the first major public university of the 21st century in Texas. This transformative initiative provided the opportunity to expand educational opportunities in the Rio Grande Valley, including a new School of Medicine, and made it possible for residents of the region to benefit from the Permanent University Fund – a public endowment contributing support to the University of Texas System and other institutions.
UTRGV has campuses and off-campus research and teaching sites throughout the Rio Grande Valley including in Boca Chica Beach, Brownsville (formerly The University of Texas at Brownsville campus), Edinburg (formerly The University of Texas-Pan American campus), Harlingen, McAllen, Port Isabel, Rio Grande City, and South Padre Island. UTRGV, a comprehensive academic institution, enrolled its first class in the fall of 2015, and the School of Medicine welcomed its first class in the summer of 2016.