Friday, May 7, 2021
  Around Campus
By Amanda Taylor
RIO GRANDE VALLEY, TEXAS – Jacqueline Elizondo and Cynthia Gallegos are thrilled that graduation day has finally arrived, and they will be among 23 teacher candidates from The University of Texas Rio Grande Valley's STEP UP (Student Teacher Educator Preparation: University Partnership) program who will celebrate at in-person Commencement on May 7-8. 
Gallegos, from Brownsville, said the innovative program helped her understand the theory and practice of pedagogy within the classroom. She said that graduation is a major triumph for her.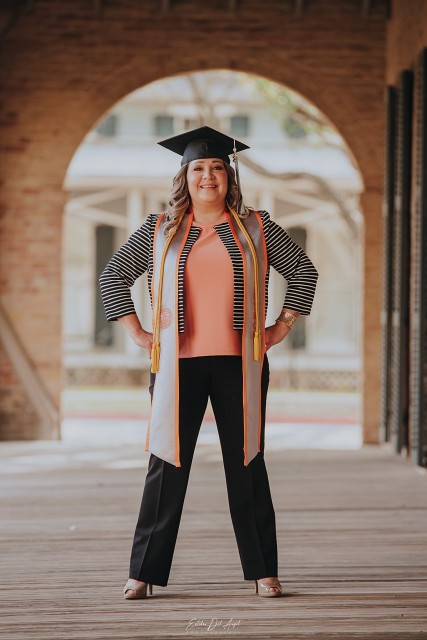 "Graduation means that I will be declaring a victory. Without God's grace, none of this would have been possible," Gallegos said, who is graduating with her bachelor's degree in Interdisciplinary Studies with a concentration in Early Childhood Education. "My husband Gustavo was my rock, and my children, Isabella Grace and Camila Sophia were my motivation. The guidance and support also came from my mother and sisters."
Gallegos will be participating in the Saturday morning ceremony at the Brownsville Campus. She is currently in the process of interviewing with local school districts to find her ideal campus and start her teaching career.
STEP UP was created by the UTRGV College of Education and P-16 Education Educator Preparation Program and Harlingen CISD, utilizing the expertise and resources from both institutions to build a model program for clinical practice with multiple opportunities for mentors to coach teacher candidates as they develop their skills to enter the classroom as new teachers. 
The program has expanded to three additional districts – McAllen ISD, Los Fresnos CISD, and Brownsville ISD. 
The STEP UP program offers undergraduate teacher education candidates a year-long, clinically-rich, K-12 school-based experience through a collaborative preparation approach. 
The goal of the partnership is to prepare new teachers to enter the classroom with the knowledge, skills, and experience of a second-year teacher. STEP UP teacher candidates receive opportunities of guided sustained supervision and mentorship from an experienced teacher and university faculty liaison as they spend an entire school year in the classroom.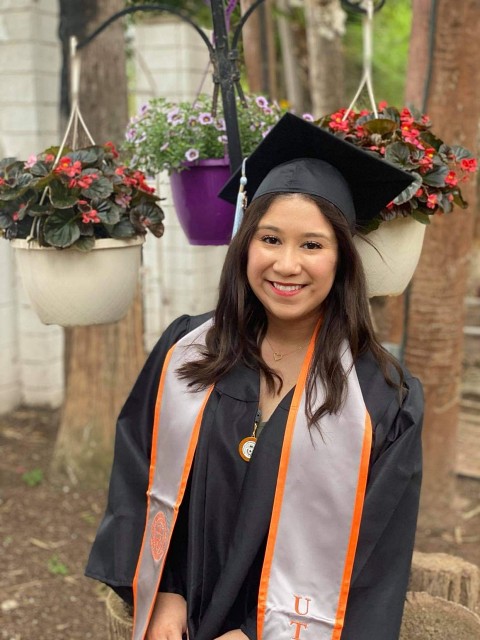 Steve Chamberlain, STEP UP program coordinator and professor in the Human Development & School Services department within the College of Education & P-16 Integration, said nine of the graduating teacher candidates are from Harlingen CISD.
"A major factor in the success of our candidates has been the outstanding mentoring they receive from their cooperating teachers and university faculty liaisons," Chamberlain said. "This high level of mentorship by district/university partners has led to an exemplary cohort of graduates who are highly prepared to enter the classroom as new teachers." 
Donna native Jacqueline Elizondo, who will be receiving her degree in Interdisciplinary Studies EC-6-Bilingual Education on Friday morning in Edinburg, said being a first-generation student not only makes her family proud but herself, as well. As Elizondo starts to plan out the rest of her future, she has her sights on being able to teach at McAllen ISD.
"Being a first-generation student is challenging to anyone," she said. "Coming from an immigrant family is not easy, but my parents always gave my sisters and me the best they could provide. And, among those things was education. They have been and are huge advocates for education and see the value that it has."
Overall, the 23 graduates from the program this semester have placements within three districts, mostly within elementary education throughout the Rio Grande Valley. Despite the pandemic, graduates like Gallegos and Elizondo made their educational goals a top priority to see their efforts rewarded with their diplomas. 
"We do not know what the future holds, we only know what the present has in store for us but having school during these times gave me hope and, in a way, a glimpse of the future," Elizondo said. "We may not be able to control the future, but we can control what we do know to leave for the future that we are trying to make for ourselves."
UTRGV SPRING 2021 COMMENCEMENT
UTRGV Spring 2021 Commencement ceremonies will be held in person on Friday, May 7, on the Edinburg Campus, and Saturday, May 8, on the Brownsville Campus. To view ceremony times or to watch live, visit www.utrgv.edu/commencement/ceremonies/spring-2021-commencement. 
ABOUT UTRGV
The University of Texas Rio Grande Valley (UTRGV) was created by the Texas Legislature in 2013 as the first major public university of the 21st century in Texas. This transformative initiative provided the opportunity to expand educational opportunities in the Rio Grande Valley, including a new School of Medicine, and made it possible for residents of the region to benefit from the Permanent University Fund – a public endowment contributing support to the University of Texas System and other institutions.
UTRGV has campuses and off-campus research and teaching sites throughout the Rio Grande Valley including in Boca Chica Beach, Brownsville (formerly The University of Texas at Brownsville campus), Edinburg (formerly The University of Texas-Pan American campus), Harlingen, McAllen, Port Isabel, Rio Grande City, and South Padre Island. UTRGV, a comprehensive academic institution, enrolled its first class in the fall of 2015, and the School of Medicine welcomed its first class in the summer of 2016.