Thursday, May 6, 2021
  Around Campus
By Victoria Brito Morales
RIO GRANDE VALLEY, TEXAS – A passion for food and helping his fellow Texans live healthier lives has led Javier Camacho, a member of the UTRGV Class of 2021, to his ideal job with the Texas Department of Agriculture (TDA).
The Harlingen native is already on the job as a TDA administrative review specialist in the Food and Nutrition Division where he utilizes the knowledge and training he received as a student in the UTRGV Sustainable Agriculture and Food Systems (SAFS) program. 
On Saturday, May 8, Camacho will be among the first to graduate with a Bachelor of Science in Sustainable Agriculture and Food Systems from The University of Texas Rio Grande Valley. 
The new multidisciplinary degree program, housed under the School of Earth, Environmental, and Marine Sciences in the College of Sciences at UTRGV, serves students interested in improving the sustainability of modern food and agricultural systems.
"I've always had a passion for food," said Camacho, who started his UTRGV journey in 2016. "I've worked around food ever since I was able to work."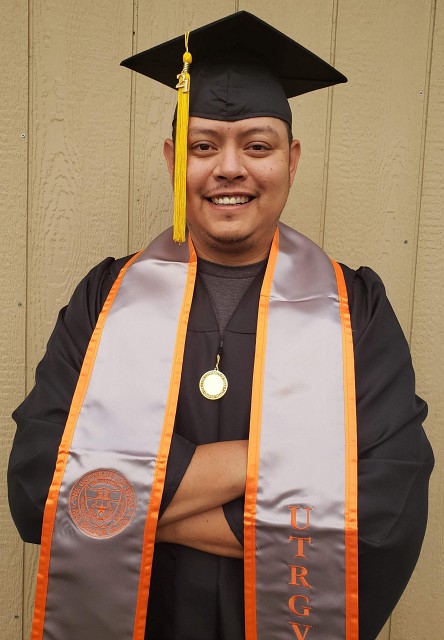 Working with TDA since April 1, Camacho said his hands-on education at UTRGV prepared him well for this new position. The work he will do with the state organization is directly related to the work Camacho did in his Community-Engaged-Service-Learning capstone courses with the SAFS program. As part of his coursework, he taught young adults leaving the Texas Juvenile Justice System about nutrition and healthy diets, and how to grow and cook fruits and vegetables.
"I think that sustainable agriculture (at UTRGV) is a very exciting program with lots of hands-on learning, which I think is important especially since, in the workforce, they expect experience," Camacho said.
Dr. Christopher Gabler, assistant professor in SEEMS, said Camacho's work in the capstone courses was a significant part of his qualifications for his position with the TDA.
Camacho credits Gabler for helping him in the final stretch of his education, and for guiding him through the program and what courses to take for results. 
"I could not be prouder to have Javier as one of our inaugural graduates from the new Sustainable Agriculture and Food Systems BS program," Gabler said. "Javier is a good student and a good man with an impressive work ethic, and he is doing really important work for our community."
At the TDA, Camacho will be auditing the breakfast and lunch programs for school districts in the Valley, and the child and adult care facilities that participate in meal programs. Audits evaluate serving sizes and nutritional quality of meals and inspections of TDA contracted warehouses, like food banks.
"The goal is to not only provide healthy nutritious meals but also to educate Texans of all ages about better meal choices. One way of doing that is by auditing facilities that partake in these programs to make sure they do just that," said Camacho.
HARD WORK PAYS OFF
His new position with the Texas Department of Agriculture is one that he had aspired to for years. A 2005 Harlingen High School graduate, Camacho's jobs have included working at H-E-B where he worked his way up to management after obtaining an associate degree in culinary arts from Texas State Technical College. Then, in 2014, he began a job with the Texas Juvenile Justice Department (TJJD) where he was employed until March of this year.
After learning about the TDA administrative review specialist position in 2015, when his TJJD department was being audited by the organization, he decided to enroll at UTRGV to gain the necessary education to attain the job.
To accommodate his school schedule, TJJD allowed Camacho to work in split shifts when necessary, so he could attend classes in the middle of the day.
A typical morning for Camacho would start at 4 a.m. to report to work at 5 a.m. until noon. Then, he would attend classes and report back to work from 4 to 6 p.m. to round out the workday. His day would end around midnight to 1 a.m. after family time, studying and homework.
"My hardest semester was my first because my father was in and out of the hospital every two weeks," Camacho said. "I spent half of my semester in the hospital with my father, plus working full time and being a full-time student. Even with all the chaos that semester, I still made the Dean's List."
He credits the encouragement of his wife, parents, and eight-year-old daughter, Zoey, with helping him complete his degree.
"She is the reason I went back to school," he said. "It's been a hard five years. I missed a lot of her childhood, a lot of things that I can't get back, but now that this journey is finally coming to an end, I have more time to spend with her."
Now that graduation is here, Camacho said he feels liberated and accomplished.
"No matter how hard it is, and no matter how hard life pushes you, you push harder and you'll succeed," he said.
His advice for students in pursuit of their goals and degrees, and for those who may find themselves doubting their decision to go back to school, he wants them to know it is so worth it.
"Even when you think it isn't worth it, that degree plan will always be worth it. It is an accomplishment to prove that you can do this and keep going," he said. "It's something that no one can ever take away from you. It's definitely worth the hard work, the sleepless nights, and energy drinks and coffee."
UTRGV SPRING 2021 COMMENCEMENT
UTRGV Spring 2021 Commencement ceremonies will be held in person on Friday, May 7, on the Edinburg Campus, and Saturday, May 8, on the Brownsville Campus. To view ceremony times or to watch live, visit www.utrgv.edu/commencement/ceremonies/spring-2021-commencement.
ABOUT UTRGV
The University of Texas Rio Grande Valley (UTRGV) was created by the Texas Legislature in 2013 as the first major public university of the 21st century in Texas. This transformative initiative provided the opportunity to expand educational opportunities in the Rio Grande Valley, including a new School of Medicine, and made it possible for residents of the region to benefit from the Permanent University Fund – a public endowment contributing support to the University of Texas System and other institutions.
UTRGV has campuses and off-campus research and teaching sites throughout the Rio Grande Valley including in Boca Chica Beach, Brownsville (formerly The University of Texas at Brownsville campus), Edinburg (formerly The University of Texas-Pan American campus), Harlingen, McAllen, Port Isabel, Rio Grande City, and South Padre Island. UTRGV, a comprehensive academic institution, enrolled its first class in the fall of 2015, and the School of Medicine welcomed its first class in the summer of 2016.