Wednesday, May 5, 2021
  Around Campus
By Letty Fernandez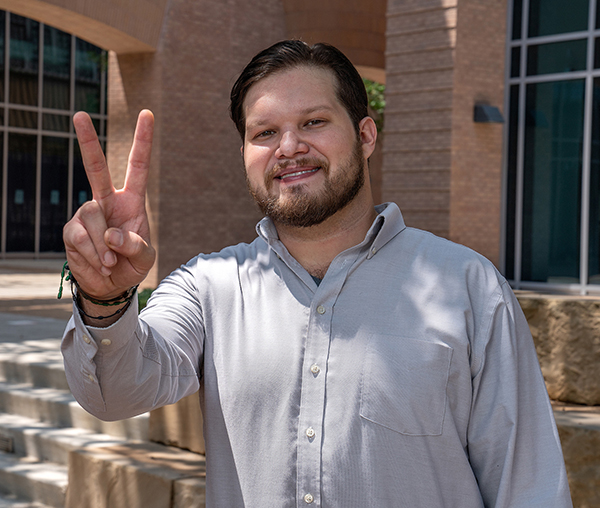 RIO GRANDE VALLEY, TEXAS – Commencement on Saturday, May 8, for the UTRGV School of Medicine Class of 2021 will be special for Adrian David Barrera as he not only celebrates the day he was born, but also the day he graduates to officially become a doctor.
"I feel a sense of accomplishment. The cherry on top is that graduation falls on my birthday so it's like a birthday present to myself," Barrera said. "I will be turning 32 and graduating from medical school. My family is very excited."
Born and raised in Rio Grande City, Barrera is the first to go to college and the first doctor in the family. He said he is blessed to have parents, Lisa and Jerry, and grandparents, Josefa and Cipriano Lopez, that provided motivation and support throughout his life. Their words of encouragement, he said, helped him get through the four grueling years of medical school.
"My maternal grandfather was a hard-working man with a huge work ethic. If he had something to do, he was going to get it done and not leave it to the end," said Barrera. "I learned about responsibilities living with my grandparents when I was younger."
Barrera said his parents were a big influence in his life.
"My dad kept telling me that medical school would be worth it in the end – all the sleepless nights, the studying, the stress, and the fear of possibly not making it," Barrera said. "My mother would call often, checking up on me, making sure I was okay. Both of them always believed in me, pushing me to do better than I thought I could." 
MAKING THE RIGHT DECISION
In the beginning, Barrera said medical school was new and scary. After all, it had been six years since he had been in a college classroom. After graduating from the University of Texas at San Antonio with a bachelor's degree in biology in 2011, he worked in a research lab and attended graduate school. Along the way, he took on a variety of jobs from working in banks, call centers and restaurants. He even bartended. His last job before he applied to medical school, was teaching biology to high school students.
The call to study medicine was always there for Barrera even before he was in high school. Self-doubt almost kept him from pursuing his dream.
"I would listen to people saying medical school was hard and very few people get in. I never took the MCAT and I never applied. I doubted myself because I thought I wouldn't be able to do it," he said.
In 2016, Barrera took the MCAT and scored well. He applied, got an interview, and was accepted to the Class of 2021, the second cohort to graduate from the UTRGV School of Medicine.
At the White Coat Ceremony in 2017, which marks the beginning of a medical students' education and career, Barrera led his fellow medical students in reciting the Hippocratic Oath – which acknowledges their primary role as caregivers. Fast forward to 2021, he said it still seems unreal that he is about to become a doctor.
"I wanted to stay in the Rio Grande Valley. I wanted to be a doctor and study medicine and if I could do it here, it was perfect. Looking back on these last four years of medical school, I know I made the right decision." 
Barrera will begin a residency in psychiatry on July 1 at the UTRGV Psychiatry Residency Program. Eventually he plans to go into child adolescent psychiatry. 
 "The Rio Grande Valley is my home. I plan to practice here for the rest of my career, so learning from the communities and patients I plan to treat is important to me," he said.
SCHOOL OF MEDICINE COMMENCEMENT
The UTRGV School of Medicine will celebrate and honor its Class of 2021 with an in-person ceremony at 6 p.m. Saturday, May 8, at the UTRGV Brownsville campus. COVID-19 precautions will be taken at the commencement ceremony. Guests will be required to wear a mask and practice social distancing.
For more information on the ceremony, COVID-19 restrictions and safety guidelines, or to learn how to watch it live, visit https://www.utrgv.edu/school-of-medicine/education/commencement/index.htm.
ABOUT UTRGV
The University of Texas Rio Grande Valley (UTRGV) was created by the Texas Legislature in 2013 as the first major public university of the 21st century in Texas. This transformative initiative provided the opportunity to expand educational opportunities in the Rio Grande Valley, including a new School of Medicine, and made it possible for residents of the region to benefit from the Permanent University Fund – a public endowment contributing support to the University of Texas System and other institutions.
UTRGV has campuses and off-campus research and teaching sites throughout the Rio Grande Valley including in Boca Chica Beach, Brownsville (formerly The University of Texas at Brownsville campus), Edinburg (formerly The University of Texas-Pan American campus), Harlingen, McAllen, Port Isabel, Rio Grande City, and South Padre Island. UTRGV, a comprehensive academic institution, enrolled its first class in the fall of 2015, and the School of Medicine welcomed its first class in the summer of 2016.